KuCoin AMA With ACENT (ACE) — Blockchain Technology​ Designed for Mass Adoption
Dear KuCoin Users,
Time: July 29, 2022, 11:00 AM - 12:10 PM (UTC)
KuCoin hosted an AMA (Ask-Me-Anything) session with the co-founder and CEO of ACENT, Sean Kim, in the KuCoin Exchange Group.
The ACENT blockchain is built for processing heavy loads of data and the speed required to deliver a Triple-A gamified web 3.0 experience optimized for meta-application deployment. It can boldly render high-performance apps with the implementation of its innovative interface and crypto engine API technology that can take full advantage of the computing power of the local machine while having blockchain data validation synched in parallel to the blockchain. This allows the community to utilize the tools and infrastructure for building meta-applications. Meta-apps are applications or businesses inside a meta-space service platform that aim to incentivize users' activities in the network. These applications can be built, published, and incubated with high-end tools such as Unity or Unreal game engines directly without involving a single line of solidity code by using the ACENT crypto engine API service. Hence, ACENT, as the first Layer 1 blockchain for metaweb application deployment, is attractive for building blockchain ecosystems with open source and immersive graphics while distributing fair compensation for network supporters and ensuring a transparent, decentralized governance system.
Official Website: https://acent.tech/
Whitepaper: https://doc.yourearth.io/whitepaper/
Follow ACENT (ACE) on Twitter and Telegram.
Guest Introduction:
Sean Kim - Co-Founder and CEO of ACENT
Sean Kim has ten (10) years of experience in the IT sector. He is the founder of the Decenternet Association in Hong Kong and a patent holder for distributed reward-focused Internet service provision infrastructure. He is also the creator of the ACENT Web 3.0 (Osiris Web 3.0) browser, the Metaweb, and ACENT's Your Earth DAO and he is also the CEO and co-founder of DAPPX (dAppstore). In addition to this, he leads the project team, designing the project's vision and providing technical solutions.



Q: As I know, this project is relatively new; you're just getting started. Can you tell us about the progress you have made so far? What has been the most important update at the moment, and where are you currently focused on?
Sean: For accomplishments and roadmaps, you may visit this chapter of the Whitepaper:
The most important release that we are excited about is the launch of the first season alpha test of the metaweb OS. Beginning August 9, you will be able to connect to the initial version of the immersive, Your Earth DAO web space.
We are officially launching the world's first Unreal Engine 5 software as a metaverse product through a major update of our own publishing service, the DAPPX.
DAPPX will work just like Steam. The only difference is that it allows the publishing and monetization of blockchain games and NFT assets natively - thanks to the unique architecture of the metawallet.
On August 9th, you will also be able to join the DAPPX for business test-drive service for launching P2E games within the metaweb.
Q: The ACENT infrastructure often mentions the Metaweb. Can you explain what Metaweb features are in ACENT?
Sean:
The metaweb will have immersive and interactive features and technology that will let users experience the next generation of web 3 in previously unimaginable ways. The immersive graphics, which are compatible with VR/AR technology, will eventually deliver an experience similar to the "Ready Player One" movie.
Doesn't this really look like a "FREE GUY" in real life? Check this out!
There are many ways in which you can benefit from the Your Earth DAO metaweb. You can earn crypto by playing games, developing your land, and creating content to generate traffic revenue, or even developing and launching your own play-to-earn game within the metaweb.
Stay tuned to our roadmap for these upcoming features.
Q: Non-crypto users are very important for mainstream adoption. How are you planning to attract non-crypto users to your project? Is there any upcoming partnership bringing non-crypto users and real-use cases together?
Sean:
We have been preparing for the launch of our service for a long time. Your Earth DAO is a 1:1 scale replica of the planet Earth, a meta-space built for immersive web services. As such, we have acquired a non-profit organization called Earth. It has over 1.5 million followers on Facebook who are actively engaged in content related to Planet Earth. Currently, our entire community is roughly about 1.6 million in total, spread across social media platforms. Our case studies reveal that the success of the Earth 2 project confirms the excitement and demand for a decentralized Earth-themed metaverse.
We also know that the market segment of passionate gamers is huge, and they are all looking for an Unreal Engine 5 game release. Therefore, being the first in the world to release an Unreal Engine 5 product and sharing this excitement through mobilizing a total of 1.6 million followers will help trigger the ignition, bringing us to the public's attention.
We recently partnered with "Ready Player Me," which provides great value to future meta citizens. In addition, we are constantly reviewing and discussing strategic partners for spreading the Your Earth DAO metaweb.
Q: There are many Decentralized Gamified services out there. So what makes ACENT's blockchain technology different, and how will it deliver a decentralized, gamified web mechanism?
Sean: Everyone should see this!
The ACENT decentralized immersive gamified Web service combines the benefits of the Web 3.0 architecture with strong software development tools that allow for immersive, high-end graphics.
ACENT will take Web 3.0 architecture to the next level by delivering the next stage of immersive, incentivized, and highly scalable decentralized consumer infrastructure applications, mostly through the YED reality simulation metaweb service.
Here is some good info about the Your Earth DAO: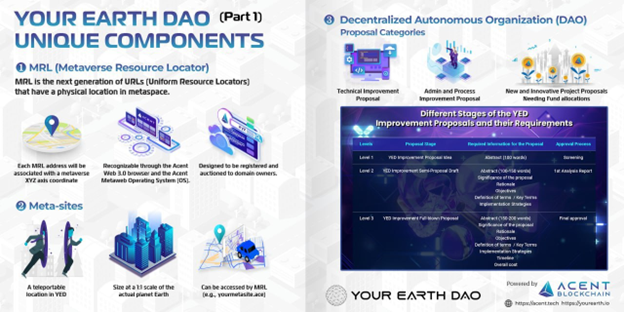 From simple two-dimensional graphics and centralized Web 2.0 applications, ACENT blockchain technology will release a base application service called the Metaweb Operating System (OS) that combines the decentralized Web 3.0 Internet with high-end gamification technologies. This will make the following features of Your Earth DAO possible:
- High-end, immersive graphic experience;
- User-generated content monetization
- Establishment of a meta-application development culture;
- Meta-application publishing;
- Freedom to create and trade NFT-based meta-assets and meta-commodities;
- among others
The NFT land sale for Your Earth DAO is right around the corner on the 9th of August!!!
Here's one of our testers checking out some NFTs to buy within our internal tester version with VR gear.
Imagine shopping for cars this way. Let's make it a reality!
Q: Can you list 1-3 killer features of this project that makes it ahead of its competitors? What competitive advantage does your project have that you feel most confident about?
Sean:
1. We are starting our first alpha test season with the Your Earth DAO metaweb on our own "Steam for blockchain" DAPPX platform. This feature will be released along with the ability to join our business test drive service, where you can start building your p2e games with Unity or Unreal Engine and publish them on DAPPX. In addition, we offer tokenization, marketing, promotion, and launchpad services for other projects who want to build AAA-rated p2e apps.
Watch out for these two cool videos!
Developers will be able to build and launch play to earn triple AAA-rated games from now on using our crypto engine
2. You can mine EDAO and $ACE with your NFT land spots and generate digital electricity, which can be sold on the metaweb to building owners.
Here are some other awesome things you can do on YED to monetize your life.
3. As we have worked with Unreal Engine 5 much earlier than its official release, we are proud to say that we may have the best visuals in the blockchain industry by being the first in the world to deploy an alpha tester built for the community to participate and give feedback openly.
You are a metahuman avatar that we are currently working on. You can on it, be it. We are also implementing facial expression capture technology for Q1 next year so you can express your feelings.
As we worked very hard over the years, you can join our upcoming sales and product alpha test seasons with excitement. Also, don't forget to join the DAPPX for Developers' Alpha tester services being launched in parallel on the 9th of August with the Land Sales event.
This August 9-30, 2022, we are excited to release our 22,444 spots distributed among the following:
1. Normal/regular land spot: 20,679 spots at 0.1 ETH/spot
2. Themed spots: 1,765 spots at 0.3/ETH spot distributed among the following themes:
• NFT Zone: 630 spots available
• Cyberpunk Zone: 555 spots available
• Play-to-earn Xone: 580 spots available
Follow us on our social media pages for more details on how to acquire YED land and on how to install the Metaweb OS to join the Alpha Testing Program.
As we know, the decentralization of web services is vital for our economy and freedom. Let's promote freedom on the internet with these amazing services and thrive together for the next decade and beyond.
Free-Ask from KuCoin Community
Q: What strategy will you implement to bring non-crypto-natives into your ecosystem? How do you keep a balance between developing the technology and improving your token's value?
Sean: We are aiming for total technical and political decentralization of our governance infrastructure as the metaweb reaches maturity. For this, the EDAO governance and ecosystem incentive tokens play a vital role. Basically, it is designed to give you decision-making power and the ability to submit proposals, in addition to earning a large percentage of the protocol fees.
You can start obtaining this token today by staking $ACE into our marketplace DAPPX. Mining $ACE through EDAO is already live, so we encourage you to support us and take advantage of our lucrative decentralized governance structure. More details on this subject can be found in the tokenomics section of our white paper here.
This video explains this concept of universal basic income and governance very well!
Q: Almost 80% of investors are focused on the price of a token in the short term. Understanding the real value of the project comes second. Can you tell us the motivations and benefits for investors to hold your token long-term?
Sean: As you know, blockchain is difficult to understand, but play to earn and gaming is not. And everyone has to use a browser every day. Plus, our traffic strategy is all-inclusive in the non-blockchain consumer segment. With the excitement of being the world's first Unreal Engine 5 product launch and the strong fundamentals of our product design, which is focused on immersion and visual interaction, I believe things are looking positive. I believe the real game starts on the 9th of August with our sales.
You might be interested in these sample graphics!
This is closer to mainstream adoption as gamers are already used to this level of visual stimulation.
Q: What are your top three (3) things for priorities in 2022? Could you share some plans for the upcoming year?
Sean:
1. Mainnet release becoming one of the most efficient layer one metaverses.
2. Immersive, high-quality creation and trade of NFT assets. Take a look at the first and second samples of real footage of meta real estate you will be able to mint on the Your Earth DAO metaweb.
3. Alpha test release of a league of legends style play to earn MOBA inside the Your Earth DAO metaweb.
Q: Are you a global or a local project? At present, which market are you focused on? Is it building and growing to gain customers, users, and partners?
Sean: We are gaining significant positive excitement and feedback before launching our NFT land sales in Indonesia and Vietnam. At the same time, most of the highly active traffic data comes from North America. As we progress, we will continue to expand further into other countries. As we mobilize our traffic strategies, we are confident communities will form fast after the product season 1 alpha test on August 9th. We are so happy to introduce the ACENT Vietnamese and Indonesian communities. Come join and build a community with us!
Q: I am an experienced developer and an ethical hacker. Do you have plans for a hackathon to check the security of your ecosystem periodically and invite developers to build it?
Sean: We will open hackathons related to security flaw bounties and individual and small developer studios who want to launch their play-to-earn games with tools such as Unity and Unreal Engine. More details on this will be available within the DAPPX developer alpha tester service, which you can apply for when our "Steam of blockchain" service goes live again on the 9th! We are aiming for hackathons to pick up momentum as Q4 kicks in.
Here's a quick screenshot I took from my internal build of our Web 3.0 browser. Join there when it becomes available on the 9th!
If you are interested in ACENT, and Your Earth DAO, and have more questions. You can join our community and media channels:
● ACENT Homepage: https://acent.tech
● ACENT Whitepaper 2.0: https://doc.acent.tech/whitepaper
● Your Earth DAO Homepage: https://yourearth.io
● Telegram: https://t.me/AcentOfficialChat
● Twitter: https://twitter.com/Acent_tech
● Discord: https://discord.com/invite/et2fZJWGge
KuCoin and ACENT have prepared a total of 120,000 ACE to give away to AMA participants.
1. Free-ask section: 4,600 ACE
2. AMA activity: 115,400 ACE
Quiz: 84,700 ACE
Question Collection: 4,600 ACE
Price Guess: 18,150 ACE
Participation Rewards: 7,950 ACE
If you haven't got a KuCoin account yet, you can sign up here!
Follow us on Twitter, Telegram, Facebook, Instagram, and Reddit.