KuCoin AMA With Numbers Protocol — A Decentralized Photo Network for Creating Community, Value and Trust in Digital Media
Dear KuCoin Users,
Time: December 9, 2021, 11:00-12:08 (UTC)
KuCoin hosted an AMA (Ask-Me-Anything) session with Sofia Yan, Co-Founder and Chief Growth Officer of Numbers Protocol, in the KuCoin Exchange Group.
Numbers Protocol is building a decentralized photo network for creating community, value, and trust in digital media.
Official Website: https://www.numbersprotocol.io
Lite Paper: https://link.numbersprotocol.io/litepaper
Follow Numbers Protocol on Twitter and Telegram.
Guest:
Sofia Yan — Co-Founder & Chief Growth Officer of Numbers Protocol
Q: Could you first introduce yourself and the Numbers' team to our community?
Sofia: Yes, for sure! I'm Sofia, the Co-Founder and Chief Growth Officer of Numbers.
I have 8+ years of experience in business development and marketing. Before joining Numbers, I worked for an AI startup and an intellectual property valuation firm as a sales and the head of business development. I love new challenges and embrace new technologies. I highly believe that technology should be used to bring good to society!
The following will also introduce our core members to the KuCoin community.
Tammy is our Founder and Chief Product Officer. She is a data scientist and a Particle Physics Ph.D. graduate from Manchester University. Before founding Numbers, she worked for Canonical, Viscovery, and DT42 as a software engineer, tech lead, AI developer, CEO, and founder. She is an animal lover and has a strong faith in data freedom. She has a great curiosity about the world and loves to analyze everything in life to discover the rules behind it.
Bofu is our Founder and Chief Technology Officer. He is a software engineer and architect who has 15+ years of experience in data engineering, embedded systems, AI, and IoT. He is an Arm innovator, the top-five open-source developer of Taiwan 2017, and the consultant and opinion leader of blockchain and data policy in Taiwan. Bofu is also the architect and developer of BerryNet and Mediant open-source projects. He has strong faith in FLOSS, internet freedom and is very active in the open-source community.
And Ethan, our global developer community manager, does many things for us here at Numbers. Having received his Masters in Computer Science from Georgia Tech University, he is a member of our development team and has a good understanding of our technology and products. He also has extensive experience growing communities, having served as a social media for Jeremey Lin's inaugural Dota 2 Esports team in 2016.
Beyond that, the rest of the team split between excellent backend, front-end engineers, and a bit of marketing.
Q: Could you explain a little about the Numbers Protocol and what are you trying to achieve?
Sofia: Yes.
In early 2021, NFTs rose out of the blockchain world and positioned themselves as a potential solution to the current digital media problems.
NFTs document the token history and record ownership; however, it's become obvious that ownership by itself is not enough to resolve the issues of the current internet world.
Who created it, what's the context, what's the history, how to trace and verify are ALL questions that our digital media need answers for as well.
Numbers Protocol is THE comprehensive solution that addresses the 4 pillars of the digital media problems: ownership, copyright, provenance, and ecosystem. In doing so, we are establishing an authentic, secure, and decentralized photo network in the Web 3.0 space.
Q: Does Numbers have something different that can solve the barriers and problems that still exist in the market?
Sofia: As mentioned, our mission is to establish an authentic, secure, and decentralized photo network in the Web 3.0 space.
In order to achieve the goal, we need to redefine digital media as assets for Web 3.0.
Today photos are just raw images or videos. Empty with no information. Images and videos created with Numbers Protocol, which we coin as 'Captures', are multi-layer containers with embedded ownership, context, photo provenance, creator signature, and on-chain records to keep images and videos traceable, verifiable and unique.
When Captures are shared and downloaded over the web, the information remains with the asset. Additionally, as a native content protocol, Numbers makes it possible for the digital creations themselves, not tokens, to truly be owned.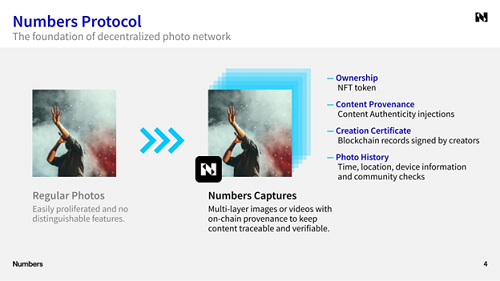 Our solution does not just stay on a protocol level. We have also created a suite of tools and services to allow users to register and retrieve assets in the network. These include the Capture App, Seal API, Trace Site and also our native application.
Q: We know there're a protocol and 3 different tools that can be used to generate a traceable photo "Capture" in the network, but how can people really use it?
Sofia: We all know that protocols and tools are only effective if used; therefore, Numbers Protocol has built native applications to help establish the foundations of the ecosystem and allow users to experience the next-generation photo network.
In the future, this photo network can grow into areas such as news, social media, and gaming, with contributions from the developer community leveraging our tools and applications. (just like the full picture here)
For now, we have 2 native applications for the community to experience.
CaptureClub is a native application of the Numbers Protocol. Easy to use and it is the first NFT marketplace to feature end-to-end authenticity preservation. Users can take photos from the Capture App and list the photos to the CaptureClub marketplace with a simple click. By generating immutable records on the blockchain using Numbers Protocol, CaptureClub helps users verify the NFT content history and respects the copyrights of creators.
Another native application of Numbers Protocol is the NFT Search Engine. It is the first Web 3.0 search engine. Users can upload an NFT image or video and view its history. This includes when it was first sold, how many tokens were minted, etc. This helps users verify whether the NFTs sold in the marketplace are the real ones and can also help users check if the NFTs they own are truly unique.
Q: Can you share more information about the Capture App?
Sofia: Yes, for sure, excited to share the new feature launch of Capture App.
Capture App is the world's first blockchain camera built for Web 3.0, the first NFT camera, and also the first wallet for photo assets.
Capture App was released globally on both Android and iOS in February of 2021. (9 months earlier than $NUM issued)
With the Capture App, users can establish ownership and context at the moment of creation. The information is sealed on the blockchain and users can access ecosystem applications from the app without the reliance on third-party platforms.
Last week, we had a major features update on the Capture App!
As the world's FIRST photo NFT and blockchain camera, Capture APP promises to bring additional excitement to a growing photo NFT trend by marrying together NFT accessibility with the trust and security of Numbers Capture, Seal, Trace technology.
But creating an NFT and not being able to showcase or earn from it is BORING! So the FIRST Network Action we bring to you is the CaptureClub listing. CaptureClub is Numbers' first in-network NFT marketplace and contains a rich collection of digital art and photos. Like everything in the Capture App, the listing is done in-app easily with just a few clicks. Integration of $NUM into the Capture app in-app wallet is another Network Action we are thrilled to bring to our community.
Please try! Download, install and start your #Capture2Earn journey! https://www.numbersprotocol.io/#products
Q: Are there any new updates after $NUM launched?
Sofia: For sure, I'm here to bring the new updates.
First of all, big thanks to all $NUM supporters. We've been through a fruitful month in November. In November 2021, we successfully launched the strong holder offering (SHO) on DAO Maker with 4,963 participants joining and we broke a DAO Maker Platform record with 25 million DAO staked in total. On top of that, $NUM has a great TGE and is currently listed on KuCoin, Gate, Uniswap, PancakeSwap and will be listed on LBank and MEXC later today. Several campaigns, staking and farming program were launched and participated by the communities worldwide!
In December, we are thrilled to bring two major product updates to our community.
One is the Capture App, the one-click photoNFT new feature I introduced earlier.
And the following news has not yet been revealed, KuCoin's audiences are the first to know. We're launching the first Web 3.0 search engine for NFTs later today!
Numbers' NFT Search Engine is the first Web 3.0 search engine. Users can upload an NFT image or video and view its history. This includes when it was first sold, how many tokens were minted, etc. This helps users verify whether the NFTs sold in the marketplace are the real ones and can also help users check if the NFTs they own are truly unique.
What's the motivation? To elaborate on that, I would like to quote from our CTO, Bofu. He said, "During development, we realized more than 80% of NFTs are actually stored on centralized servers, and 35% of them were even missing and not accessible. While indexing NFTs is a critical first step, accessibility of these digital assets is equally if not more important. In order for Web 3.0 to thrive, all NFT files should be pinned on decentralized storage such as Filecoin's NFT Storage (https://nft.storage). Only when the retrieval of content is guaranteed can NFTs truly represent valuable assets in Web 3.0."
Stay tuned to our official Twitter (https://twitter.com/numbersprotocol) and Telegram channel (https://t.me/numbers_ann) to see the news published, and try the cool search engine by that time!
Free-Ask from KuCoin Community
Q: What's your main focus right now? Are you focused on the community or market/exchange or the products?
Sofia: Building a network is a long journey. We won't promise to build it in one day because that is definitely fraud.
$NUM launched not yet a month ago. The team is working hard on building what we promised in the litepaper.
In December, we focus more on the infrastructure of the network—our products, we see it as a foundation of the network. Meanwhile, a lot of partnerships are talking in the background, we know we have to have partners to grow the network, but the partnership won't deal with a "boom", every step takes time, but I'm sure all the partnership discussion has gone well so far, we look forward to bringing more news to the community.
Q: How did you get the community involved in developing the project and how do you build a strong community to grow globally?
Sofia: It's a very good question.
Our community has grown rapidly in the past month. We now cover 16 different languages and are still growing as we expected.
To get the community involved in developing the project, we plan to release our ambassador program, KOL bounty program, and developer bounty program in the next few months. Stay tuned to our official channel. We hope you can also become part of our community.
Q: All project coins have their main utilities and real-life use case! So, can you tell us what the main roles of your coin are in your ecosystem?
Sofia: NUM is the native protocol token of Numbers Protocol.
It is primarily a utility token designed to incentivize users to create, archive, and verify content with good integrity. The vision of Numbers Protocol is to create an ecosystem where photos (encompassing both images and videos) matter by leveraging proofs, integrity records, and data provenance to increase the credibility and legitimacy of registered photos in the network.
Find the hashtag #Capture2Earn on Twitter, and stay tuned to our official channel. We share updates frequently.
Q: Southeast Asia is a very vibrant market and there are many new platforms under development. So what do you think about Southeast Asia and do you have plans to grow there?
Sofia: Yes, for sure, we actually just built a partnership with BlackStorm. BlackStorm, as a Singapore-based consultancy firm, will help Numbers to expand connections in Southeast Asia!
Looking forward to building more partnerships in SE Asia in the future!
Q: What is the project''s revenue model? In which ways do you generate revenue/profit?
Sofia: We believe that once the authenticity of digital media can be protected, the transaction (including purchase and license) can be more popular. This brings potential revenue to the CaptureClub Marketplace and NFT Search Engine. Also, the Seal API is a useful tool that has been accessed more than 1M times. This revenue will go to the network and keep it sustainable.
Q: Is there anything else you would like to share or you want us to know?
Sofia: Yes, stay tuned to our official channel. More and more updates are on the way!
KuCoin and Numbers Protocol have prepared a total of 1,700 NUM to give away to AMA participants.
1. Free-ask section: 60 NUM
2. AMA activity: 1,640 NUM
Activity 1 — Quiz: 1,200 NUM
Activity 2 — Price Guess: 240 NUM
Participation Rewards: 200 NUM
. . .
If you haven't got a KuCoin account yet, you can sign up here!
Follow us on Twitter, Telegram, Facebook, Instagram and Reddit.