A Full Guide on How to Get KuCoin's 4th Anniversary Exclusive NFTs on KuCoin Win
KuCoin celebrates its 4th anniversary in September 2021. Having been through both bull and bear market changes, KuCoin has evolved from its infancy in 2017 to a top 5 global crypto exchange today. Known as the 'People's Exchange', the milestones KuCoin has achieved are inseparable from the support of every KuCoiner. Therefore, to commemorate the special moment, KuCoin cooperated with KCC to issue 1,000 limited edition KuCoin's 4th anniversary NFT to reward users.
This blog article will briefly introduce the Exclusive KuCoin NFT activity and walk you through each step on how to participate in the lucky draw to obtain your NFT collectibles and other surprising token gifts during our 4-year celebration.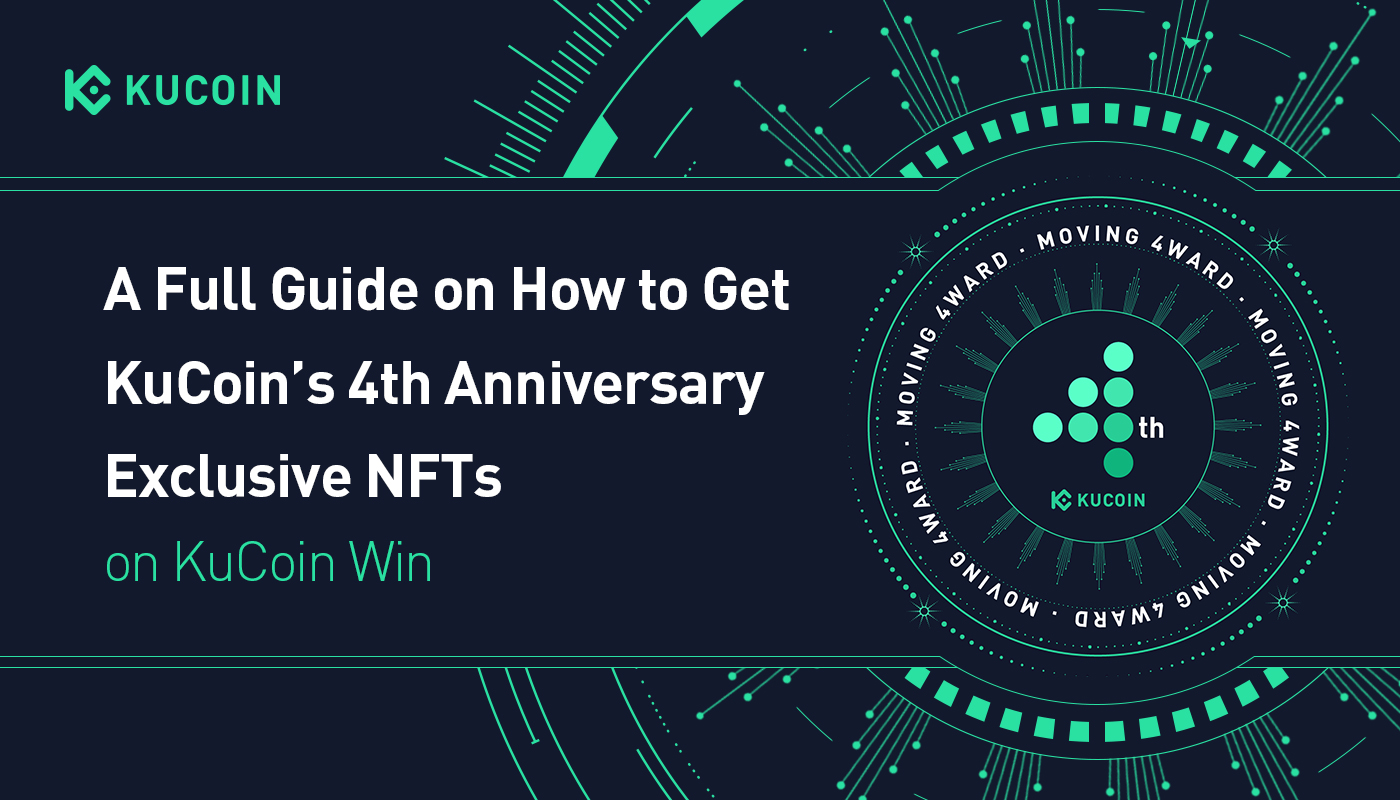 1. Grand Opening: Introduction of the Exclusive KuCoin NFT Activity
Activity period: From 00:00 on September 25, 2021 to 00:00 on September 28, 2021 (UTC), users can access our latest online game, Guardian Star, through the KuCoin Win page on the KuCoin App and find the KuCoin's 4th anniversary NFT area to participate in the lucky draw.
The probability of winning is 100%: Prizes include KuCoin's 4th anniversary limited edition NFT (1,000 in total, first-come, first-served) and token gift packages, including TEL, LUNA, TRIAS, HTR, LITH, and KCS.
Each lucky draw requires 10 USDT to participate in. But for the first draw, KuCoin will return 9 USDT to each user after the activity is over. If the user is interested in drawing multiple times, the subsequent cost for "1 draw" will remain 10 USDT each.
2. How to Draw the KuCoin NFT Collectibles?
a. Log into your KuCoin account through the KuCoin App.
b. Tap KuCoin Win on the KuCoin app homepage to enter the Guardian Star page.
c. Enter the KuCoin's 4th Anniversary NFT Area.
d. Choose "1 Draw" or "5 Draws" and pay for it.
e. Choose your lucky constellation and open the mystery box. You will randomly win 1 box for 1 draw or 5 boxes for 5 draws with exclusive prize(s).
Note:
a. The limited-edition NFT lucky draw activity is only supported on the KuCoin App.
b. The NFT from the mystery boxes and the 9 USDT return from the first draw will be credited to the users' KuCoin account within 10 working days after the activity is over. The cryptocurrency prizes will be credited to the user's KuCoin main account within 10 minutes.
---
Sign up on KuCoin, and start trading today!
Follow us on Twitter >>> https://twitter.com/kucoincom
Join us on Telegram >>> https://t.me/Kucoin_Exchange
Download KuCoin App >>> https://www.kucoin.com/download
Also Subscribe to our Youtube Channel >>> Listen to 60s Podcast
---