Three Altcoins To Explore | SOS Surged Over 1000% Since Its Christmas Eve Airdrop
Chumbi Valley, Arweave and Yearn Finance were in the limelight last week as they posted impressive weekly returns compared to the whole lot of cryptocurrencies on the Top 100 list. The leading crypto brand, Bitcoin eventually had a green week with a Christmas cheer that saw it end the 7-days with a high of $51,814. For Ethereum, staying above the $4,000 mark was the highlight of the week.
As would be expected, the fair showing of BTC and ETH also meant that more coins and tokens had a fairly notable week's price with DOT, MATIC and UNI posting above 30 % price yield for the 7-day period. The surge of DAO tokens like SOS and PEOPLE this week caught the attention of investors, and they could get more going in the news in the days to come. While PEOPLE still looks set in its reinvention, its recent listing in more crypto exchanges could be a bright light that points to something positive in the offing.
NEAR, SAND, PEOPLE and THETA were also remarkable at more than 40 % price surge during the same period. SOS, FTM and KDA led the week, and their peculiar showing gets reviewed below.
Notice: KuCoin does not provide financial advice. Please do your own risk assessment when deciding how to invest in cryptocurrency and blockchain technology.
OPENDAO (SOS)
Source: decrypt.co
It was a real Christmas present when SOS was airdropped this past week in a move that eventually saw a 1,391 % price spike within 24 hours. Added to the momentum was KuCoin listing SOS for trading, which was a real double -booster for a price surge.
For OpenDAO, the $SOS token is the means to protect, promote and pay the desired tribute to non-fungible tokens. The project decided to airdrop its tokens to anyone who has ever used the platform for buying, selling, or trading any NFT. Over 241,000 wallet addresses had been rewarded as of the time of this publication.
That the project thought of a way to compensate victims of scams was another huge PR effort that yields the community such goodwill that is not estimable in monetary terms. Openseas is a major NFT marketplace globally, and by issuing governance tokens, it has taken a step to further cement its primacy in the NFT and crypto marketplace. OpenDAO is also a prominent platform for issuance of stable coins and has existing partnerships with Fetch.ai, Bitcoin, Elrond, Ocean, Algorand, Ethereum, to name a few.
There are 100 trillion SOS in max supply with 73 trillion in total supply. SOS opened at $0.000007615 and closed the week at $0.000005486. The token is new to the market, but the project it underlies already enjoys a pride of place in the NFT world. The scramble to get a piece of the pie largely accounts for its high-flying start in the marketplace. With its airdrop set to last the span of the next 6 months, the project still has a lot going for it.
Trade SOS and 600+ other altcoins on KuCoin
Fantom (FTM)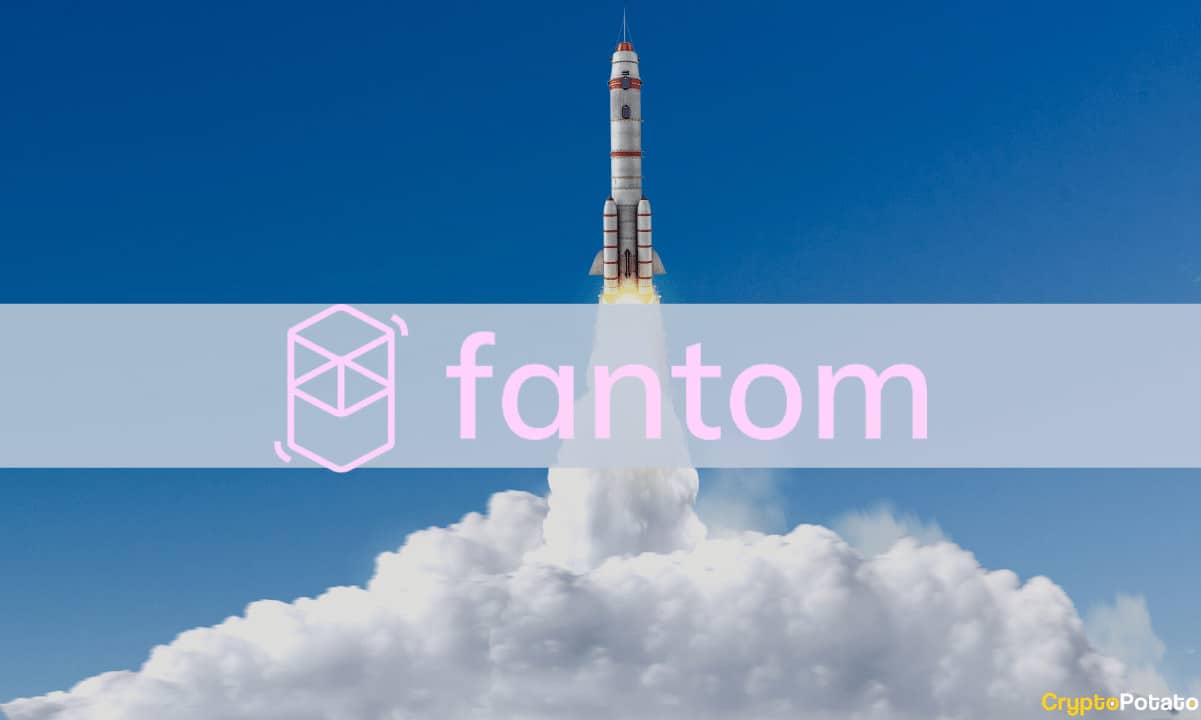 Source: CryptoPotato
Fantom was among the few cryptocurrencies that had a 7-day return this past week that surpassed the 73% mark. The project has attracted more interest in recent days following the announcement by Hyper Chain Capital based in Singapore that it invested $15 million to boost its consolidation. With the surge in DeFi activities around the globe, projects that facilitate the line of transactions are getting the attention as investors focus gets riveted on the sector.
Fantom is neck deep in DeFi with its DAG smart contract algorithm that is leveraged by developers for a whole range of purposes. The delays in transaction completion by the likes of Ethereum was the driving force for the launch of this platform. Developers acknowledge that Fantom reduces transaction completion time to just two seconds. Fantom also has its mainnet, which was launched in 2019.
With Fantom driving the push for cross-chain compatibility with faster transaction completion, there is little doubt why it is in a price surge at this time. FTM has had a 7-day low of $1.31 and a high of $2.45.
Trade FTM and 600+ other altcoins on KuCoin
Source: coinlive.me
Kadena is among the few cryptocurrencies that recorded as much as 50 percent price leap during the past 7-days. Early in December, this proposed scalable POW blockchain layer-1 project announced systemic upgrades that would make it possible for developers to mint NFTs and for users to trade the same on its ecosystem. Its initial design as a smart contracts enabler placed it in good stead to transit into NFTs with no fuss.
The price bounce recorded in recent days can be said to be a nod to the NFTs angle taking shape within its ecosystem. KDA had a price height of $16.4 this last week and a low of $9.9.
Trade KDA and 600+ other altcoins on KuCoin
Conclusion
For $SOS, its NFT background makes it a highlight that will not go away any time soon. Added to recent results that saw Openseas hit $3.4billion in turnover this past quarter, and commission revenues of $85 million as of November 2021, the token could yet soar higher.
The mix of NFTs, smart contracts and Metaverse tokens looks sufficiently intriguing in the marketplace to attract more price surge going forward. How long these tokens could go in price performance might not yet be so predictable. What looks sure is that individual projects that have a direct relevance to evolving use cases will get investors moving in the right direction to propel a price leap.
---
Sign up on KuCoin, and start trading today!
Follow us on Twitter >>> https://twitter.com/kucoincom
Join us on Telegram >>> https://t.me/Kucoin_Exchange_New
Download KuCoin App >>> https://www.kucoin.com/download
Also Subscribe to our Youtube Channel >>> Listen to 60s Podcast
---