'Invisible Friends' Fractional NFTs Launch on KuCoin; Blur Airdrop in the Spotlight
In this week's NFT Weekly Recap, we see that the NFT market had an excellent rebound, following the Blur airdrop. NFT is all about attention, and attention shifts quickly! There are tons of updates and excitement to share with you all on this week's NFT Market Recap. We hope you enjoy :)
7-day NFT Index Change: +0.5%
Source: Nansen
7-day Volume Change: +63%
Source: Nansen
Bluechip Index: +2.9%
Source: Nansen
Sector Performance
The market for blue chip PFP NFTs, such as Doodles, CloneX, and Moonbirds, has experienced a sell-off in recent weeks. However, there are indications that the market has rebounded strongly in the past week. Despite the initial decline, it appears that these NFTs have regained their footing and are poised for renewed growth.
Cool Cats

has been on fire as the highest-performing NFT asset, with a recent surge in value thanks to its groundbreaking "cool score" loyalty system and the introduction of a thrilling new gamified experience that rewards its dedicated holders.

On the flip side, ENS 4-digit domain names have experienced a decline in value, making them one of the weaker performers in the NFT market. However, it's worth noting that ENS 3-digit names have not undergone a similar sell-off.
🟢Top Gainers
🔴Bottom Losers
🎉Project in Spotlight: Invisible Friends
This week, KuCoin in partnership with Fracton Protocol launched a fractional NFT token called hiFRIENDS for Invisible Friends, providing investors with a low-risk, high-reward investment opportunity in a curated selection of high-quality NFT assets.
What are Invisible Friends NFTs?
Invisible Friends is an animated PFP collection featuring a unique and intriguing concept - a group of invisible people. But don't picture them wearing fancy skintight suits that disappear when they do.
Instead, these invisible characters don stylish and fashionable clothes - just like regular people. However, every NFT in the collection possesses distinct traits corresponding to a specific clothing article, further enhancing their individuality.
Who created Invisible Friends?
Markus Magnusson, the talented animator from Sweden, is the creator behind Invisible Friends. He has amassed a significant following of animation enthusiasts on Instagram. His signature animation style is known for its smooth and polished appearance, which has earned him hundreds of thousands of dedicated fans on various media platforms.
Why Invisible Friends?
With a loyal following of over 500,000 on Twitter and over 3,800 NFT holders, it is considered one of the most successful animation-themed NFT collections, with an impressive floor price pump from 0.25ETH to 10 ETH during the initial days of its debut.
Although the floor price has retraced back to the 2 ETH range, there are potentials in this project that we believe are worth paying attention to:
Partnership with streetwear brand KITH and BMW

Physical toys in 2023

New NFT airdrop garbage friends in 2023

Collective community via Random Character Collective
KuCoin, together with Fracton Protocol, offers a way to launch the sale of fractional NFTs. Our featured product aims to make blue-chip NFT collections accessible to all investors. Learn more about how we fractionalize blue-chip NFTs for everyone.
Blur Airdrop Pumped Up the NFT Market - Will it Continue?
The highly anticipated Blur airdrop has been the talk of the NFT community this week, with over $300 million worth of BLUR tokens being distributed to NFT enthusiasts who had previously interacted with the largest NFT marketplace.
Its current fully diluted valuation (FDV) is an impressive 15 times larger than LooksRare and exceeds the entire Azuki collection in size. Despite concerns that whales would dump their Blur tokens and negatively impact the NFT market, the opposite has proven true. Not only has the $BLUR token continued to soar in price, but the entire NFT marketplace has also experienced a surge in value.
As more crypto traders become acquainted with NFTs through the ongoing $BLUR airdrop, we anticipate a continued surge in both the floor price and volume of NFTs. This trend has been observed historically, as seen in the chart below, where the airdrop of large projects such as ApeCoin and LooksRare resulted in a steady climb in ETH volume.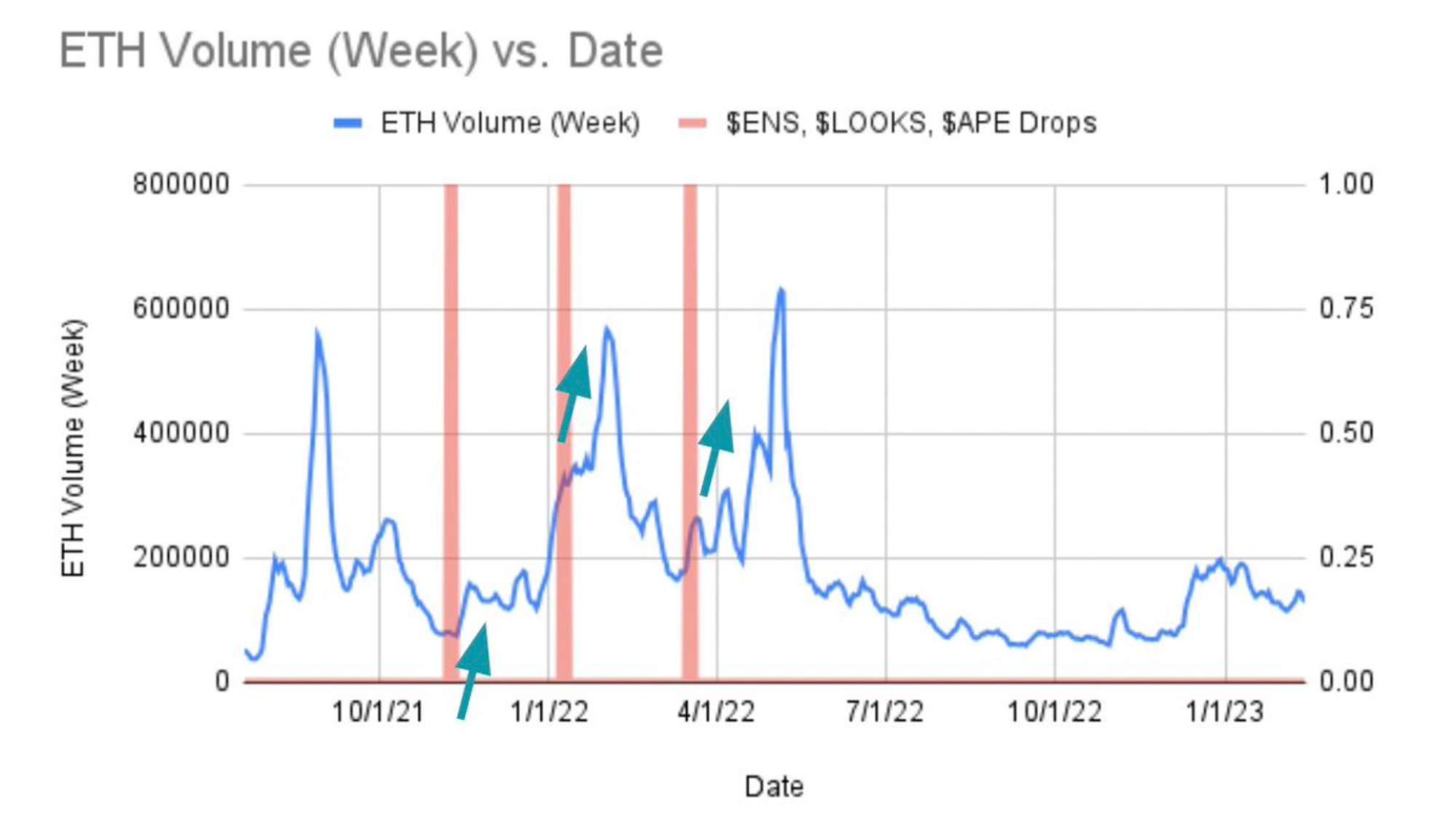 With more individuals taking an interest in NFTs, it is likely that this trend will continue, further driving up the value and appeal of the NFT marketplace.
Higher ETH volume and more price actions on NFTs should be expected (source: NFTstatistics.eth).
---
Sign up on KuCoin, and start trading today!
Follow us on Twitter >>> https://twitter.com/kucoincom
Join us on Telegram >>> https://t.me/Kucoin_Exchange
Download KuCoin App >>> https://www.kucoin.com/download
Also, Subscribe to our Youtube Channel >>> Listen to the 60s Podcast