KuCoin AMA With AirDAO (AMB) — Creating the Democratized Future of DeFi Through Community Participation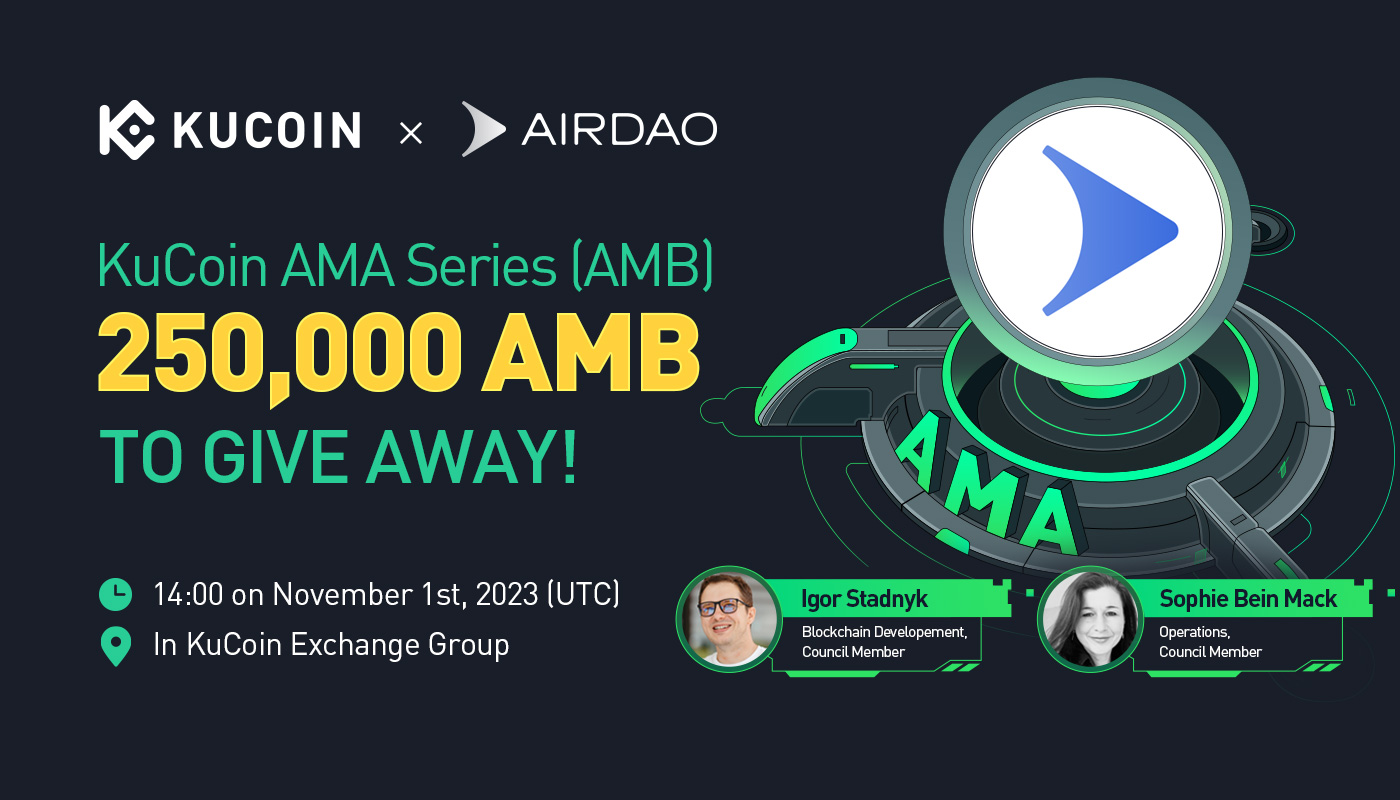 Time: November 1, 2023, 02:00 PM - 02:46 PM (UTC)
KuCoin hosted an AMA (Ask-Me-Anything) session with the AirDAO's Blockchain Development Council Member, Igor Stadnyk, and Operations and Council Member, Sophie Bein Mack, in the KuCoin Exchange Group.
Official Website: https://airdao.io/
Whitepaper: Click to view
Follow AirDAO on Twitter, Discord, YouTube, and Telegram
Q&A from KuCoin to the AirDAO's Team
Q: What sets AirDAO apart from its competitors?
Sophie: One unique way AirDAO sets itself apart from the competition is with our community-led governance. AirDAO is a real DAO, and important decisions are made by the AirDAO Council - elected from and by our community.
That's central but only a part of it. We're building new tools and governance models to be more and more integrated in our community, for our community to be more and more involved in AirDAO's decisions.
Q: How does AirDAO's governance work?
Sophie: We previously had a traditional, centralized governance structure: one CEO, an executive team, deciding, imposing, etc. AirDAO transitioned to community-led governance after a community member made a governance proposal that passed via governance voting.
Now, the AirDAO Council — nine (9) community members elected by the community — runs AirDAO. The council makes decisions on behalf of the community, and Council elections happen every year.
Q: What does the AirDAO team do to stay at the forefront of web3?
Igor: AirDAO's development team is always up-to-date on the latest tech in DeFi and web3 and regularly reviews interesting new projects. We always consider the latest innovations for inclusion in our development roadmap if it makes sense. Web3 and DeFi are rapidly evolving, so we keep an eye on everything new while staying true to our long-term plan for AirDAO's ecosystem.
Q: What role does $AMB play in the AirDAO ecosystem?
Igor: AMB is the native token of the AirDAO ecosystem and has several roles. Firstly, it's a utility token staked in validator nodes to secure our blockchain. It's also used for the gas needed for transactions. Lastly, it's also a governance token used in our Snapshot voting. Our tokenomics upgrade will give the AMB token more use cases.
Q: How important is the community to AirDAO?
Sophie: Totally the central and driving! As I said, AirDAO is a decentralized, community-led project. Community members actively participate in multiple aspects of the project. With this in mind, we keep our community at the center of everything we do and provide them with educational resources via AirDAO Academy, as well as regular communication with the team. We try to remove silos as much as possible to build together.
Q: What's in store for AirDAO in the future?
Igor: There are a few things I want to highlight. Firstly, AirDAO will implement a tokenomics upgrade, bringing new use cases to the AMB token. Secondly, we're upgrading our governance with exciting new features and have community-led working groups creating the framework for this. Keep an eye on our social media to stay updated on everything we do!
Free-Ask from the KuCoin Community to the AirDAO's Team
Q: Did you consider community feedback/requests during the creation of your product in order to expand on fresh ideas for your project?
Sophie: As written, community feedback and involvement are at the heart of AirDAO. The way we push it is unique and continuously increasing. We have solid tech, great experts, ambitious product roadmaps, and great innovations to be delivered in the coming months.
But we want these products to go to everyone, to serve simple, daily use across all geographies.

Crypto

is our future, and we want to create and offer simple tools that will simplify lives and decrease costs.
Q: Where can I get all the latest news about AidDAO? Do you have a Twitter/Telegram/Discord community?
Igor: We completely understand the concerns around fake groups. To get all the latest news about AirDAO, you can follow our official channels

. Please ensure you're following only our official channels to avoid

scams

and fake groups. We always prioritize the safety and security of our community!
Q: What are your top 3 things for priorities in 2022? Could you share some plans for the upcoming year?
Igor: All In ADA! Our top three priorities for 2024 are:
1. Transition to Community-Led Governance: We successfully transitioned to a decentralized governance model with the AirDAO Council taking the helm. This was a significant milestone, ensuring that our community has a direct say in the direction of the project.
2. Scalability and Infrastructure: Ensuring our layer-one blockchain remains competitive, scalable, and secure. We've made several enhancements to support more dApps, faster transactions, and lower fees.
3. Ecosystem Expansion: Onboarding more projects onto our platform and fostering a vibrant web3 ecosystem. We've been active in seeking partnerships, supporting developers, and launching new dApps.
For the upcoming year, we're focusing on enhancing our tokenomics, further community engagement initiatives, and establishing more strategic partnerships in the DeFi and broader web3 space. Stay tuned to our official channels for more detailed announcements!
Q: AirDAO is an ecosystem of innovative and easy-to-use dApps accessible through a single dashboard. What is AirDAO's vision for the future of DeFi?
Igor: AirDAO envisions a future where DeFi is not just a niche market but an integral part of the global financial system. We believe DeFi's potential lies in its ability to democratize finance, making it transparent, accessible, and equitable for everyone, regardless of location or economic status.
Our focus is on building an ecosystem that is user-friendly, secure, and scalable. By offering a range of dApps from staking and onramp/offramp to decentralized exchanges and more, we aim to provide a comprehensive DeFi experience for both novices and experts. Furthermore, education is a cornerstone of our vision. We want to ensure that everyone, even those new to crypto, can understand and benefit from the advantages DeFi offers.
Lastly, community engagement remains at the heart of everything we do. As the financial landscape evolves, we want our community to be at the forefront, guiding the direction of AirDAO and the broader DeFi movement.
Q: When will your tokens be listed on the exchange, and which exchanges do you plan to list on in the future?
Sophie: Our token, the AMB, has been listed for years. On Binance to start with, then on many exchanges, Gate.io, Bitmart. But the most important today is on KuCoin

, where we propose marketing activities.
KuCoin Post AMA Activity — AirDAO (AMB)
🎁 Participate in the AMB AMA quiz now for a chance to an equal share of 1,250 AMB prize pool!

The form will remain open for five days from publishing this AMA recap.
AirDAO AMA - AMB Giveaway Section
KuCoin and AirDAO have prepared a total of 250,000 AMB to give away to AMA participants.
1. Pre-AMA activity: 125,000 AMB
2. Free-ask section: 6,250 AMB
3. Flash mini-game: 50,000 AMB
4. Post-AMA quiz: 68,750 AMB
. . .
Sign up for a KuCoin account if you haven't done so yet, and ensure you complete your KYC verification to be eligible for the rewards.
Follow us on Twitter, Telegram, Facebook, Instagram, and Reddit.