KuCoin in 2022: Annual Review
KuCoin in 2022: Annual Review
Our motto is to remain resilient and consider every challenge an opportunity to grow from strength to strength. If the beginning of the year saw the emergence of a downturn in the crypto market, the latter half of the year gave us more trying times and uncertainty.
Notwithstanding the chilly crypto winter upon us, KuCoin - the People's Exchange, found new ways to endear ourselves to our users and the crypto community. The highlight of H1 2022 was our successful fundraising round and our foray into Web 3.0, but that's not all we've been up to.
In the following sections, we share a snapshot of all the key developments contributing to KuCoin's growth through the year 2022. Take a look at our most significant achievements over the past year and how we stayed on course with our commitment to growing the global crypto community.
Our Growth in Numbers
Transaction Volume
Between January and December 2022, KuCoin saw our trading volume across the spot and futures markets exceed $3.6 trillion, a growth of 52% YoY. At its peak, our daily trading volume in the futures market soared to a high of $23 billion in May 2022, while the record high for our spot trading volume during this period was $12 billion, touched in May 2022.
Registered Users on KuCoin
KuCoin's total number of registered users has reached over 27 million by the end of 2022, with more than 13 million new users registered to use KuCoin's services during 2022, a growth of 102% in our user base year-on-year (YoY). This stellar growth has further cemented our position as one of the leading cryptocurrency exchanges globally.
The most significant jump in our user base came from the Asia-Pacific region, where we added more than 7 million users - a growth of 191% since 2021. In other areas, such as Latin America, Middle East & Africa and Europe, our user base jumped by 120%, 109%, and 100% since 2021.
Team and Talent
Our prolific talent powered our growing operations as the backbone of our expansion. The KuCoin team grew in headcount by 39% in 2022 - making our global workforce more capable.
Our continued growth goal is further evident in our plans to increase headcounts by 20% to join our workforce worldwide in 2023. This will help us improve our productivity while allowing us to innovate further and offer our users more engaging ways to make the most of the cryptocurrency market.
Check out current openings at KuCoin across various departments, including Business Development, Operations, Research & Development, and more.
Global Communities
As People's Exchange, we firmly believe in the power of our community. This is why we have strived to develop our global communities to learn from our users and grow to serve them better.
In 2022, KuCoin's 23 global communities across multiple languages and geographies enjoyed a membership of 1.3 million, making them one of the largest crypto communities worldwide. This is a remarkable growth of 30% from 21 global communities with 1 million members we had in 2021. Click here to know more about all the across KuCoin's worldwide communities.
Customer Support
KuCoin has been at the forefront of delivering 24/7 customer support to our millions of users globally. In 2022, our customer support team assisted our users in solving nearly 800,000 queries.
Our chatbot, launched in April 2022, has handled concerns from over 870,000 users till the end of 2022. We're ever ready to assist our users and ensure they get the best experience across all services on our platform.
Products & Features
Asset Operations
As the home of crypto gems, KuCoin has been instrumental in launching a total of 210 assets in 2022.
With the new crypto gems listed on our platform through 2022, the total number of digital assets you can trade on KuCoin now stands over 750, with more than 1300 trading pairs. This includes 24 projects on KuCoin Spotlight and 44 on KuCoin Burningdrop. In 2022, 81 tokens enjoyed their world premiere listing with us, which is a 50% growth from the 54 world premiere listing in 2021.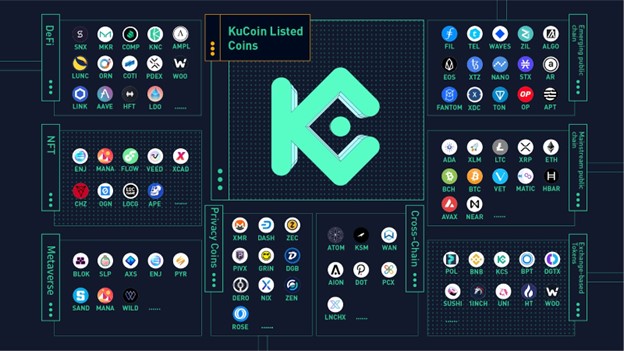 New Listings
KuCoin made an exciting splash into the world of NFTs with its first-ever NFT ETF in the second half of 2022 to increase liquidity, accessibility and transparency of the NFT trading market. It makes NFTs as easy to trade as Ethereum or Bitcoin by allowing users to invest in top NFTs directly with USDT, lowering the threshold for retail investors to invest in blue-chip NFTs and spare the hassles of managing NFT infrastructures such as wallets and smart contracts.
KuCoin has issued NFT ETF trading pairs for 18 blue-chip NFT projects such as CryptoPunks, Bored Ape Yacht Club (BAYC), Sandbox, Otherdeed, Squiggle, and Fidenza. These fractional tokens are called Hi series, including hiBAYC, hiPUNKS, hiENS4, hiCOOLCATS, hiGAZERS, hiPENGUINS, hiCLONEX, hiFIDENZA, and hiSQUIGGLE.
Their average daily transaction volume can reach up to 10 million USDT. The high liquidity means that the price fluctuation of hiNFT could be more effective than that of NFT, which better meets the needs of traders. KuCoin will continue to explore more NFT-related products to increase liquidity and build a more complete infrastructure of the NFT market.
KuCoin Trading Bot
Since its launch in early 2021, KuCoin Trading Bot has been up and running safely for almost two years. This product has gained considerable attention and interest whether in a bullish, bearish, or turbulent market, by offering the same convenience, time-saving, speed, and intelligence that make it stand out from the crowd of existing trading bots.
KuCoin Trading Bot is a free strategy trading tool that can help users automate their buying and selling in the volatile crypto market with preset parameters. It is equivalent to configuring a 24/7, all-around bot butler for your trading strategy. KuCoin offers six types of Trading Bot strategies - Spot Grid, DCA, Futures Grid, Smart Rebalance, Infinity Grid, and Martingale.
So far, over 10 million trading bots have been created on KuCoin. In 2022, the total annual trading volume exceeded 22 billion USDT. KuCoin Trading Bots currently support 700+ trading pairs in Spot trading and 100+ trading pairs for Futures trading.
Trust & Transparency
The year 2022 will forever be remembered in the crypto industry as one where trust, transparency, and accountability became prominent factors for all players. Keeping this in mind, we at KuCoin undertook several initiatives to assure our users and the world of our security, safety, and transparency.
KuCoin was among the first in the industry to publish our Proof of Reserves (PoR) data, revealing a full 1:1 customer reserve ratio. This means that all our users' assets are fully backed.
The safety and security of our users remain our topmost priority. Keeping this in mind, we continue to undertake measures to build on the faith our users have placed in us.
We value the trust our users have put in us, and continue to build on it. Some of the critical steps we took toward improving trust and transparency include the following:
We released 55 hot and cold wallet addresses as the first step toward assuring our users about the safety of their funds invested with us. Users can check this data on our dashboard at:

https://portfolio.nansen.ai/dashboard/kucoin

KuCoin was one of the first cryptocurrency exchanges in the market to publish our Proof of Reserves (PoR) information using our own Merkle Tree PoR. We will update and publish this information regularly via the Periodic Proof of Reserves feature.
New Features
KuCoin Wallet
KuCoin believes in innovation and the potential of decentralization through Web 3.0. In 2022, we made a considerable foray into Web3 and expanded our footprint in the market.
One of the most notable launches of 2022 in this space was the KuCoin Wallet, which went live in June 2022. The secure and easy-to-use multi-chain crypto wallet is a great initiative that can help users onboard and begin their journey into Web3.
Since its public beta test launch, more than 1 million users have signed up for using the KuCoin Wallet. We believe it will be the gateway for millions more to enter Web 3.0 and explore all it offers.
Over the past few months, we've continuously upgraded our KuCoin Wallet by adding new and exciting features. Highlights include:
1. One-stop multi-chain asset management
2. The first wallet with comprehensive multi-device integration
3. Swap tokens at the best rate with native swap function
4. The power of tracking DeFi portfolio across various networks
5. All-in-one NFT aggregator with best liquidity and best price
KuCoin Community Chain (KCC)
Built by fans of KCS and KuCoin's fan communities, the KCC ecosystem has registered significant growth over 2022. Highlights include:
Number of projects integrated or deployed on KCC has increased to around 90, including DeFi, NFT, GameFi, Web3.0 Infrastructure, etc.
The number of KCC on-chain addresses grew by more than 500% since mid-2022 to nearly 600,000 by year end.
KCC announced an ecosystem incentive plan of up to $50 million, and held "KCC Unicorn Contest" which attracted more than 100 projects to participate. 40+ projects successfully deployed on KCC.
KCS
Over the past year, we have seen a considerable jump in KuCoin Token (KCS) adoption. Users can hold KCS to access a wide variety of services on our platform, such as Staking, Liquidity Mining, and Lending, and enjoy discounts on trading fees.
We will continue to innovate and roll out more use cases for the KCS token as its adoption picks up in the future. Stay tuned for more on this!
Investment & Research
KuCoin Ventures
KuCoin Ventures is one of our most recent initiatives to develop and grow the crypto industry. Since its inception in late 2021, KuCoin Ventures has successfully connected with more than 200 investment institutions and foundations.
We have also successfully performed due diligence and invested in over 50 blockchain companies through 2022. For more information, check out KuCoin Ventures' latest portfolio.
KuCoin Labs
KuCoin Labs is the research and incubation initiative set up by our company. KuCoin Labs has invested in crypto projects across GameFi, Web 3.0, Infrastructure, and more categories. Throughout 2022, KuCoin Labs has invested around $15 million in 30 crypto-native projects and 3 blockchain funds, doubling the investment since 2021.
KuCoin Labs has incubated 5 crypto-native projects in 2022, including Ethereum privacy public chain protocol Obscuro, blockchain gaming platform PlayZAP, blockchain game Superpower Squad and liquidity management platform Liquid Factory.
In 2022, KuCoin Labs has enhanced its global influence by sponsoring and speaking at numerous blockchain industry summits across North America, Europe, Middle East, and Asia-Pacific regions (such as Web3 Tokyo, Avalanche Asia-Pacific Hackathon), as well as mentoring in multiple accelerators and incubators (such as EVMOS, IceTea Labs Accelerator Program). KuCoin Labs has built partnerships with more than 800 projects in 2022 alone.
Most recently, in December 2022, KuCoin Labs announced the launch of a long-term incubation program - "The Astro Selection". The program aims to accelerate builders and support sustainable growth within the blockchain industry, focusing on promoting the development of Metaverse, NFT and blockchain gaming sectors.
When Crypto Meets Football
KuCoin published the "When Crypto Meets Football" report in November 2022 to explore the level of engagement between crypto investors and their favorite sports through Web3. The report released just before FIFA World Cup 2022 surveyed over 20,000 crypto investors and more than 8,000 members of KuCoin communities and focused specifically on football.
Partnerships & Campaigns
We at KuCoin believe that the crypto industry can grow and prosper only if we join hands. In line with this spirit, KuCoin has forged promising partnerships with industry leaders who have the same vision as us. Together, we wish to transform the crypto landscape with our vision and expertise.
Here are some of the key partnerships we made in 2022:
KuCoin entered a partnership with Talos, the premier provider of institutional digital asset trading technology, to streamline institutional access to digital assets and further expand the capabilities of its user base.
KuCoin partnered with Fracton Protocol - a fractionalization NFT liquidity protocol, to bring top NFTs to the broader audiences.
KuCoin partnered with Bloktopia to set up the Meta Office - the first virtual office of the crypto industry, to provide an immersive user experience, including browsing and trading crypto and NFT, participating in AMA and engaging in live chat with the community.
KuCoin announced a strategic partnership with Pyth Network, a next-generation Oracle solution built on the Solana blockchain, to bring the crypto market price on-chain.
KuCoin partnered with Coinrule - a top automated trading strategies platform for crypto assets, allowing users to trade crypto assets available on KuCoin via its API.
Into the Future
KuCoin is home to true BUIDLers, and through the crypto winter, we continue to support more like us. Through the ups and downs of the crypto market, we thrive and forge our path ahead in expanding the scope and adoption of the broader crypto industry.
Having turned five years in 2022, we are young, and yet, in this new industry, we are among the more experienced ones. We've grown in 2022, and so has the industry - despite the downbeat conditions globally.
We believe that technology like crypto can revolutionize how we create and distribute value, by facilitating the global free flow of digital value. Join us on the ride as we endeavor to add more value to the overall blockchain and crypto industry, and onboard more people towards a journey into cryptocurrencies.
2023 brings more hope for the industry, and we want to lead the industry into the next bull run. We urge you to ignore FUD, continue to DYOR, and keep on BUIDLing with us!