Announcing the KuCoin Labs X Sui Summer Hackathon: Unleash Your Creativity and Compete for a Prize Pool of US$285,000!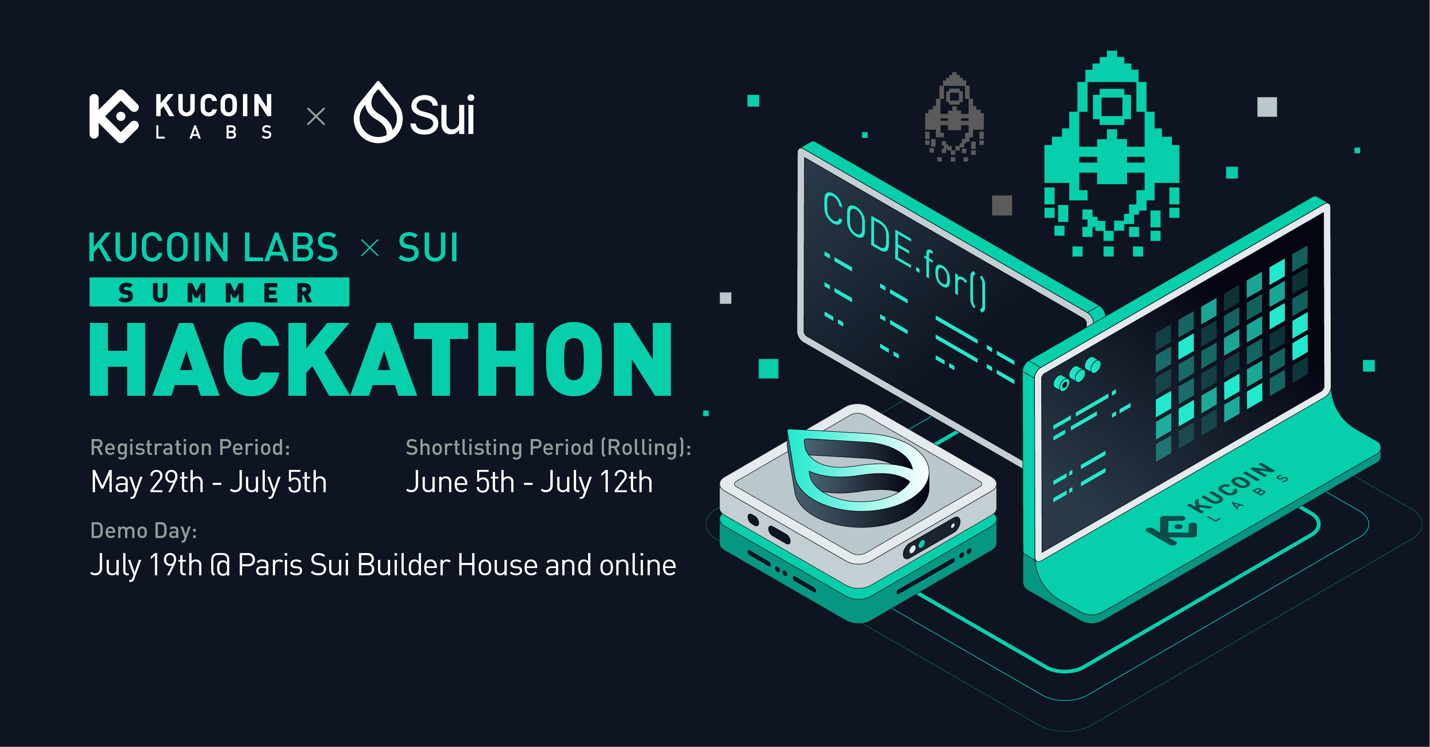 We are excited to announce the KuCoin Labs X Sui Summer Hackathon, a global online event co-hosted by KuCoin Labs and the Sui Foundation. This is KuCoin's next big collaboration with Sui following its successful launch via a World Premiere on KuCoin Spotlight in April 2023.
Following the successful mainnet launch of the Sui Network, this hackathon aims to bring together innovative minds worldwide to compete for a total prize pool of US$285,000. The event consists of three main stages: registration, shortlisting, and the demo day, with the demo day being both online and offline.
How to Join the Hackathon
Participants will enjoy early access to KuCoin Labs' 2nd Incubation Program and receive technical support and mentoring from Sui Foundation teams, KuCoin Labs, and other hackathon partners. Additionally, participants can benefit from business development, fundraising, incubation-focused workshops, and co-marketing activities within the broader Sui ecosystem.
Eligibility Criteria
Projects must be deployed on the Sui mainnet, testnet, or devnet to participate or have integrated with Sui. Projects can be new or established but must implement a well-defined new feature or redesign within the hackathon period.
Teams must participate in the demo day on July 19th in person at the Sui Paris Builder House or through the online session. A project team member must pass KYC to receive any prizes.
If you wish to participate in the hackathon, here's more information on the timeline and the process involved in the various stages of this event:
Registration (May 29th to July 5th)
Fill out the hackathon registration form and join the hackathon Telegram group. This will help you receive all communication and updates for coordinating the contest.
It is important to note that only projects will be eligible for shortlisting. However, individuals seeking a team can update their existing registration or create a new team registration after they have formed or joined a team.
Shortlisting (June 5th to July 12th)
Projects will be evaluated on conception, technical implementation, product design, creative use of Sui features, and real-life impact.
Shortlisted projects are chosen from the pool of registered projects by a committee of scorers, which includes representatives from the Sui Foundation, KuCoin Labs, partners, and supporters. The selection process is based on a pre-set rubric, ensuring a fair and transparent evaluation of all participating projects.
Projects will be assessed on several criteria, including:
Conception: The originality and feasibility of the project idea.
Technical Implementation: The quality of the project's technical execution and integration with Sui features.
Product Design: The user experience, interface design, and overall project aesthetics.
Creative Use of Sui Features: The innovative application of Sui Network's features and capabilities.
Real-Life Impact: The project's potential to positively impact real-world use cases and industries.
The shortlisting process occurs on a rolling basis, with new shortlisted projects being announced weekly or biweekly. This approach allows the committee to continuously evaluate and select projects throughout the hackathon, ensuring that deserving projects are recognized and allowed to participate in the demo day.
Demo Day (July 19th)
Shortlisted teams can participate in the Demo Day in person at Sui Paris Builder House or online through video conferencing.
On demo day, each team will be allocated a specific amount of time (X minutes) to demonstrate their project. Teams can distribute their time as they see fit, but reserving a minute or two for a Q&A session with the audience and the judging panel is advisable. This enables teams to engage with the audience, address inquiries or concerns, and highlight their project's distinctive features and advantages.
Tips for a Successful Demo Presentation
Plan your presentation: Outline the key points you want to cover during your demo and allocate time for each section. Ensure to include an introduction, a brief overview of your project, a demonstration of its features, and a conclusion.
Practice your presentation: Rehearse your demo multiple times to ensure smooth delivery and identify improvement areas.
Engage with the audience: Encourage audience participation by asking questions or seeking feedback during your presentation. This will help create a more interactive and engaging experience for everyone involved.
Be prepared for the Q&A session: Anticipate potential questions from the audience and the judging panel, and prepare concise and informative answers.
The results will be announced on the same day after both online and in-person demo sessions conclude.
Teams will compete for Category Awards (4x), Best Overall, and Community Favorites awards and prizes.
Category Award Prizes
Each of the four categories in the hackathon will have 1st, 2nd, and 3rd place winners, as determined by a panel of judges. Teams can only enter for one category award, and the prizes for the winners in each category are as follows:
🥇1st Place Category Award: US$20,000

🥈2nd Place Category Award: US$10,000

🥉3rd Place Category Award: US$5,000
These prizes provide a significant incentive for participants to develop innovative and impactful projects within their chosen category. The four categories include:
Infrastructure and Tooling
Infrastructure primitives and developer tooling are crucial foundational building blocks for any ecosystem. Participants can enter this category by building any infrastructure application or developer tool for the Sui Network or Sui Move.
NFT, Social, and DAO
NFTs and DAOs form the social fabric of web3. This category invites participants to create dynamic NFTs on Sui, explore new social interactions, or develop any NFT, social, DAO, or governance-related application.
Gaming and AIGC
Gaming could bring the next wave of mass consumers into crypto. Participants can create fun and engaging games, explore infinitely regenerative projects with AIGC, or combine both elements for a unique experience.
DeFi and Payments
Transactions and markets are the backbone of any blockchain ecosystem. This category encourages participants to experiment with Sui Move's asset-centric model and create DeFi, payment, or wallet-type applications.
Crème de la Crème Award (Best Overall)
The panel of judges will select the best overall projects across all categories, awarding the title of 'Crème de la Crème' to the top three projects. The prizes for the Crème de la Crème Award are:
Best Overall 1st place: US$50,000

Best Overall 2nd place: US$30,000

Best Overall 3rd place: US$15,000
Community Favorites Award
In addition to the judges' selections, the hackathon also features a Community Favorites Award, with a total prize pool of US$50,000. This prize pool will be distributed evenly among the top 10 projects as voted for by the community, allowing participants to have a say in the winning projects.
Note: The three types of awards and prizes stack, meaning a single team could win three awards. This provides an even greater incentive for participants to develop innovative and impactful projects that resonate with both the judges and the community.
Take advantage of this opportunity to showcase your creativity and innovation in the KuCoin Labs X Sui Summer Hackathon! Register now and join us in building the future of decentralized technology.
By rebranding and restructuring KuCoin's primary market investment and research arm in 2021, KuCoin Labs diversified and intensified investments at the very early stage of projects and helped more BUIDLers achieve sustainable growth and success in the decentralized world. Since 2022, KuCoin Labs doubled its effort on Web3 start-up incubation. Gathering internal and external top experts and partners in different project development segments and offering bespoke advisory services within long-tail strategical partnerships.
Sui Foundation is an independent, non-profit organization dedicated to promoting the adoption of the Sui Network and its associated technology stack, such as the Sui Move smart contract language. Sui Foundation exists to promote, grow, and cultivate the holistic development of the Sui ecosystem.
---
Join the KuCoin Global Communities>>>