AI & Blockchain Tango: KuCoin's Survey Explores the Cryptoverse's Latest Power Couple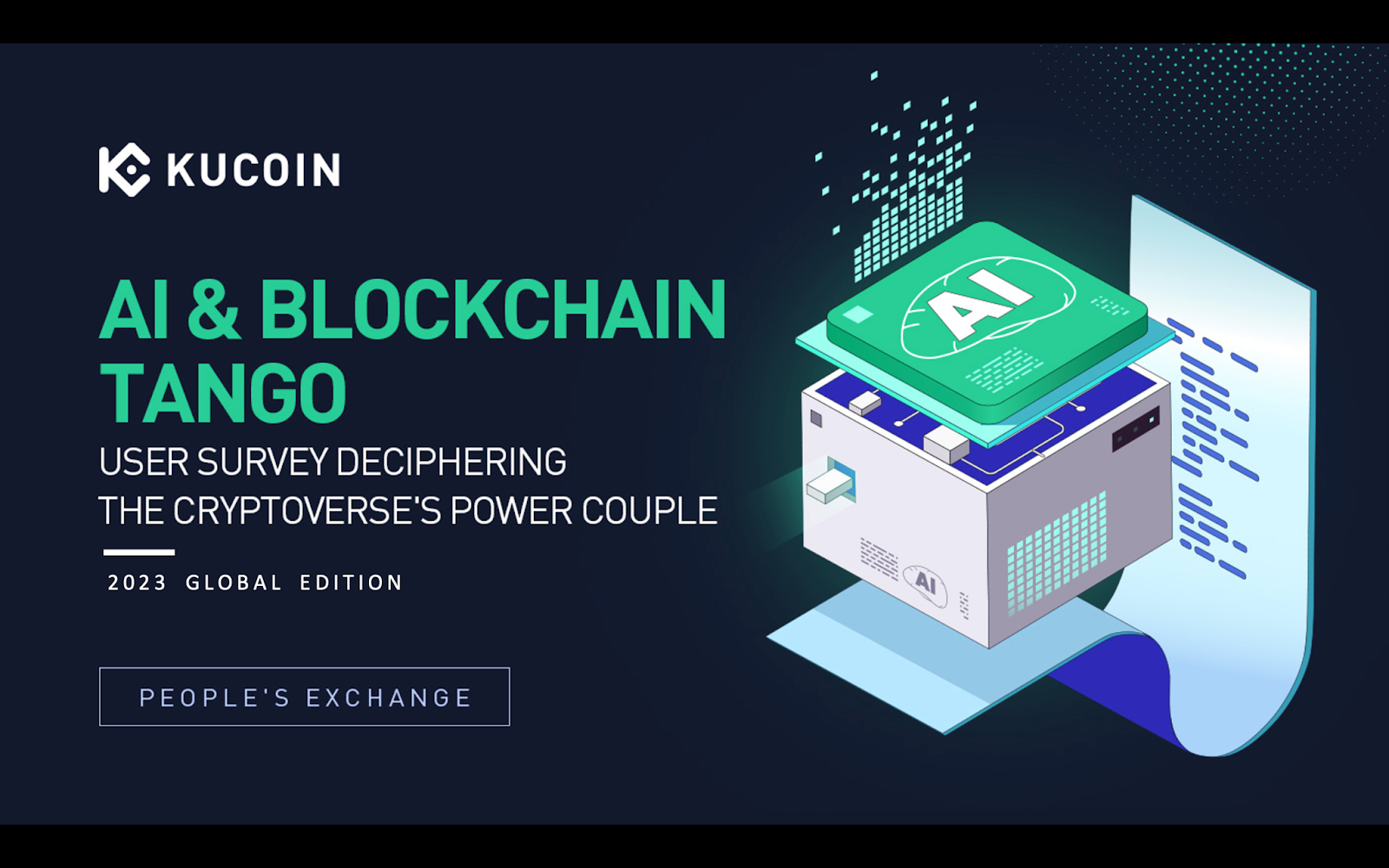 KuCoin, a top 5 global crypto exchange, has released the AI & Blockchain Tango report based on a user survey to understand their perception of merging AI and blockchain technologies. The survey has revealed fascinating insights across key user segments on how they perceive AI and blockchain, how they expect these technologies to integrate, and their potential impact on the broader crypto industry.
With the survey, we at KuCoin offer valuable insights into how aware users are of AI and blockchain tech, compelling use cases and applications, and the needs and expectations of crypto investors. We want to leverage the findings from this survey to bridge the gap between crypto enthusiasts and the rapidly evolving sectors of artificial intelligence and blockchain technology.
Survey Methodology: Who Are the Respondents?
KuCoin surveyed 1,125 crypto users worldwide via our official social media accounts to create this report. The survey was kept open for one week, from May 10 to May 17, 2023, and included responses from Gen Z users aged 18-24 (15%), Gen Y users aged 25-40 (54%), Gen X users aged above 40 (31%), with a varied level of experience in crypto investing.
KuCoin survey demographics
Key Insights on AI Applications in Blockchain and Crypto
Here are some of the most significant generational insights from the survey:
Widespread Acceptance and Growing Interest in AI Among Crypto Users
Over 90% of respondents have utilized or expressed interest in using AI to boost efficiency in their daily lives.

Gen Z and Gen Y respondents show a higher adoption rate and positive reception of AI than Gen X, indicating a generational shift in embracing AI technologies.
Popular AI Applications Among Crypto Users
Generative AI for text, such as ChatGPT, is favored across all generations, with 51% of respondents preferring it.

Navigation apps and voice AI assistants are highly appreciated for their practicality and convenience, especially among Gen Z and Gen Y.

AI-generated creative content and AI-powered trading tools are gaining popularity among Gen Y users.
Enthusiasm for AI to Revolutionize Blockchain and Crypto Trading
59% of respondents desire AI advancements in blockchain/crypto trading, with Gen Z and Gen Y showing higher enthusiasm than Gen X.

AI applications for education and work efficiency pique interest across all generations, emphasizing the demand for streamlined processes and personalized experiences.

A growing interest in AI applications for healthcare and security/risk management is observed across all generations, showcasing the increasing acceptance of AI's potential in these sectors.
Concerns Surrounding AI in Crypto
Privacy and security issues are the top concern for 48% of users, with Gen X respondents being particularly apprehensive about the centralization of power resulting from AI deployment.

Worries about human control, transparency, and job loss are shared across all generations but are more pronounced among Gen X users.
Familiarity with AI in Crypto
64% of crypto users are at least somewhat familiar with AI applications in blockchain/crypto.

Gen Z and Gen Y display a higher level of familiarity than Gen X, indicating an opportunity for education and awareness-building tailored to different generational needs.
AI: General Attitudes and Usage
The KuCoin AI and blockchain survey highlights a growing interest in artificial intelligence technology and tools among global crypto users. 94% of respondents have used or plan to use AI tools to boost efficiency. AI use and interest are incredibly high among Gen Z and Gen Y users.
Popular AI Applications: Generative AI Takes the Lead
Unsurprisingly, the explosive success of ChatGPT has made its way into the lives of KuCoin users too. Over half of the survey's respondents have used generative AI tools for text, such as Open AI's ChatGPT, Bing Chat, and Google's Bard. Gen Y and Gen X are the leading users in the category, accounting for 53% and 51%, respectively, while 46% of Gen Z has used these tools.
Most preferred AI-powered applications
Other AI-powered applications that are popular among survey respondents include navigation apps such as Google Maps, voice assistants such as Siri and Alexa, social media algorithms such as Meta's Facebook and Instagram, generative AI tools for music, coding, images, and videos, AI-enabled trading, and financial tools, content recommendations on streaming services such as Netflix, and product recommendations on eCommerce marketplaces such as Amazon.
AI Can Revolutionize Blockchain and Crypto Trading
There is also considerable interest in leveraging AI technology for trading tools, with 27% of respondents expressing a willingness to use such services. This indicates an authentic and promising application - applying AI to deliver a better crypto trading experience. Even more fascinating is the high demand for AI-enabled financial and trading tools among the older participants - 35% of Gen X respondents were keen on such technology.
59% of participants want to see more AI applications and innovation in the blockchain and crypto trading space. Of these, the highest interest is among the Gen X population at 66%.
Other popular sectors that the use of artificial intelligence technology can revolutionize include education (37%), work efficiency (36%), healthcare (33%), and security and risk management (31%). The Gen X group is particularly interested in exploring applications for AI technology across multiple sectors. At the same time, the younger generation seemed less inclined, possibly due to greater awareness of emerging trends of AI applications in the market.
AI's Risks: Privacy, Security, Transparency, Job Loss, and More
However, while the survey's responses indicate high interest in exploring AI applications across many sectors, users also have considerable apprehension. Crypto users who participated in KuCoin's surveys shared legitimate concerns about various aspects of AI.
Privacy tops the list, worrying 48% of respondents, followed by human control and autonomy at 45%. Users are especially concerned about the level of control and autonomy AI systems could have and how it could impact human decision-making capabilities.
Top concerns about AI
38% of crypto users surveyed by KuCoin also highlighted fears of job loss driven by increased adoption of AI-powered tools in the workplace. 30% of the survey's respondents are also concerned about the lack of transparency and accountability in AI services. Another key concern that emerged was the potential for bias and discrimination by AI systems, highlighted by 19% of respondents.
Exploring AI's Potential, Powered by Blockchain and Crypto
Although there was a high level of awareness and interest in AI technology among survey respondents, the scope of AI's implications within the blockchain and crypto industry remains an opportunity to explore. Only 28% of the survey's participants were familiar with AI use cases in the blockchain/crypto sector, while the remaining 64% indicated little to no knowledge about AI's applications in this area.
There is a genuine opportunity for the crypto industry to leverage, raising awareness among their communities on the potential for AI to transform blockchain and crypto. Crypto organizations could focus more on educating end users about news and events surrounding AI's integration into crypto market trends.
Familiarity with AI use cases in blockchain and crypto
AI Offers Efficiency, Accuracy, and Security in the Blockchain/Crypto Industry
KuCoin's survey reveals that AI's power of automation holds the most promise in making blockchain transactions more efficient. 22% of respondents believe that leveraging AI can improve predictions of market trends by analyzing big data. Another 21% highlight how AI can potentially enhance the overall security of blockchain infrastructure by identifying potential security threats and risks.
Other benefits of AI in blockchain and crypto applications include improved user experience by providing recommendations based on user preferences and transaction histories (14%), cost savings through automation, and reduced need for human intervention (5%).
AI for Crypto Trading: The Challenges
While there is considerable interest in exploring AI's potential for improving the crypto trading experience, our survey respondents have also divulged several concerns and challenges to this approach. The most significant problem, highlighted by 33% of participants, pertains to the potential centralization of power among a few large companies adopting AI technology.
Top concerns about applying AI to crypto trading
31% of crypto users are also concerned about security threats caused by the AI tech provider. Meanwhile, 29% worry about privacy issues concerning using users' private keys and personal transaction histories on the blockchain.
The survey's findings also reveal unforeseen risks from complex AI algorithms that could be difficult to predict or understand (26%) and the lack of transparency and accountability in trading decisions (25%). Respondents also worry about potential job loss in the crypto industry driven by greater AI adoption (20%) and potentially biased results from AI systems processing incomplete data (19%).
How Can Crypto Exchanges Like KuCoin Integrate AI Technology?
Top priorities for crypto exchanges looking to integrate AI
Respondents were also asked to rank the top priorities for crypto exchanges looking to integrate AI technology into their platforms and services. The findings reveal interesting insights in this area.
The biggest application that emerged was the use of AI for risk management to detect potentially fraudulent activities on crypto exchanges, as highlighted by 40% of crypto users. 39% of participants also expressed interest in seeing cryptocurrency exchanges use AI to automate KYC and AML for compliance purposes.
Other critical areas highlighted include using AI for security by detecting potential threats and preventing cyberattacks (38%) and market prediction for analyzing trends and identifying patterns (38%). 30% of the survey respondents also suggested making customer service processes more efficient using artificial intelligence.
Johnny Lyu, CEO of KuCoin, observes, "KuCoin, driven by serving people and strong company culture, values individuals who tackle challenges and embrace change. We explore the evolving crypto world, balancing risk and progress. AI surveys show that most crypto users support AI technology, while some have concerns about privacy and security. KuCoin addresses these issues by building trust and empowering users, fostering an innovative ecosystem. With curiosity and adaptability, we aim for a bright future, guided by prudent risk-taking."
KuCoin is a global cryptocurrency exchange for numerous digital assets and cryptocurrencies. Launched in September 2017, KuCoin has grown into one of the most popular crypto exchanges and already has over 27 million registered users across 207 countries and regions worldwide.
Known as the "People's Exchange," KuCoin is a global crypto exchange with its operational headquarter in Seychelles, providing users with 24/7 multi-language customer services. Meanwhile, KuCoin has established 23 local communities in Europe, Southeast Asia, and other regions, providing users with highly localized services.
As the home of crypto gems, KuCoin has supported over 750 projects with 1,300+ trading pairs. Many projects like BLOK, CHMB, VR, KMA, and DAO had their primary listing on KuCoin.
In 2022, KuCoin raised over $150 million in investments through a pre-Series B round, bringing total investments to $170 million with Round A combined, at a total valuation of $10 billion. KuCoin is currently one of the top 5 crypto exchanges according to CoinMarketCap. In 2023, KuCoin was named one of the Best Crypto Exchanges by Forbes and recognized as a highly commended global exchange in Finder's 2023 Global Cryptocurrency Trading Platform Awards.
---
Join the KuCoin Global Communities>>>