Weekly Crypto Analysis: Tech Stocks Decline While Crypto Market Sees Fewer Losses; Is Crypto Turning More Attractive Than the Equity Market?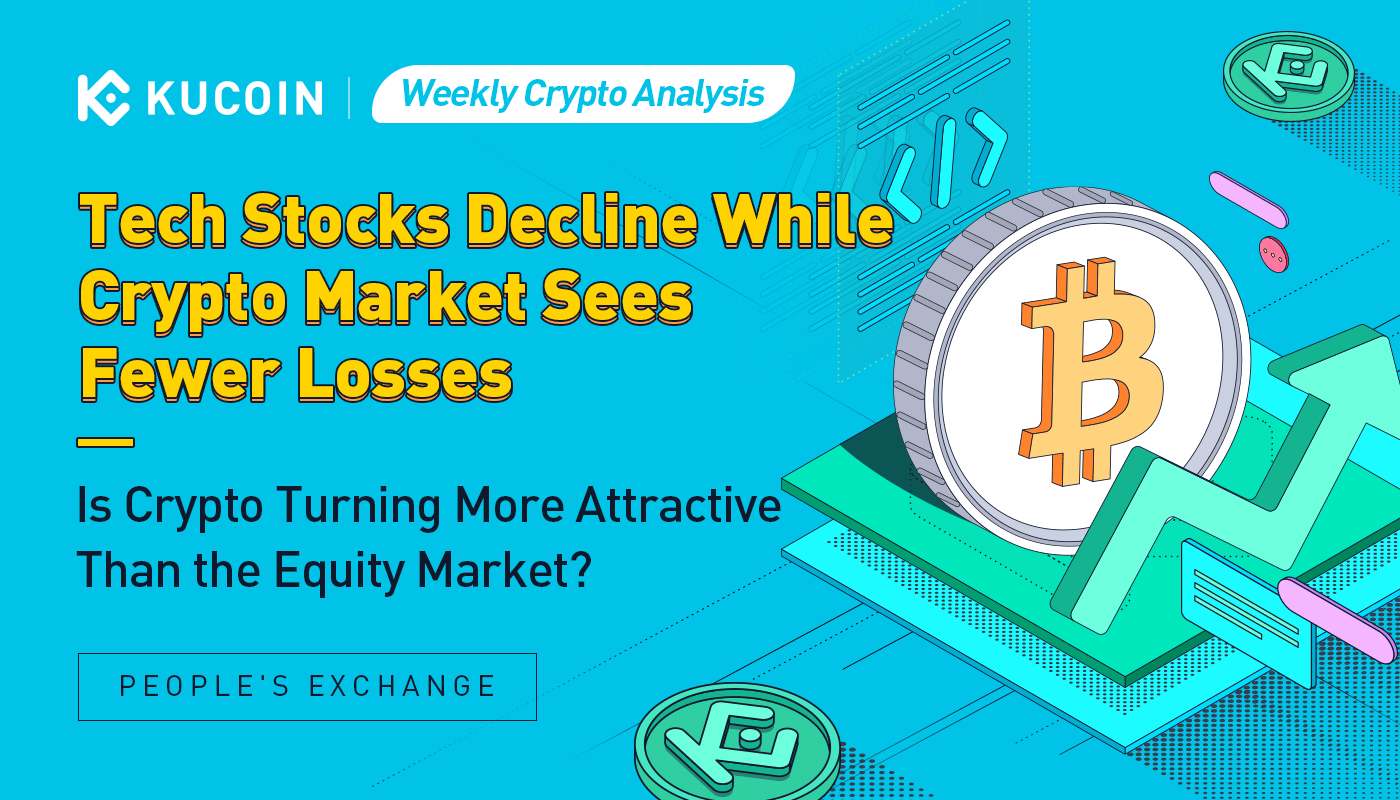 The global crypto market cap stands at $1.78 trillion as on Monday, Apr 25. It has dipped by 3.72% since Sunday, despite the total market volume picking up by 51.08% in the past 24 hours.
The DeFi market accounts for 11.84% of the entire cryptocurrency market's 24 hour trading volume. Meanwhile, stablecoins have a a total volume of $51.58 billion, accounting for 83.74% of the total crypto market 24 hour volume.
The biggest weekly gainers in the crypto market include ApeCoin (APE) and STEPN (GMT), which have strengthened by over 55.41% and over 34.56% respectively. In this article, we'll discuss the most important news highlights from the global cryptocurrency market as well as take a look at the technical overview of Bitcoin.
An Overview of the Crypto Market
Bitcoin's dominance currently stands at 41.28%, an uptick by 0.33% in the past 24 hours. The crypto leader is trading at $38,524.48 down by 1.25% over the past one week.
Cryptocurrency Price HeatMap | Source: Coin360
Ethereum, the world's second-largest crypto by market capitalization, is trading at $2,828.39, after losing 4.08% over the week. While the majors trade under pressure, several new entrants have been making their mark among digital assets, most notable of all STEPN (GMT), which has strengthened by more than 300% in the past month.
The bearish pressure in the crypto market continues into a fresh week, with most of the leading digital assets still trading in the red. However, the losses in digital assets remain far lower than those seen among leading tech stocks lately. This makes us wonder, is the notorious volatility that crypto is infamous for finally reducing?
When it comes to retail investors, the seemingly oversold market offers several exciting opportunities for traders looking to buy at low prices. So, let's do a recap of all the key market trends from the crypto market over the past week you should know about.
Top Altcoin Gainers and Losers Via Coinmarketcap
Top Altcoin Gainers:
➢ ApeCoin (APE) ➠51.39%
➢ STEPN (GMT) ➠46.70%
➢ Curve DAO Token (CRV) ➠26.90%
Top Altcoin Losers :
➢ Moonbeam (GLMR) ➠13.52%
➢ Decred (DCR) ➠12.89%
➢ Waves (WAVES) ➠12.85%
Crypto & Bitcoin News Highlights for Apr 18 - Apr 25
The global cryptocurrency market remained busy through the previous week, making many headlines over the period. Some of the most noteworthy and key market trends from the world of cryptocurrencies include:
AMC Theatres Accepts Payments in SHIB and DOGE
One of the biggest positive developments for the global cryptocurrency market, especially for memecoins, was AMC Theatres starting to accept payments in Dogecoin and Shiba Inu via their mobile app last week. US-based customers can now book movie tickets using DOGE and SHIB by updating their mobile apps.
This development comes a few months after the company started accepting payments in digital currencies since November 2021. The leading US-based chain of theaters first started accepting crypto payments in BTC, ETH, BCH and LTC and proposed the idea of adding the two most popular meme tokens in January this year.
BTC, ETH to Soar to New ATHs This Year: Celsius CEO Mashinsky
At the Paris Blockchain Week Summit last week, the CEO at Celsius Network, Alex Mashinsky, offered a rather bullish forecast for the crypto leaders this year. He believes that while the current situation remains somewhat uncertain for digital assets, BTC and ETH could touch new highs later this year.
He forecasts a break past $60,000 for crypto king Bitcoin while Ethereum could take out the $4,500 mark before the end of 2022. However, the Russia-Ukraine war and the US central bank Federal Reserve's plans could put some pressure on the cryptocurrency market growth in the near term before this happens.
Goldman Sachs Planning Alliance With FTX on Regulatory Issues
Mainstream businesses can no longer ignore crypto or hold off from dipping their toes in these waters. Leading investment bank Goldman Sachs is looking to cement an alliance with crypto exchange FTX, a sure sign of increasing confidence in digital assets by the mainstream financial services industry.
An article by the Financial Times discusses how FTX's founder Sam Bankman-Fried met with Goldman Sachs' CEO David Solomon to examine a potential partnership. It looks like the investment banker wants to advise FTX on regulatory issues and possibly even support their future funding rounds.
German Commerzbank Plans Foray Into Crypto
The fourth largest bank in Germany, Commerzbank, has applied for a crypto license in the country. Germany is fast turning into one of the most crypto-friendly destinations in the world and such a move will further increase this sentiment and encourage mainstream adoption of digital assets in the German financial sector.
Commerzbank confirmed last week that it had applied for a crypto license in January 2022. It plans to start with providing crypto-related services to institutional clients before rolling it out to a wider customer base in the future.
Given that the bank has around 70,000 institutional clients, it's a large enough customer base that could soon gain access to the digital asset market via Commerzbank.
Twitter Testing Crypto Earnings Feature for Creators in USDC via Stripe
While the Elon Musk saga with Twitter continues (the latest we hear is that he has secured the funds for the acquisition), the social network is getting busy with its plans to become more crypto-friendly by accepting virtual currency.
Crypto payment giant Stripe announced last Friday that it will work with Twitter to roll out a payment system for digital currencies. The partnership will allow Twitter's creators to start accepting payments in USD Coin (USDC), powered by Polygon's blockchain technology.
Robinhood Acquires Ziglu to Enter UK Market
Popular fintech app Robinhood has confirmed its acquisition of London-based crypto app Ziglu Limited. The move will allow the app to start servicing its UK-based customers, a move the company has been waiting to accomplish since 2020.
Since Ziglu is already registered with the UK's Financial Conduct Authority (FCA), Robinhood's decision to acquire the company will ease its own process to expand into this market from a regulatory perspective. The fintech app is credited as one of the key drivers for the crypto boom among retail investors in North America through 2020 and 2021.
Google Data Points to Declining Interest in Bitcoin Among Retail Investors
According to the key market trends from Google Trends, there appears to be a decline in global search volume for Bitcoin in recent weeks. The sign could potentially point to dwindling interest in digital currencies among retail investors worldwide.
Bitcoin Interest Amount Retail Investors | Source: Google Trends
With the bearish mood in the global cryptocurrency market in recent weeks, we see a sharp decline from the highs seen in April 2021 in online search volumes for Bitcoin worldwide. However, what is encouraging is that, though the numbers are lower than last year, they are mostly holding steady through 2022.
Fear & Greed Index Still Very Much in the Red
Market analysis of the crypto market's Fear & Greed Index reveals a sentiment of Extreme Fear among investors at present. There has been a one point drop in the sentiment since Sunday and also over the past week.
Fear & Greed Index | Source: Alternative
There has also been a sharp drop in the index since last month when the index stood at 51, indicating a neutral bias. On the other hand, the current reading of the index is 23, well in the red, indicating that sellers have the upper hand in the market at present.
The sentiment of Extreme Fear continues from last week into Monday. Although this indicates a bearish mood, it can be a good opportunity to buy virtual currencies at lower prices. A good strategy for crypto beginners who want to ride the volatility could choose Dollar Cost Averaging (DCA) Strategy during this time.
Bitcoin (BTC/USDT) Analysis on the KuCoin Chart
With the Bitcoin price getting rejected last Thursday/Friday on the 50-day moving average (green trend-line) but holding and closing all daily candles above the first line of support (red upwards-facing line), Bitcoin was seemingly entering a short-term consolidation phase.
However, in depth analysis of the recent price movement has shown a relatively strong push towards the downside in the past 24 hours, with the price dropping as low as $38,150.
BTC/USDT Chart on the Daily Timeframe | Source: KuCoin
If we take a look at the downside, Bitcoin has its first support level set at the upwards-facing channel bottom level, which currently sits at just over $37,000. If Bitcoin manages to break this level to the downside, it will face a 100-week moving average at the $35,600 level.
However, a bullish reversal might push Bitcoin's price up towards the top of the current channel and all the way to the Dec 27 high of 52,070.
Which move are you counting on?
Did you know that KuCoin offers premium TradingView charts to all its clients? With this, you can step up your Bitcoin technical analysis and easily identify various crypto chart patterns.
---
Sign up on KuCoin, and start trading today!
Follow us on Twitter >>> https://twitter.com/kucoincom
Join us on Telegram >>> https://t.me/Kucoin_Exchange
Download KuCoin App >>> https://www.kucoin.com/download
Also, Subscribe to our Youtube Channel >>>Listen to 60s Podcast