How to Get Listed on KuCoin, Here Are Tips from KuCoin CEO
A KuCoin user once said on Twitter: If you are not looking for crypto gems on KuCoin, you are doing it wrong. At KuCoin, we are very honored to be seen as the home of hidden gems. And we never stop finding more promising projects to bring to the world before anyone else.
As we have seen a growing number of projects being interested in getting listed on KuCoin, I've worked out this blog article to help potential candidates to go through the application process in an easier and more effective way.
Fulfilling Complete Required Steps is Key to Speed Things Up.
For any partner who wants to list projects on KuCoin, the most common first step is to fill in the token listing application form through the KuCoin official website.
After submission, for projects that pass the preliminary screening, KuCoin Listing Team will contact the corresponding project party via email; if no reply is received, it means that the preliminary screening has not passed or is still under approval. The reply will usually be sent within 2 to 4 weeks after submitting the application form; please wait patiently. Before that, besides preparing and uploading this core information from the listing application form for project review, there are still some key steps for your application.
a. INFORMATION PREPARATION
Submit Application & NDA For QC: Complete the listing application form and provide us with your company registration info, legal opinion, logo, and address. Then review, sign & return the NDA. Your project info and qualification will be verified and evaluated based on KuCoin's standard listing requirements.
b. PRE-LISTING NEGOTIATION & CONTACT
Conference Call: Project Presentation helps us know more about your project; more details will be discussed during the conference (Video Chat is preferred).
Make The Agreement: Agree on all the listing requirements, maximizing the benefit for both parties.
Due Diligence: Submit the required documents and complete the due diligence before contract signing.
Contract Signing: Both parties will sign a formal contract, and the transfer of the required listing fees will proceed on the spot.
Listing Confirmation: Schedule and confirm the listing date of your projects including the announcement time, deposit time, and launching time. Confirmation of Logo, Banner Design, and Project introduction.
Technical Integration: Technical integration and wallet testing. The test duration will vary depending on the token types.
c. LIS

TING GOES LIVE!
Publish Official Announcements, SNS posts, Marketing Campaigns, etc.
5 Tips Worth Noting for Tok

en Listing Application.
The KuCoin global listing review team will take every listing application seriously with an efficient and professional process. The following tips can better help partners understand our review process to create smooth and efficient cooperation jointly.
a. Please do not push us to give the status of your project during the review process.
The review for each project won't be done quickly; there won't be a date guaranteed for reviewing, integrating, or testing your project as we strictly follow our process and rules. All project reviews will be carried out in order; we do not give privilege to any project for an easier review. Please follow our listing workflow if you have anything urgent, but this won't help accelerate our review process.
b. Please do not pre-transfer any funds or tokens to us from any third parties.
We won't confirm any transfer beyond the requirement from our official listing contract.
c. Please fill the token listing application form with validated information completely and comprehensively.
Speaking directly with the decision maker of your team is required, as this will be considered part of the project review. The physical address, company registration number, and a minimum of 3 contacts are REQUIRED.
d. No project shall use the KuCoin name in any publication, whether Online or in print, without the epress written consent of KuCoin.
Any form of an announcement may only be made after the KuCoin official announcement if your token is listed. All prospective projects will have a Non Disclosure Agreement to review, sign and return before any details about the project listing will be discussed. There will be three rounds of reviews in the review process: initial, second, and final. Before your project gets listed on KuCoin, your project will be under the whole review process; falling any of the three rounds from the review system will result in your project not being listed.
e. Please also note that the reviewing time will vary due to the number of applications we receive.
We kindly suggest you move on with the project development and business plan on your end; once we find your projects pass each review, we will contact you to prepare for the next steps. We encourage you to apply again if your project does not give our review system.
Always Be Careful to Avoid Scammers!
Even the smartest individual or institution can be exposed to unexpected scams. Therefore, at any stage of the token listing application, we strongly recommend that you do not easily believe anyone who contacts you through any electronic channel and social media and claims to be an official KC staff member. Also, please practice and exercise confirming the real identity of the other party.
There are two ways that will always be helpful to assist you in verifying the identity of anyone who claims to be KuCoin's official staff:
a. KuCoin Official Media Verification
To prevent all sorts of fraud in the name of KuCoin, you can confirm an official KuCoin contact or domain by entering the telephone number, email, WeChat, Telegram, Skype, Twitter, or website address in the search bar.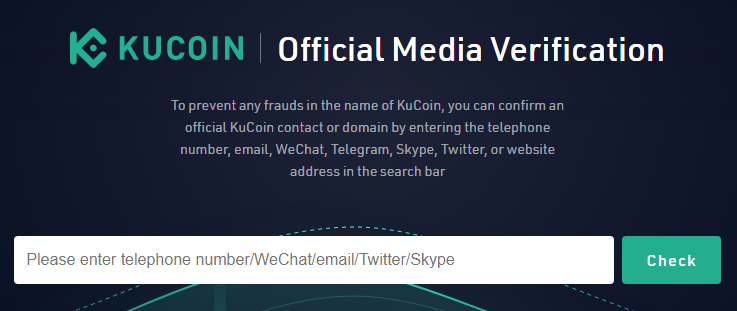 b. Contact to verify the identity via KuCoin Online Service or Tickets.
Thank you for your interest in the KuCoin Exchange, the Home of Hidden Gem! With over 700 projects supported here, we look forward to your new cooperation!
---
Find The Next Crypto Gem On KuCoin!