KuCoin AMA With Suia (SUIA) — An Open, Powerful, and User-driven Social DApp Built on Sui
Dear KuCoin Users,
Time: May 15, 2023, 11:00 AM - 12:03 PM (UTC)
KuCoin hosted an AMA (Ask-Me-Anything) session with the team member of Suia, Jack, in the KuCoin Exchange Group.
Official Website: https://www.suipad.xyz/
Whitepaper: Click to view
Follow Suia on Twitter.
Guest
Jack — Suia Team
Q&A from KuCoin
Q: Could you share a brief statement about Suia?
Jack: Suia is a social dApp built on Sui network that aims to create a new kind of community — which is open, powerful, and user-driven. Suia will provide users with four innovations:
● Personalized NFT recommendations
● Feed-based on-chain activity
● Brands club
● Composability spaces on Sui
Q: Please allow us to hear about your achievements by far.
Jack: After ten (10) months of building, we have over 320K users, 100 Sui brands, daily UV reaches 50k, and we received Sui Grants & Sui Builder Heros from Sui Foundation and won MoveCTF championship and Sui Demo Day championship. We also collaborated with Sui Foundation to help them develop the APAC ecosystem, which connects 80+ solid projects.
We have more than 250,000 Txns on Sui network Mainnet.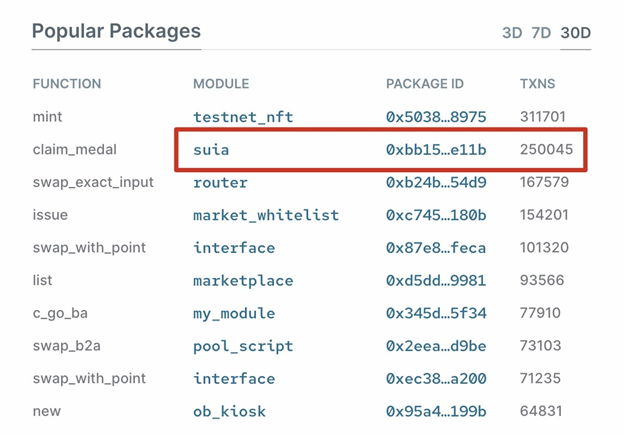 Sui Foundation, jointly with Suia, launched the NFT coffee exchange system at Taipei Smart City Summit & Expo this March.
Thanks to the great composability of Sui objects, we have successfully launched the first composability case, Capy & Suia, on Sui and got a lot of support from the Sui co-founder and the Sui community.
Q: I would like to know why you first decided to build on Sui.
Jack: It is a very interesting story! We came to Sui last July; due to my previous experience in the developer's community building, we had very good communications with the Sui Dev Rel Team, then they gave us a proposal that we could assist Sui with developer community growth in APAC.
We then have office hours with the Sui Team every week to introduce projects to help Sui expand. This has resulted in over 80+ projects excited to build on SuiNetwork, and some of them got Sui Grants & Sui Builder Heros.
And as we get to know more details about Sui, We are marveling at Sui's elegant technical design and economic model; Sui's unique design brings new opportunities to the crypto market and is the underlying infrastructure that can truly usher in a billion users.
Sui Move for resource-oriented programming brings a new programming paradigm that greatly improves the security of smart contracts; Sui is object-centric, and its universal, abstract programming model allows for the construction of unique applications; the innovative economic model (Storage Fund) will build a long-term, sustainable ecosystem.
Besides that, we highly recognize the Sui team as "open and restrained, pragmatic and humble." In the past ten (10) months of cooperation, we have been impressed by the Sui team's long-term, neutral, and positive attitude toward the ecosystem, which has solved practical problems for us with good feedback.
We are deeply touched by the Sui Foundation's spirit of neutrality, openness, and service, which is the core of the underlying public blockchain's ability to develop and form a network from the bottom up.
Q: What support have you received in building Suia, and who are your current partners?
Jack: We have received great support from Sui Foundation and Mysten Labs; we got Sui Grants and Sui Builder Hero. We also got a lot of help from our investors Hashkey, SevenX, EVG, Y2Z, and BingX. Our partners include Cetus, Suite, Martian, SuiNS, MovEX, Typus, Scallop, Scale, Souff3, Clutchy, and other Sui core projects.
Q: What do you think makes Suia unique?
Jack: As I said before, Suia will provide users with four innovations:
● Personalized NFT recommendations
● Feed-based on-chain activity
● Brands club
● Composability spaces on Sui
Personalized NFT Recommendations
Suia is implementing a wallet-based personalized recommendation, which helps users discover NFTs that match their interests (imagine Tiktok — you like dancing, and you will see more and more people dancing).
Suia's algorithm will recommend users regarding asset classification, consumer behavior, social association, brand preferences, regional content, and more. You could also play Suia.io on Suiet just like you play TikTok which you can see on our Twitter page.
Feed-Based On-chain Activity
Feed is how to stay up-to-date with the latest on-chain activities from your favorite whales, creators, brands, collectors, and traders. Currently, Suia already supports Create, Claim, Like, and Reward and will also integrate the on-chain activities of other projects in the Feed (e.g., minting a SuiNS domain, buying an NFT in Cluthy, or composing a Suibox).
Brands Club
The brand club based on NFT could revolutionize how we build social connections with other fans. Users can share interests (All holding the same NFT), enjoy exclusivity rights from brands, build a community together, and find new opportunities for collaboration. There are already 80+ brands on board, and we believe there will be over 1000 projects emerging from the SUI ecosystem.
Composability Spaces
An exciting development is the implementation of Suibox, a customizable personal space that can be combined with other NFTs to create a unique social experience. Users can express their creativity and showcase their digital assets in their Suibox.
Q: Tell us a little about your Tokenomics.
Jack: There will be 100 million total SUIA tokens(no inflation), and the distribution is as follows.
● 7% Community Access Program, no lock
● 13% Early Contributors, 0–20 months linear unlock
● 20% Teams,0–40 months linear unlock
● 60% Community,0–50 months linear unlock
Q: What is the utility of SUIA?
Jack: I believe you are all concerned. SUIA provides economic incentives which will be distributed to encourage users to exert efforts towards contribution and participation in the ecosystem on Suia, thereby creating a mutually beneficial system where every participant is fairly compensated for their efforts.
To promote decentralized community governance for the network, SUIA would allow holders to propose and vote on governance proposals to determine future features, upgrades, and/or parameters of Suia or provide feedback.
At this point, the on-chain governance process allows SUIA token holders to vote on proposals to airdrop rewards, allocate grants for development efforts and strategic partnerships, and modify dApp parameters, listings, and other programs.
Suia would gradually introduce mechanisms (with certain voting and technical safeguards) enabling any party unaffiliated with the Suia Project Contributors to modify/upgrade the functionality of the smart contracts or protocol or to participate in other essential tasks and responsibilities.
In this way, future changes to the system or network would be driven by active application users (instead of the original Suia Project Contributors) based on community voting. After the governance launch, no individual or corporate entity or other active promoters, sponsor, group, or affiliated party will maintain sole control over Suia.
In summary, there will be:
Allocating community treasury funds(Airdrops/Grants/Research)
Govern dApp parameters: SUIA holders will decide which NFTs can be recommended
NFT Sales: SUIA holders can buy special combinable assets and enjoy preferential and priority rights.
Free-Ask from KuCoin Community
Q: What specific problems can SUIA solve that even existing solutions cannot?
Jack: As I said before, We believe that the ownership of digital assets is an important part of the new generation of society, and we have personalized NFT recommendations to give web3 users a smooth Web2 experience; just a simple swipe up or down, and next NFT you can claim.
Q: Can you tell us about your team members?
Jack: Our team members entered the crypto space in 2017 and have extensive experience in underlying public blockchain development, product building, community growth, and marketing operations.
Q: Where can I get all the latest news? Do you have a community?
Jack: Suia Website | Suia Twitter | Suia Doc
Q: Smart contracts are prone to failure, and many projects fall victim to it, costing user funds and discrediting projects. How reliable and secure are your smart contracts? Did you test it with either party?
Jack: Yes, we have communities in many countries, such as Vietnam, China, and Korea, and we follow Sui's global event, Sui Builders House, to connect with the community face to face.
The community is always the strongest force behind us; we care a lot about the feedback and suggestions from the community, and because of you, we are getting better and better.
Q: Can you tell me more details on the IDO? The schedule and contribution for each?
Jack: SUIA IDO TL;DR
● IDO Start: 8:00 am UTC, 15th May 2023
● IDO End: 8:00 am UTC, 16th May 2023
● Token Claimable from 8 am UTC, 16th May 2023 (no locking)
● IDO Supply: 4,000,000 $SUIA (4%)
● 3% for $SUIA-$SUI launchpool
● 1% for $SUIA-$CETUS launchpool
And we have 200%+ IDO commit in 3 minutes! It is still ongoing; you can visit Cetus launchpad for more details.
KuCoin Post AMA Activity — Suia (SUIA)
🎁 Participate in the Suia AMA quiz now for a chance to win $10 in SUIA!

The form will remain open for five days from publishing this AMA recap.
Giveaway Section
KuCoin and Suia have prepared a total of $2,000 in SUIA to give away to AMA participants.
1. Pre-AMA activity: $1,000 in SUIA
2. Free-ask section: $50 in SUIA
3. Flash mini-game: $400 in SUIA
4. Post-AMA quiz: $550 in SUIA
. . .
Sign up for a KuCoin account if you haven't done so yet!
Follow us on Twitter, Telegram, Facebook, Instagram, and Reddit.