Everything You Should Know About KuCoin P2P Trading
To trade crypto, you first need to buy crypto. Under the current scenario and looming uncertainties from banks and payment methods, finding a suitable payment method to purchase crypto with your local currency (Fiat currency) is challenging.
Peer-to-peer (P2P) trading is one of the most revolutionary and popular ways to buy and sell digital assets directly between crypto traders worldwide.
Unlike traditional exchanges that rely on intermediaries, P2P trading platforms connect buyers and sellers for direct interaction, price negotiation, and secure execution of transactions.
KuCoin P2P now supports the purchase of crypto, such as BTC, ETH, and USDT, in more than 30 fiat currencies, including USD, NGN, INR, MYR, and RUB. This blog will walk you through the KuCoin P2P Trade and help you easily enter the crypto world.
What Is P2P Trading in Crypto and How Does it Work?
P2P is short for peer-to-peer, meaning a user trades directly with another user, not the platform. It's pretty flexible as you can choose who to trade with when to make the transfer, and what the price is.
P2P trading is not something new. In the early days of crypto, there was no advanced crypto platform to match the buyer and seller, so crypto holders had to find their trading counterparty through Telegram groups or Bitcoin forums. The buyer sends fiat to the crypto seller; then the seller transfers crypto to the buyer's crypto address.
Because there's no third party involved, such trading can be risky as no one can guarantee the two parties will make the transaction as promised. For instance, if the seller does not send the crypto after receiving the fiat, there's nothing the buyer can do.
What Is KuCoin P2P Trading?
On the KuCoin P2P Trade Platform, KuCoin safeguards the transaction by offering an escrow service, ensuring the safety and fairness of every trade. Simply put, the buyer can place an order on the KuCoin P2P platform, and KuCoin will temporarily freeze the seller's crypto. The buyer must then send the fiat currencies to the seller's bank account, and once done, the crypto held will be released to the buyer's KuCoin Main Account. In this way, both parties can ease their fear of the default risk of their counterparties. So, everyone is happy.
In P2P trading, individuals looking to buy or sell cryptocurrencies such as Bitcoin (BTC), Tether (USDT), Ethereum (ETH), KuCoin Shares (KCS), and USD Coin (USDC) can post ads on the KuCoin P2P market. These ads outline the terms of the trade, including the amount of cryptocurrency, preferred payment method, and the exchange rate.
KuCoin carefully selects professional merchants to offer favorable prices and quick responses to users. We conduct regular qualification checks to ensure high service quality and improve the P2P trading experience.
Is P2P Trading Profitable?
P2P trading can be profitable if you seek more control and flexibility in your crypto trading process. By directly negotiating with counterparties, you can find better rates and avoid additional fees charged by crypto exchanges.
Moreover, the ability to select preferred payment methods and trade with users from various countries creates a more diversified trading experience, further enhancing profitability.
However, it is essential to note that, like any investment or trading activity, P2P trading carries inherent risks, and you should conduct thorough research, employ risk management strategies, and stay informed to maximize your chances of profitability.
Why Should You Choose P2P Trading?
Peer-to-peer (P2P) trading offers several benefits in the cryptocurrency market. It provides global accessibility, multiple payment options, zero transaction fees for takers, and personalized offers. Here are the advantages of crypto P2P trading:
Enjoy Zero Trading Fees
While zero trading fees are one of the most significant advantages of P2P trading, several additional benefits make this trading method appealing to cryptocurrency enthusiasts. You can save significantly on transaction costs and retain more profits with zero trading fees.
Choose Your Preferred Trading Price
Unlike traditional exchanges, where trades occur at prevailing market prices, P2P trading empowers you to negotiate and set your preferred trading prices. This feature allows buyers and sellers to find mutually agreeable terms, ensuring a fair and personalized trading experience.
Exchange Crypto with 100+ Payment Methods Supported
KuCoin's P2P trading platform facilitates over 100 payment methods across supported fiat currencies, providing flexibility and convenience. Whether you prefer credit/debit cards, bank transfers, digital wallets, cash payments, or PayPal, KuCoin P2P offers numerous options to cater to individual preferences and local requirements.
This feature can be especially beneficial during volatile market conditions, allowing you to set more favorable prices for your trades.
Access a Global Marketplace of Crypto Buyers and Sellers
P2P trading provides access to a global and liquid marketplace of cryptocurrency buyers and sellers, allowing you to trade with individuals worldwide in minutes. Our user-friendly interface, also allows buyers and sellers to communicate with each other easily through the IM chat on the order page via the KuCoin app and website.
Higher Control Over Crypto Pricing, Settlement Time, and Other Factors
P2P trading gives you more control over pricing, settlement time, and trading counterparties. Instead of relying on automated engines or order books, P2P trading platforms allow you to select your preferred offers and trade directly with specific individuals, providing more freedom and customization. Furthermore, becoming a P2P merchant opens doors to arbitrage opportunities, where you can exploit price discrepancies across different platforms.
Superior Security Measures
KuCoin P2P employs various measures to enhance security and establish trust between buyers and sellers. These measures include escrow services, feedback/rating systems, and dispute-resolution mechanisms.
Escrow services hold the crypto being bought or sold until both parties confirm the transaction, reducing the risk of fraud. Additionally, feedback and rating systems allow you to assess the reputation of potential trading partners and merchants.
24/7 Customer Care Support to Secure Your Crypto P2P Trading Experience
Another advantage of P2P trading platforms is round-the-clock customer care support availability. KuCoin prioritizes customer satisfaction and provides timely assistance in any issues or disputes arising during trading.
This dedicated support ensures a smooth trading experience and adds an extra layer of trust to the P2P trading process.
How to Trade on KuCoin P2P
Here's a step-by-step guide on trading crypto using the KuCoin P2P marketplace:
Step 1: Register for a KuCoin Account
If you don't have an account on KuCoin, visit our official website and sign up for a new account. Complete the necessary verification process to secure your KuCoin account, including advanced KYC requirements, to enjoy access to more services and features on our platform.
Step 2: Log In to Your KuCoin Account
Once your account is registered and verified, log in to your KuCoin account using your credentials.
Here's more on how to set up your KuCoin account for P2P trades.
Step 3: Access the KuCoin P2P Marketplace
On the KuCoin platform, locate and click the [Buy Crypto] and [P2P] options. You can now access the P2P market on KuCoin and initiate trades.
Step 4: Set Your Preferred Payment Methods
After you have completed your KYC process, you can bind your phone number and set your trading password to secure your account.
You can then set your preferred payment methods using the following guide to add and delete a payment method on your account.
Step 5: Choose Your Preferred Cryptocurrency
Select the cryptocurrency you want to buy or sell from the available options. KuCoin P2P supports the following cryptocurrencies: BTC, ETH, USDT, USDC, and KCS.
Step 6: Select Your Preferred Fiat Currency
Choose the fiat currency you wish to use for the transaction. KuCoin P2P supports over 30 fiat currencies, including USD, NGN, INR, MYR, and RUB.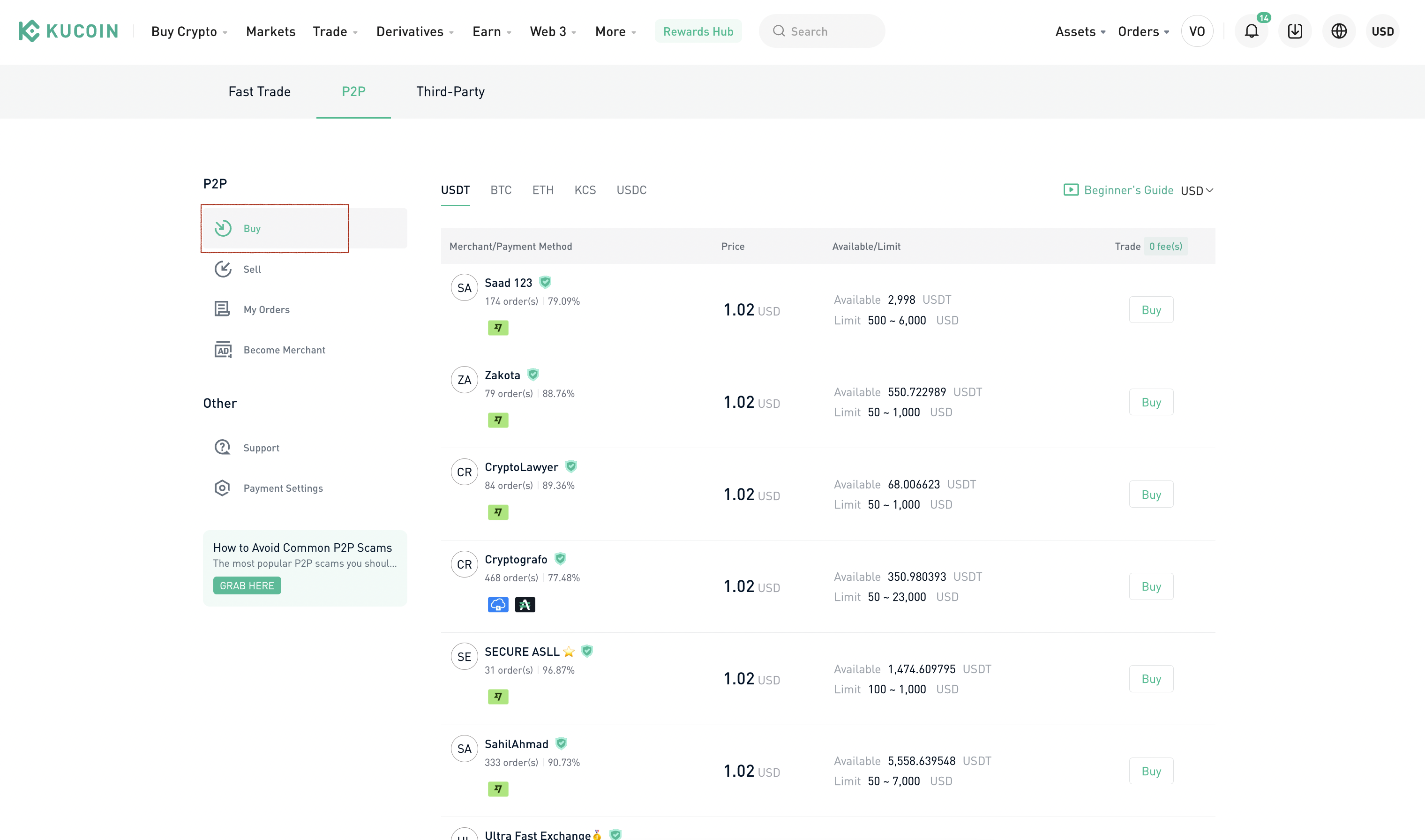 Step 7: Choose a P2P Merchant
Browse the list of available merchants on the platform. Each P2P merchant has a safety deposit to ensure buyer protection, and they undergo a selection process to ensure professionalism and reliability.
Step 8: Place Your P2P Order
Once you've chosen a merchant, you can place an order specifying the amount of cryptocurrency you want to buy or sell. You can also negotiate the price with the merchant.
Step 9: Complete Your P2P Transaction
After placing the order, follow the payment instructions provided by the merchant. Pay using the agreed-upon payment method, such as a bank transfer or other local payment options supported by KuCoin P2P. Ensure that you complete the payment within the specified time.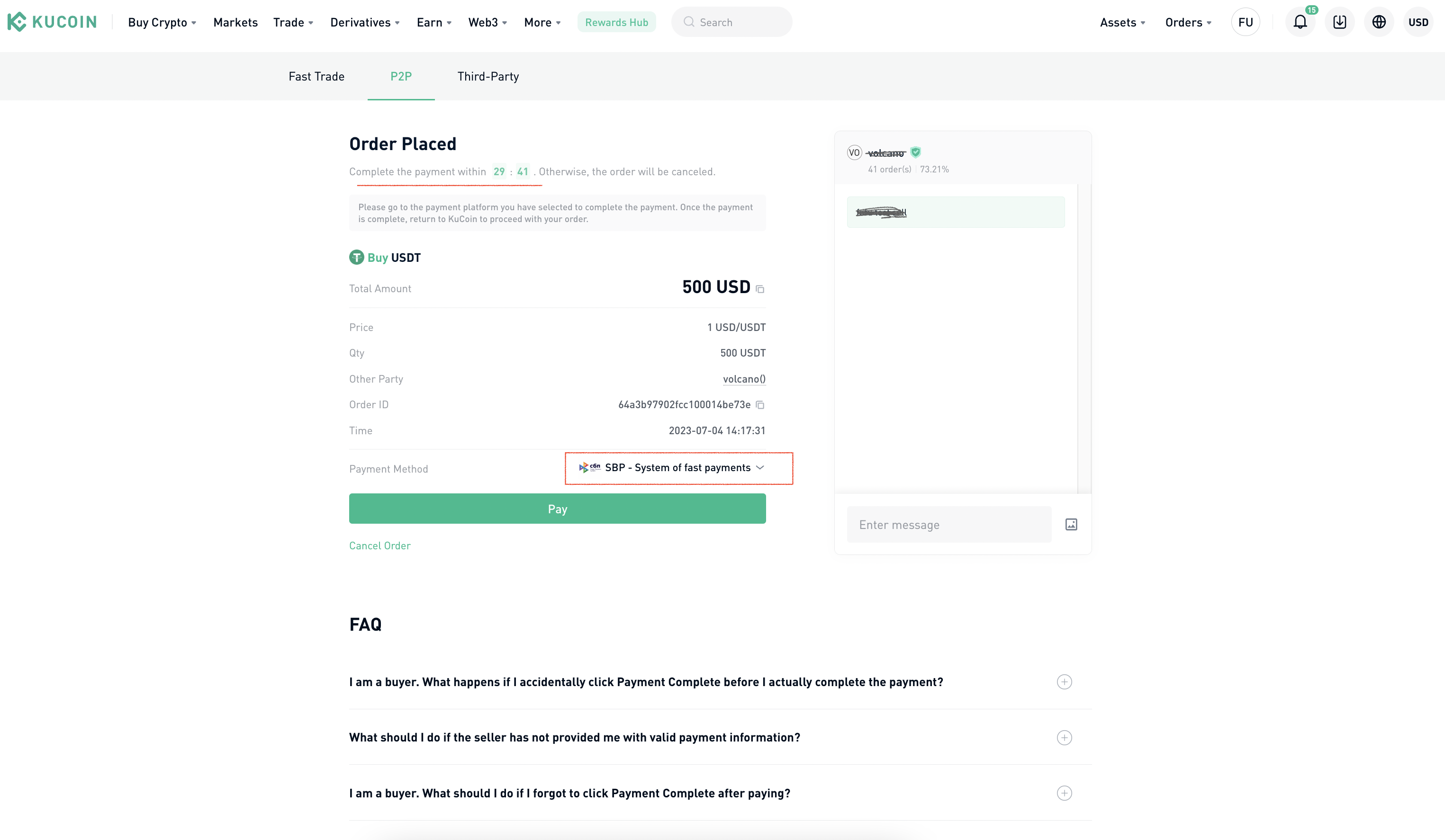 Step 10: Confirm Payment and Release Your Funds
After you've made the payment, upload the proof of payment, and click the [Confirm Payment] button on the order page to notify the merchant. Your funds will be held in escrow by KuCoin until the payment is processed and confirmed. Wait for the merchant to verify the payment and release the crypto to your KuCoin funding account.
The trade is marked complete once the merchant releases the crypto to your KuCoin funding account. You can then manage your crypto holdings within your KuCoin account.
Throughout the transaction process, you can communicate with the merchant via the chat window on the order page. You can share any necessary clarifications or updates regarding the trade.
Conduct thorough research, exercise caution, and adhere to the platform's guidelines and safety measures while trading on KuCoin P2P.
How to Exchange Fiat to Crypto via P2P Trading on the KuCoin App
Step 1: Log Into Your KuCoin Account
Download the KuCoin mobile app from the Google Play Store or App Store on your Android or iOS smartphone. If you are a new user, create your account, and log in via the KuCoin app.
Step 2: Visit the KuCoin P2P Market
Click the [P2P] on the homepage. Select [Buy] and set your fiat currency to view the available P2P merchants.
Step 3: Select Your P2P Merchant to Start Trading
Select your preferred seller from the list of available options. Fill in the token quantity or the fiat amount and click Buy Now.
Step 4: Complete Payment and Confirm
Complete payment via the payment method requested by the merchant. Tap [I Have Paid] after you have completed the payment.
Step 5: Release the Tokens
Wait for the Seller to confirm and release the token, which will arrive in your Main Account, and the order will be completed.
Note:
1. The payment needs to be done manually by the buyer. The KuCoin system does not provide the fiat currency deducting service.
2. The token you purchase will arrive in your Funding account. Please transfer it from the Funding account to the Trading account for Spot trading.
In conclusion, peer-to-peer (P2P) trading offers several advantages beyond its zero-fee structure. P2P trading allows you to buy and sell cryptocurrencies without intermediaries directly.
While P2P trading offers numerous advantages, it has some drawbacks too. P2P trading platforms may have slower trading speeds and lower liquidity than centralized exchanges. Also, beware of P2P scams on crypto platforms that could adversely impact your trading experience.
By leveraging the advantages of P2P trading and utilizing the security measures implemented by KuCoin, we ensure you will have a superior trading experience in the KuCoin P2P market.
---
Join the KuCoin Global Communities>>>