How to Complete KYC Verification?
Please login KuCoin account, click "KYC Verification" under the avatar, choose "Individual Verification", click "Start Verification", then fill in the requested information to complete your KYC.
Our KYC review team will contact you via [email protected] only after you submit the information. Meanwhile, please note that it may take several business days to complete the verification due to a large amount of requests, we shall further notify you by email if there are any updates, during this period of time, please rest assured that the deposit and withdrawal are available at your KuCoin account.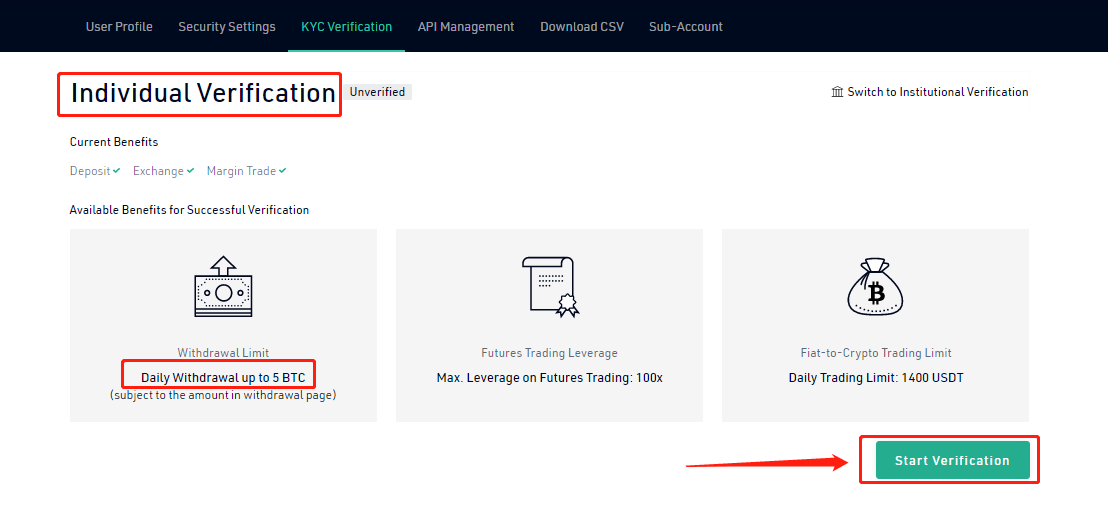 KuCoin KYC consists of KYC1(Basic Verification) and KYC2(Advanced Verification). Proceed to complete Advanced Verification, you will get more trading benefits. Please confirm your information is true and valid, otherwise, it will affect your audit result.
Please note that the areas highlighted with "*" are required. Your information can be modified before submission. Once it is submitted, the information only can be viewed, but cannot be modified again until the review result is published.
Tutorial video- Individual KYC Verification On KuCoin
1. KYC1 (Basic Verification)
Please click "Start Verification" on the Individual Verification screen, enter the KYC1 verification screen. Supplement individual information including your country/region of residence, name, and your ID number, then click "Submit", your KYC1 will be approved soon.
2. KYC2 (Advanced Verification)
After KYC1 is approved, proceed to complete Advanced Verification, you will get more trading benefits. Please click "Continue to Get More Benefits" to supplement the information.
Note:
1. One ID is eligible for a maximum of 3 KuCoin accounts only;
2. The image format should be JPG and PNG. The size of the image file should be less than 4MB;
3. The certificates are required to be an ID card, driver license, or passport;
4. If you meet problems when uploading the identity information and photos, your network may also be causing the upload to fail. Refresh or change to another browser and retry later.
5. Please ensure the certificate of identity is consistent with you. Or we can not pass your KYC verification;
6. Please keep photos clearly visible. Ambiguous parts of the image are not accepted;
7. Please follow our prompts to take a photo and pay attention to check if the text information is written as required.
If your KYC application is not approved due to the Handheld Identity Document Photo, please refer to this video for instructions: