KuCoin AMA With My DeFi Pet — Bringing Blockchain Game Experience and DeFi Through NFT Collectibles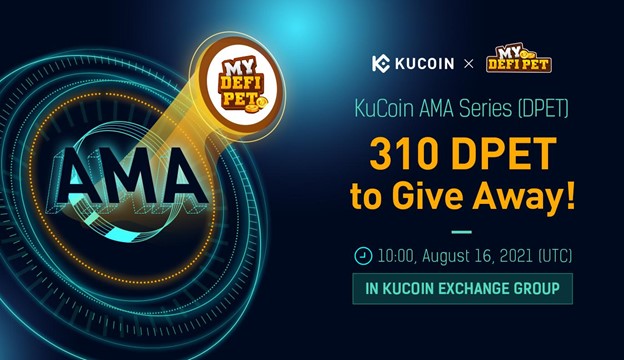 Dear KuCoin Users,
Time: August 16, 2021, 10:00-10:52 (UTC)
KuCoin hosted an AMA (Ask-Me-Anything) session with John Huy Nguyen, Chief Business Officer of My DeFi Pet, in the KuCoin Exchange Group.
My DeFi Pet brings traditional game experiences and DeFi features to NFT collectibles. Players can collect, breed or trade monsters, battle and participate in events to claim lucrative prizes up to 100,000 USDT per season. Monster growth is influenced by bonus points obtained from your daily activities (via 3rd party apps API integration, such as health tracking and music streaming apps). The name My DeFi Pet encompasses three main characteristics: My personalization, DeFi features integrated, and Pet raising game.
Official Website: https://www.mydefipet.com
White Paper: https://www.mydefipet.com/doc/DPET-Whitepaper-210519-clean.pdf
Follow My DeFi Pet on Twitter and Telegram.
Guest:
John Huy Nguyen — Chief Business Officer of My DeFi Pet & Head of Business Development at KardiaChain
John has a master's in Biomedical/Medical Engineering from San Jose State University and has worked as a program manager at Bayer for 5 years. He has also worked as an independent blockchain researcher for 4 years.
John: Hello everyone! Thanks for having me today.
Q: Can you tell us briefly what your role in My DeFi Pet project is? What brings you to the project?
John: I'm John Huy Nguyen, the Chief Business Officer and Co-Founder of My DeFi Pet. A little bit about myself, I'm a self-taught software developer and have extensive experience in Program Management. I became interested in blockchain technology in early 2017 and have been researching and learning about them since. I joined KardiaChain as Head of Business Development in 2019 to expand its ecosystem globally. In early 2021, I co-found My DeFi Pet with Tri Pham, who is now the CEO of My DeFi Pet and KardiaChain, to blockchainize the game and integrate Play2Earn features to allow players to generate profits when playing the game.
Q: Could you please introduce MyDeFiPet to the KuCoin Community in layman's terms?
John: Brief introduction about My DeFi Pet, the name of the project speaks for itself.
- "My" - pet personalization, a feature that will be rolled out in the future to personalize your pet based on your real-life activities.
- "DeFi" - the game's core features include Play2Earn and DeFi that will be integrated into the in-game content. It would change the way people play video games. Instead of pay to win, My DeFi Pet allows users to "Invest to Play to Earn".
- "Pet" - each pet in the game is an NFT that can be traded, staked, borrowed, or lent.
Q: What are the advantages of MyDeFiPet compared to other alternatives in the blockchain field?
John: We will release many exciting in-game contents that have Play2Earn incorporated within the contents. The game would have 3D rendering graphics and contents like traditional mobile or PC games that would make the players enjoy the game and not be bored grinding the Play2Earn features. Also, the amount of Play2Earn tokens generated daily depends on the quality and strength of the pets, not just an arbitrary number. The stronger your pets are, the more maps you can complete to earn the rewards.
On the blockchain side, My DeFi Pet is built on BSC and KardiaChain, which have extremely low transaction costs allowing users to have a smooth experience enjoying the game with blockchain transactions.
Q: What are the major milestones My DeFi Pet has achieved so far, and what are in the future pipeline?
John: We are thrilled to show you what we have accomplished in the past three months. We are oversubscribed during the fundraising in private and public rounds with top names like Animoca Brands.
We have 2,000,000+ eggs purchased, 500,000+ pets evolved, 160,000+ token holders, and 3,300,000+ transactions. All these amazing numbers are from BSC.
Some other achievements:
- The Top 1 BSC Game by User in CoinGecko
- The First Big Game on BSC by DappRadar
- Top 10 projects in the MVBII Program by Binance
We have exciting developments coming up in the next few quarters. Within this Q3, we will release the Marketplace and Boss Fight Event (Season 1), having the reward of more than 150,000 DPET tokens. In Q4 and Q1 next year, we will release more in-game content with Play2Earn along with new in-game token for Play2Earn rewards. We will also release the mobile version, Season 2, and Land Sale following that.
Q: What was your inspiration, and what are your vision and long-term goals regarding MyDeFiPet?
John: Yes, this is the biggest inspiration when other co-founders and I started this project.
All the co-founders of this project are gamers ourselves. We fully understand the fact that once we put money in any game, there is no way we can get that money back. As of now, there are 2.6 billion gamers around the world, but only a tiny fraction of them actually make a living when playing video games. They are mainly game developers, streamers, and professional esports. We see the potential market there where we can develop a video game with Play2Earn features so that players can generate money while playing. Our vision is to create a game economy that sustains itself by serving the purpose of different types of gamers.
Q: Can you list 3 killer features of DPET that make it ahead of its competitors?
John: Three killer features from My DeFi Pet include:
- 3D rendering pets with nice graphics and gameplay coming from actual games. Will have 3rd party app integrated to personalize the pets
- AR feature coming in a future release for PVE battle mode
- Land sale to determine the growth of the areas of the lands for high APR for revenue shared
Q: What is your strategy to improve the experience of the Play2Earn and blockchain gaming model? Also, can the $DPET token be used for staking?
John: We have the plan for staking DPET to earn rewards from the revenue-shared model that will be released in the upcoming months.
Also, the strategy to improve the experience for Play2Earn is to bridge the two groups of players together. The first group includes people that don't have time to play but love to have strong characters. The second group includes people that have time to play and do it as a real job.
There will be a platform within our in-game content that allows that flow between these groups of players to communicate and trade to streamline the process.
Free-Ask from KuCoin Community
Q: Is My DeFi Pet available on Play Store/App Store? I would like to play a game anywhere and anytime using apps and some reminder events.
John: The game will be released in the Play Store/Apple Store in late 2021 or early 2022 for everyone to play and enjoy the gameplay in a mobile environment.
Q: What is the biggest challenge on this project, and how do you mitigate the risk in the future?
John: The biggest challenge on this project is the unexpected growth that we didn't anticipate. Our servers had to scale drastically to mitigate it. We have designed the server infrastructure to adapt the future scaling up if needed.
Q: I think the $DPET project is magnificent. In which area do you intend to further expand the NFT project in the future? What is your next plan?
John: We plan to expand our market to many other countries by localization method. We have many partners that would help us in that area. We are also developing a feature to increase user engagement via guild and quest systems.
Q: What is the storyline of My DeFi Pet based on? Why do you think it will enchant gamers to play on?
John: This is a great question. The storyline of My DeFi Pet is based on a new world where pet masters and pets coexist. One day, the world will be invaded by aliens. Pet masters would need to bring their pets to fight for their own freedom to bring back peace to the world. This whole storyline will be more in-depth in the PVE mode of the game.
Q: Staking is a very popular topic recently. Please tell us in detail about the $DPET staking plan and the benefits of adding staking?
John: Yes, we are designing smart contracts that allow players to stake DPET tokens and stake pets to earn tokens from the revenue-shared model. It will be managed by a DAO.
Q: Could the skills of pets be available before the NFT marketplace opens for trading to ensure that the choice of pets to be bought/sold will be good?
John: The NFT marketplace will be released before the skill system because we need to run many simulations to ensure the game balance. Instead of a skill system, we will have an article explaining the scarcity of certain traits of pets. That would give players some insights into what they want to buy in the marketplace.
Q: Is there anything else you would like to share or you want us to know?
John: I'd like to share that the blockchain game industry is just starting to grow. We will witness the boom of this landscape with much excitement in the future.
Thank you, KuCoin community!
KuCoin and My DeFi Pet have prepared a total of 310 DPET to give away to AMA participants.
1. Free-ask section: 10 DPET
2. AMA activity: 300 DPET
Activity 1 — Quiz: 225 DPET
Activity 2 — Price Guess: 45 DPET
Participation Rewards: 30 DPET
. . .
If you haven't got a KuCoin account yet, you can sign up here!
Follow us on Twitter, Telegram, Facebook, Instagram and Reddit.