KCS x KuCoin Margin — KCS Whitepaper Release Bonus: KCS Trading Trial Funds for Everyone!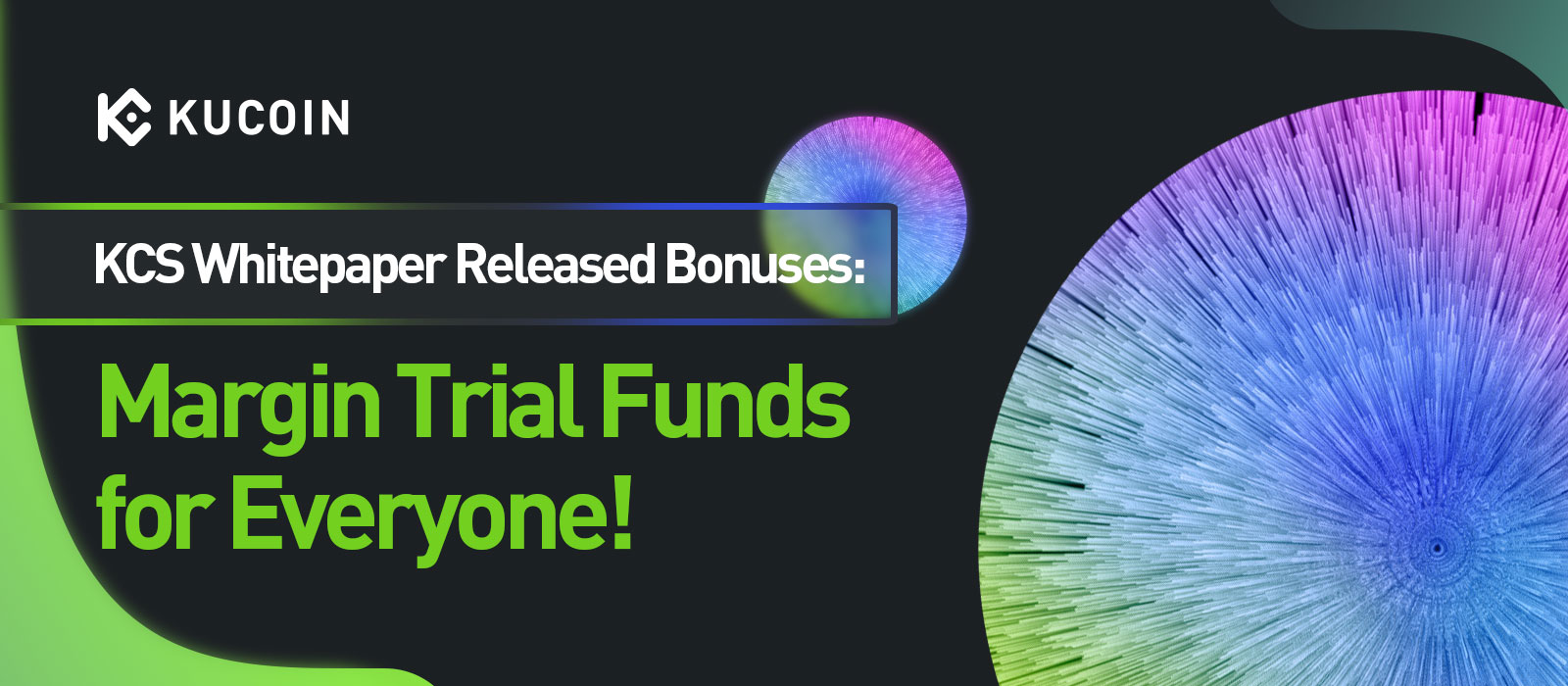 Dear KuCoin Users,
The long-awaited KCS whitepaper has been released! In order to thank the majority of KCS traders for their support, KCS and KuCoin Margin have prepared a large amount of bonuses for users.
Activity period: 10:00:00 on March 29, 2022 to 10:00:00 on April 3, 2022 (UTC)
🎁Register for the activity through the link above to get a 2-20 USDT trial fund to try out KCS trading on KuCoin Margin. Everyone has a chance!

A single user can only claim once during the activity, and the trial funds will be distributed within the next workday after the register.

🎁Interest-Free Coupon Bonuses: During the activity, users who sign up for the KCS whitepaper activity can get a Margin Interest-free Coupon of up to 2,000 USDT each.
Interest-free coupons will be issued to the user's account within the next workday after participating in the KCS whitepaper activity.
🔔How to claim your exclusive Margin trial fund?
My Bonus > Margin Bonus > Click "Get Bonus"
🔔How to use your exclusive margin trial fund?
The trial fund can be used for direct trading or as collateral to borrow more funds for trading.
*How to claim: Trading interface > Get Bonus

Margin Instruction:
Note:
1. The trial fund will be distributed to the users' account the next workday after the sign-up, and the user can go to My Bonus >> Margin Bonus page to claim it;
2. The Sub-Accounts and Master Account will be treated as the same account when participating in the activity;
3. Users who participate in more than one KuCoin Margin event/activity can only receive the largest reward;
4. For any malicious acts conducted, including malicious transaction manipulations, illegal bulk registration of accounts, self-dealing, etc., the platform will cancel the qualification of the participants. KuCoin reserves the right to cancel or amend any activity or activity rules at our sole discretion.
Risk Warning:
Margin trading refers to the practice of borrowing funds with a relatively lower amount of capital to trade financial assets and obtain bigger profits. However, due to market risks, price fluctuations, and other factors, you are strongly recommended to be prudent about your investment actions, adopt an appropriate leverage level for margin trading, and properly stop your losses in a timely manner. KuCoin assumes no responsibility for any losses arising from the trade.
Thanks for your support! ​
The KuCoin Margin Team ​
This activity is not related to Apple Inc.
Find The Next Crypto Gem On KuCoin!