Horrifying Games Await, Your Worst Nightmares Tokenized, Play To Earn — KuCoin AMA With FEAR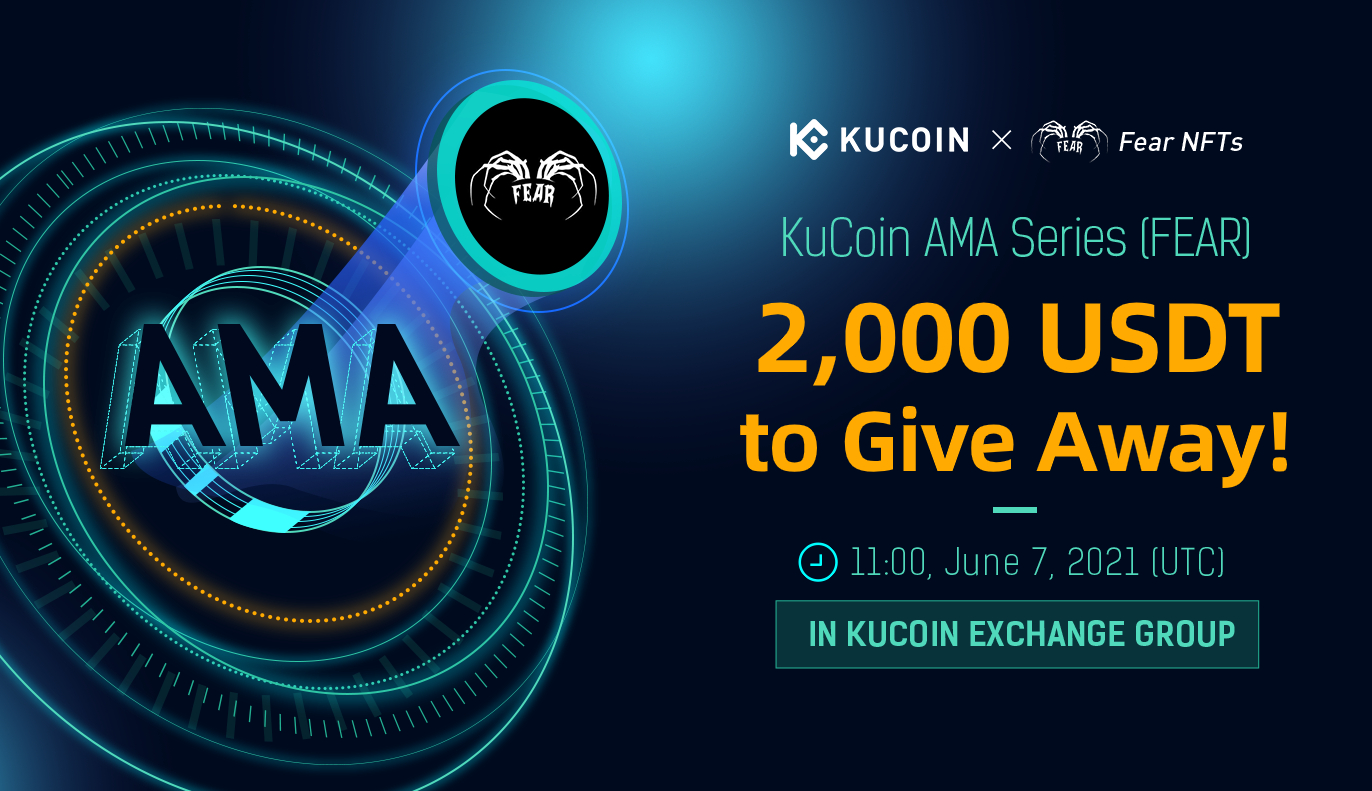 Dear KuCoin Users,
Time: June 7, 2021, 11:00-12:15 (UTC)
KuCoin hosted an AMA (Ask-Me-Anything) session with FEAR Co-Founder Patrick Carey in the KuCoin Exchange Group.
FEAR is a blockchain horror gaming and NFT project from the creators of the famous Whack It games.
Official Website: https://www.fearnft.games
White Paper: https://www.fearnft.games/docs/fear-nfts-whitepaper.pdf
Follow FEAR on Twitter and Telegram.
Guest:
Patrick "Pat" Carey — Co-Founder, CTO and Lead Software Developer of FEAR
Pat is one of the co-founders of FEAR who has been running the Whack It games studio for the last six years. He now works as Lead software developer on the FEAR blockchain ecosystem.
Pat: Hi all. I am very pleased to be here to share this AMA with you all! My name is Patrick Carey. I'm one of the co-founders of FEAR and also the CTO on the project.
Q: What is FEAR?
Pat: FEAR is our blockchain ecosystem we are looking to introduce this year with our latest horror games in the Whack It series.
Through the power of blockchain, we will be looking to introduce ownership of our games and the ability to play to earn.
For anyone who doesn't know our Whack It game series, it is a bunch of games we have produced and released over the last six years through our gaming studio.
We have picked up all our users organically without spending a dollar on marketing using a unique mix of dark humour and horror in our games.
Q: Why blockchain?
Pat: We've always had a close and good relationship with our gamers and we've been looking for a way to have them more intimately involved with our games.
Using NFTs, we are looking to empower our users to own rare and unique parts of our games using a series of weapons, characters and other in-game items.
Along with that, we are looking to offer our loyal gamers rewards through play to earn. We feel this combination of features will bring our gamers closer to ownership while rewarding them for their loyalty.
Q: What separates FEAR NFTs from the rest of the games on the blockchain?
Pat: Well I'd say primarily we focus on game play first and crypto integration second.
This means we are focused on making games with compelling gameplay and we look to introduce crypto integration where we feel it enhances game play.
We think this will bring in more gamers into crypto.
The second thing that separates us is obviously the casual nature of our games, they aren't overly involving, we bring casual gaming online.
This attracts a higher audience and participation rate.
Finally, we use a combination of horror and dark humour in our games, this is very different to what you have out in the cryptoverse at the moment. Most games focus on the turn-based strategy angle, we don't.
Q: What plans do you have to convert gamers without crypto experience?
Pat: So number one, our games have and always will have a free element to them.
This we just see as something we can do to give back to our fans and gaming community, but on top of that it's a way to bring in new fans and get them involved in our games.
So, no crypto or NFTs will be required to play a good portion of our games.
Once we have those gamers in, we are looking to introduce a low gas layer and later a fiat wallet integration that will not require crypto knowledge to play our games.
That is our ultimate goal for our second game Whack the Demon and we feel this will help bring a larger number of gamers into our game.
Furthermore, we have longer term plans to introduce an ecosystem token which we can use to drive further adoption under the FEAR brand. We will use this token to bring in other horror gaming series under the FEAR umbrella.
Q: Can you briefly note your roadmap milestones?
Pat: Thus far, we have obviously launched our token, followed swiftly by our LP farming/staking which went live last Monday.
Those are the two major milestones. Today, we are currently having an auction for our NFTs, which a lot of work has gone into. Our NFTs aren't just pretty images, they are all highly animated with a lot of illustrative love built in. On top of this, all of them will have an in-game use.
Our next upcoming milestone will be dropping a trailer for one of our upcoming games that will demonstrate the game, what it's about and some of the crypto integration involved.
Q: What is the total supply of FEAR?
Pat: Current circulating supply is 5.45 million. This is predominantly made up of seed and private holders along with liquidity provision.
Total supply is 65 million, which we expect to reach in two years' time.
Q: Why ERC-20? Do you have plans to expand?
Pat: For us, it was a philosophical choice, we believe in decentralization especially as we are an indie dev studio but also a pragmatic one.
Yes Ethereum comes with high gas fees at the moment but plenty of layer 2 solutions are on the horizon.
Also, Ethereum is by far the most adopted chain, we have been in the gaming business for a while and one thing you learn is that sticky infrastructure like Ethereum that is first to market isn't easily replaced.
So, we aren't buying into the rush to faster chains, we very much expect and hope Ethereum will fulfill its potential through v2, and whilst we wait for that the likes of Polygon are solving the gas problem.
Q: What do FEAR holders benefit from holding FEAR coins?
Pat: So, outside of our LP farming, we will be bringing on our NFT farm in the coming weeks open exclusively to FEAR stakers.
After that, FEAR holders will gain access to exclusive parts of our games other holders cannot. Beyond that, the success of our games is tied very much to the coin as an in-app purchase mechanism, so to participate in a lot of the aspects of our game you will need FEAR.
Moving beyond the utility features mentioned above, we plan to bring other gaming series underneath the FEAR brand by linking our token to the ecosystem token. This means any other game studios wishing to come under the brand to use our ecosystem will need to take an allocation of FEAR.
Free-Ask from KuCoin Community
Aditya "Addy" Singh — CTO of FEAR also joined the AMA session.
Q: Where can we sell the NFTs we earn from the horror games? Do you guys have your own marketplace? Also, can I earn free NFT using your website?
Pat: Initially we will have a store on OpenSea but we do have plans to have our own online store where many of the new NFTs will be available to buy exclusively in FEAR! NFTs will be available to earn in our second game Whack the Demon as part of solving puzzle elements.
Q: Why choose the name "FEAR"? Is there anything exciting in this game? Can you explain?
Pat: FEAR is exactly what we try to instill just a little bit in our gamers through our games.
Q: For project development, first of all, the main priority is having enough funds. Is your team financially capable to run this project? Do you have enough funds for its development? Can you tell us how your project generates the profit?
Pat: A little known fact - we already had a profitable gaming series before we got into crypto! So, unlike many other projects, we are well funded to see our vision through.
Q: If anybody thinks your project really is like a scam project, they cannot trust this project. How do you make them believe in your project?
Pat: We are in the process of locking our tokens up. On top of that, I'd say we have a good history of having delivered games. Our team is fully transparent and on our website we have nothing to hide, we just want to make fun games our existing gamers and the crypto community love to play, that's all we want to do.
Q: How is your FEAR supply distributed? Can you show me your token distribution?
Addy: Certainly, please check our website token link:
https://www.fearnft.games/coin.html
Also, you can check our unlocking token metrics here:
https://docs.google.com/spreadsheets/u/0/d/1qzJyeokYQRz6dlqNDrqyFU7AxkrkLjLkWKBddVgv5xc/htmlview#gid=0
Q: Does FEAR have an internal or external developer? Are you also giving game developers the opportunity to integrate with FEAR? If so, what are the needs and benefits?
Pat: We do have an internal development team for gaming. On top of that, we have crypto devs for our integration. We will look into bringing in other gaming teams once our ecosystem is fully established!
Q: Are the horror games of FEAR free to play? If they are, where can I download them or do I have to play them online? And can we earn FEAR while playing a game?
Pat: Initially our games will be available as web browser based, but later on we will have mobile versions out. We haven't yet to launch our FEAR series but stay tuned in Q3 for our first game to come out.
Q: Do you have any coin burn or buyback systems or any token burn plans to increase the value of the token and attract investors to invest?
Addy: We have plans to improve the liquidity of the tokens in the medium term. Our token links to the performance of our NFT and blockchain sale.
Q: Do you have any policy for long-term LP depositors? Does early or late deposit have any effect on the performance in the LP farm?
Pat: Our existing LP farm rewards people more for the longer they stake. It is currently running for approximately another 50 days and we encourage you to get involved! You can visit the link below to access our LP farm, it requires you to provide FEAR/USDT liquidity to Uniswap and then to stake your LP tokens.
The farm is offering a generous 408% APY!
Q: From technological and commercial perspectives, how can traditional companies be integrated into the blockchain? What are your plans for traditional companies that continue to exist with their own systems?
Pat: We actually started as a traditional gaming company. We have big plans in the future to involve more traditional companies and have them integrate into our ecosystem, but only where their ethos on gaming and their brand is a natural fit for FEAR. What's a natural fit? Their games have to scare the hell out of gamers but they also have to give back to their loyal gamers in a way that makes their games more exciting.
Q: Does your project support staking programs? If yes, how does your stake system work? What is the requirement for users if they want to stake in your platform?
Pat: I just touched on this in another answer but I'll reiterate, we are currently rewarding stakers who provide liquidity to our Uniswap trading pair FEAR/USDT. Once you add to our liquidity pool, head on over to our LP farm and you can earn FEAR by staking your LP tokens.
Q: Since when is this token in circulation? Where is the first listed? How was the price? Why did you choose KuCoin to list?
Addy: Token TGE was on the 26th of May, it's still super early for our users. On the opening day, we listed on KuCoin, Gate.io, PancakeSwap and followed by Uniswap after a few days of price discovery.
Our listing price was at 10 cents.
KuCoin is one of our prefered CEX among top exchanges since it has an amazing client support relationship and marketing offers.
Q: If you were to summarize your project in one word, what would it be? Why?
Pat: FEAR. Why? We are a legit project so have no fear! FEAR because our games are designed to bring a little of that into your life.
Q: What is the main spirit of the USDT token?
Pat: In volatile times in the market we want to remove volatility in our FEAR investors. It's simpler if they only have to worry about buying FEAR in USDT, they don't need to concern themselves with the ETH price fluctuations!
Q: There is fierce competition in the game industry. Obviously, there are other projects that look like you. How will you deal with your rivals? What precautions did your team take to make your game unique from other games?
Pat: I'm not sure there is another horror gaming series out there in blockchain, but if there is I am confident it doesn't have the track history we do in gaming which is close to half a billion combined views, plays and engagements.
I also believe our unique combination of dark humour and horror sets us apart. We build games that shock ourselves and we believe if they shock our team they will shock you as a gamer!
Q: Transparency is the key. Tell us about your team members. How many team members do you have and how many developers are working for you?
Pat: Currently, we have a game development team of four, we have two blockchain developers, we also have many freelance developers, back and front end, we tap into that we have good relations with.
Our animation and illustration team is five strong and expanding.
Finally, we have a good network of tech advisors and blockchain consultants we can tap into!
Q: What gave you the idea of making a horror blockchain game instead of adventure or action games?
Pat: It's what we have always done and it's what we love!
Q: Can you explain how your tokenomics distribution is? How many tokens will be minted? And how many tokens will be locked by the team?
Pat: Our coin cannot be minted, it has a maximum supply of 65 million. Our team tokens represent 20% of that and are not available for 12 months since launch. We are in the process of locking those tokens into contracts.
Q: Please tell us about "Pandora's Box" a bit.
Addy: Pandora's box is our unique NFTs auction sale program happening on DODO as we are talking about it. it's a collection of 666 boxes and different categories to own, each one of them got their unique usage in game as - collectibles, unique weapons, kills and lastly create your own character.
If you are lucky enough to win our create your own character then our team of illustrator and animator will sit with you and create your character in our flagship game Whack Your Undead Neighbour.
Q: Is there anything else you would like to share or you want us to know?
Pat: Thanks for a great AMA and to all our guests for asking some great questions.
One more thing I'd like to let everyone know…
Pop your eyeballs out and keep them close to the screen for our game trailer dropping in the coming weeks, we hope it scares and excites you all.
Addy: Thanks for hosting us here.
KuCoin and FEAR have prepared a total of 2,000 USDT to give away to AMA participants.
1. Red envelope giveaways: 655 USDT
2. Free-ask section: 45 USDT
3. AMA activity: 1,300 USDT
Activity 1 — Quiz: 1,000 USDT
Activity 2 — Price Guess: 300 USDT
. . .
If you haven't got a KuCoin account yet, you can sign up here!
Follow us on Twitter, Telegram, Facebook, Instagram and Reddit