Weekly Crypto Analysis: BTC Hovers Around $28k Amid FOMC Meeting; ARB Premier Listing on KuCoin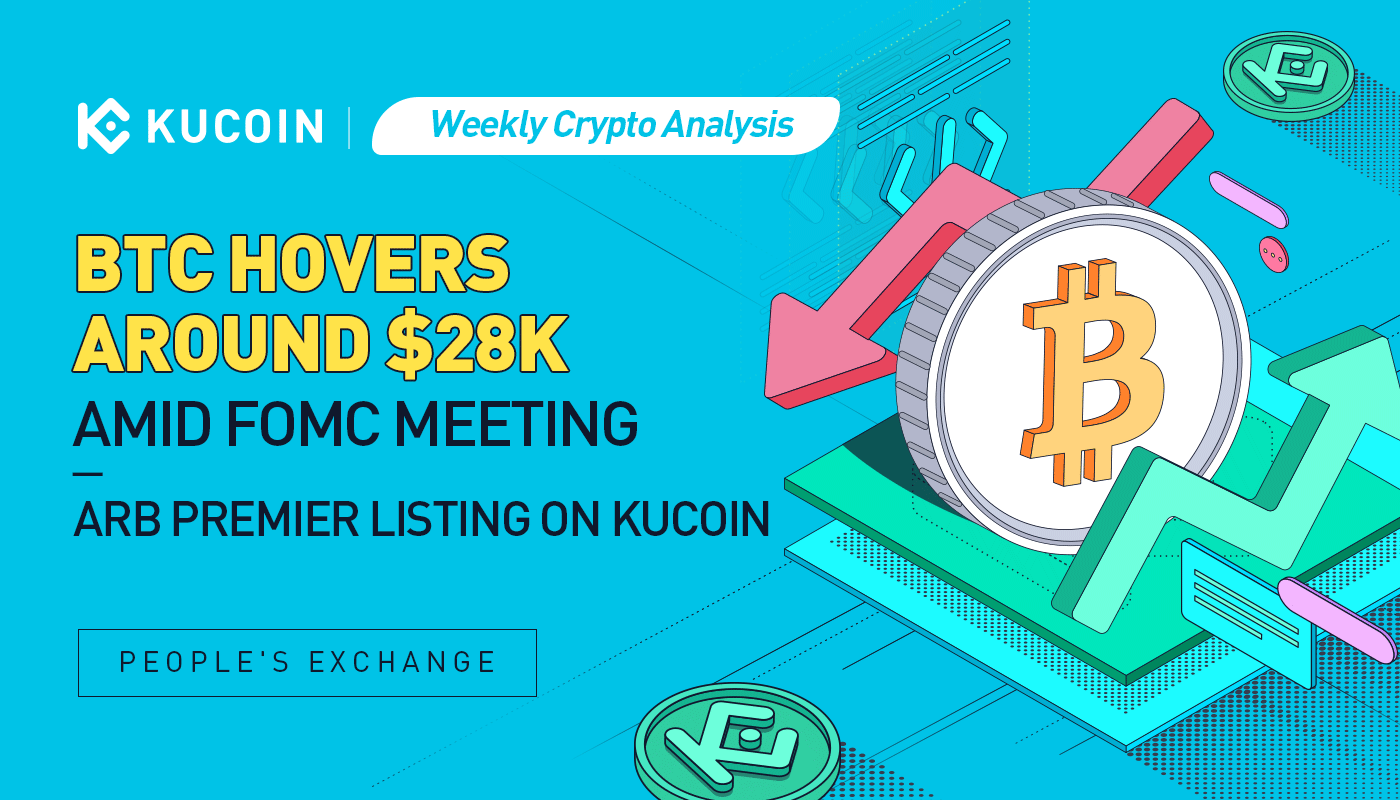 The crypto market has remained steady as Bitcoin was hovering around the $28,000 mark after recovering from a sudden drop to the $27,000 mark. The sharp drop most likely came as a result of the Federal Open Market Committee (FOMC) review. There were three possibilities heading to the FOMC on Wednesday:
A rate hike of under 25bps or a rate cut would be seen as mostly bullish.

A 25bps rate hike can go either way.

A rate hike of above 25bps would be seen as mostly bearish.
The Fed increased rates by a quarter point, and shortly after the FOMC announcement, As a result, Bitcoin dropped below $27,000, as traders capitalized on a 20% increase over a seven-day period. However, traders who deal with Bitcoin-related futures suffered losses of over $150 million due to the volatility, with billions in open interest, which refers to the number of outstanding contracts, effectively being eliminated.
Long positions accounted for over 75% of the losses as traders had likely anticipated a price rise following the FOMC meeting and positioned themselves accordingly but were ultimately caught off guard.
However, the market has recovered slightly, with Bitcoin nearing the $28,000 mark. The overall crypto market is looking healthy as well, with a total market capitalization of over $1.16 trillion.
Crypto Heat Map | Source: Coin360
Top Altcoin Gainers and Losers
Top Altcoin Gainers
Flare Network (FLR) ➠ +16.15%
XDC Mainnet (XDC) ➠ +14.17%
XPR (XPR) ➠ 13%
Top Altcoin Losers
Arbitrum (ARB) ➠ -89.14%
Conflux (CFX) ➠ -26.15%
Immutable X (IMX) ➠ -26.30%
Fear and Greed Index at 64, Bitcoin Leads Market Into Greed Zone
The crypto market is in greed territory after Bitcoin's chances of breaking above the $28,000 price seem more probable. Last's week figure was 63, and this is the second week in a row that Bitcoin closed in the greed zone.
Fear and Greed Index | Source: Alternative
This Week's Crypto News Highlights
Arbitrum (ARB) Gets Listed on KuCoin
KuCoin has announced another major addition to its list of supported cryptos. Arbitrum (ARB) has been listed on 23 Mar, with the supported trading pair being ARB/USDT.
Arbitrum is an Ethereum layer2 scaling solution that uses optimistic rollups to improve speed, scalability, and cost-efficiency on Ethereum. On March 16, Arbitrum announced their highly anticipated ARB airdrop that rewards early users and DAOs building on the ecosystem.
KuCoin has been one of the major platforms for trading Arbitrum, with the current daily volume exceeding $15 million. The layer2 scaling solution token has quickly become the fourth-most-traded token on the platform due to its popularity and hype around the recent airdrop.
The platform currently supports spot, margin, and futures trading of ARB token, as well as gives users the option to use the KuCoin Trading Bot.
To celebrate Arbitrum being listed , the platform has launched a campaign to give away an ARB prize pool worth $50,000 to qualified KuCoin users! Check the Arbitrum listing campaign details and see if you can qualify for the prize — only one day left!
UAE's Central Bank Partners With Cloud Provider For CBDC Launch
The digital dirham, the central bank digital currency (CBDC) of the United Arab Emirates (UAE), is nearing full launch for both domestic and cross-border payments. On March 23, the CBUAE announced an agreement with R3, a digital finance services provider, and G42 Cloud to provide the infrastructure and technology needed for the CBDC implementation.
Apart from addressing the challenges of payments, the CBDC implementation is expected to enhance financial inclusion as the UAE aims to transition to a cashless society. The CBDC strategy's first phase includes the soft launch of "mBridge," which will enable CBDC transactions for international trade.
The strategy also involves proof-of-concept work for bilateral CBDC bridges with India, as well as domestic CBDC issuance for wholesale and retail use. Completion of this stage is expected in the next 12-15 months, according to the announcement.
German Dwpbank To Offer Bitcoin Trading To 1,200 Affiliate Banks On New Platform
Dwpbank, a bank that provides securities processing to approximately 1,200 banks in Germany, is developing a new platform called wpNex. The platform will enable all of its affiliated retail customers to access Bitcoin in the latter half of this year. Local media reports state that the new service will offer crypto accounts, which can be accessed alongside regular bank accounts without the need for additional Know Your Customer procedures.
The platform will involve the participation of Tangany, a wallet-as-a-service provider, and Tradias, a digital asset trading service from Bankhaus Scheich. Retail customers will not be required to hold private keys. Heiko Beck, the CEO of Dwpbank, stated that the bank aims to add other cryptocurrencies, digital assets, and tokenized securities to the platform in the future.
MLB Banking, a Dwpbank affiliate, was the first to sign up for the wpNex platform and has already conducted a transaction on it.
Corruption Charges Prompt Closure of Venezuela's Crypto Mining Space
As part of a reorganization of the national crypto department and ongoing investigations into corruption within Venezuela's oil company, the country's energy supplier has closed down crypto mining facilities throughout the country. Reports from local media and tweets from the National Association of Cryptocurrencies indicate that mining facilities in the states of Lara, Carabobo, and Bolívar were shut down in the past few days, although the exact number of affected companies is unknown.
Additionally, some crypto exchanges were ordered to halt their operations.
The closure of these mining facilities is believed to be related to an ongoing investigation into corruption within Venezuela's oil company PDVSA and the national crypto department. On March 25th, Venezuela's attorney general, Tarek William Saab, revealed that government officials were allegedly engaging in parallel oil operations with the help of the crypto department.
At least 10 people, including Joselit Ramirez Camacho, who had overseen crypto tax regulations and the country's petro cryptocurrency since its inception in 2018, have been arrested in connection with the investigation.
Terraform Labs Co-founder Do Kwon Reportedly Arrested In Montenegro
A South Korean national suspected to be Do Kwon, the co-founder of Terra, was reportedly arrested by Montenegrin authorities on March 23. Filip Adzic, the minister of the interior of Montenegro, first made the announcement on Twitter, which a local news outlet later confirmed. Yonhap News Agency, a South Korean news outlet, also reported that the individual arrested was Do Kwon based on identification card details and photo data. Han Mo, Kwon's aide, was also reportedly arrested with him in Podgorica.
However, the National Police Agency of South Korea is still waiting for fingerprint information from Montenegrin authorities to fully confirm the identities of the arrested individuals as Kwon and Mo. Kwon's passports were previously revoked by South Korean prosecutors in October 2022.
Although Montenegro does not have an extradition agreement with Singapore or South Korea, it has an old treaty with the U.S. and has previously complied with extradition requests for U.S. nationals. The country also communicates with Interpol regarding extradition matters.
Bitcoin (BTC/USDT) Technical Analysis
Bitcoin has been hovering around the $27,000 and $28,000 levels for the past few days. A consolidation after a strong rally is usually considered a positive sign as it shows that traders are holding on to their position, expecting a further up-move.
BTC/USDT Chart on the Hourly Timeframe
The upsloping 20-day exponential moving average ($27,689) and the relative strength index (RSI) in the positive area suggest the bulls remain in control. That prompted technical analysis-based traders to be confident in a push towards (and past) $28,900.
BTC/USDT Daily Chart - Source: TradingView
As pointed out by a Twitter user Rektcapital, Bitcoin is at a critical zone based on historic monthly data. Him, as well as other analysts, noted that the breaking points is now, and that there are 2 main targets to watch out.
On the upside, the largest crypto by market cap looks at resistance levels at $30,000 and $32,000. On the downside, the key support level sits at $25,250. If this level fails to hold up, analysts are pointing out to the $20,175 level.
---
Find The Next Crypto Gem On KuCoin!
Join the KuCoin Global Communities>>>