Weekly Crypto Analysis: Crypto Market Cap Cracks Above $2 Trillion, Bitcoin and Ether Outlook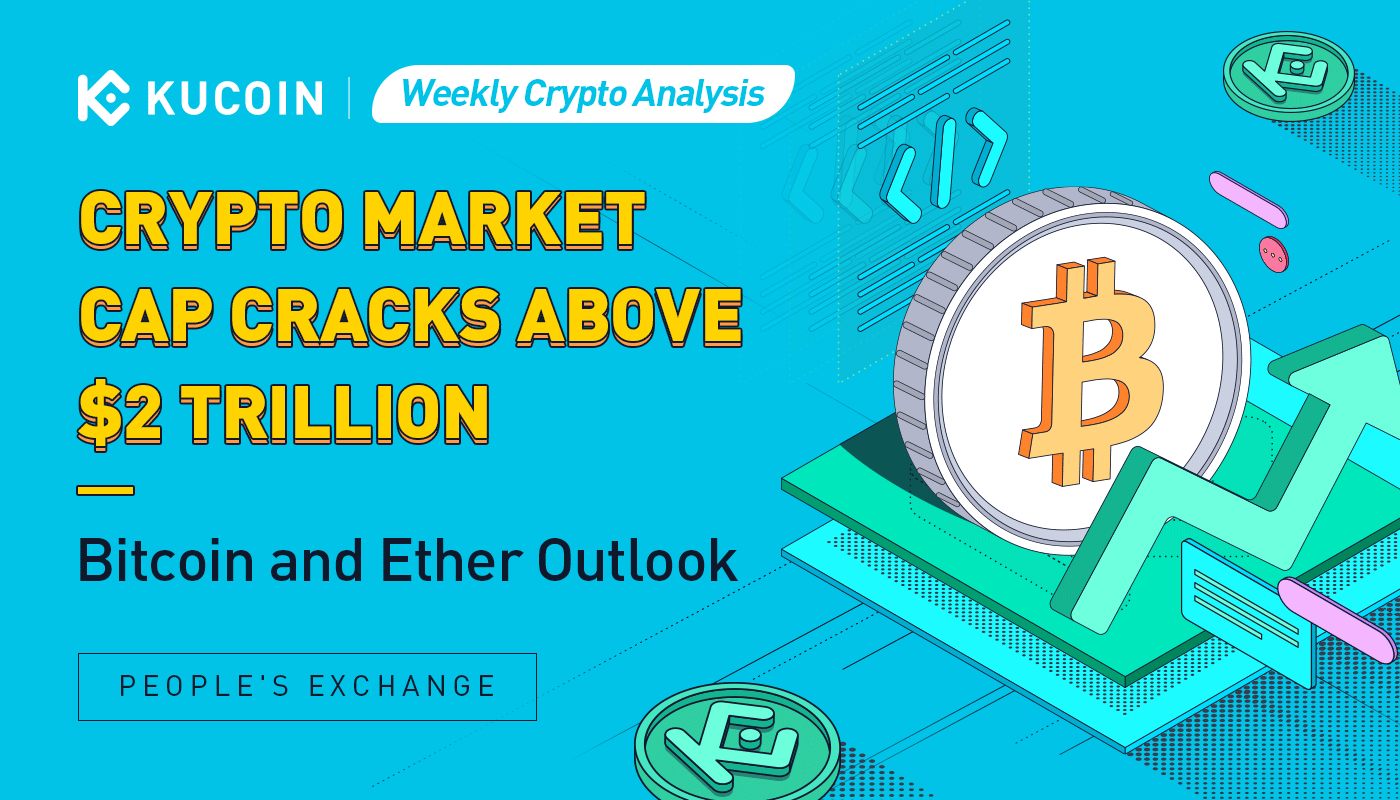 On Monday, global cryptocurrencies are trading sharply bullish, owing to a slew of positive crypto fundamentals and market news. The global cryptocurrency market capitalization increased 2.54% in the past 24 hours to $2.10 trillion, while trading volumes increased by $50.89% to $$90.99 billion.
The total volume in DeFi is currently $10.79 billion, accounting for 11.86% of the total 24-hour volume in the crypto market. The total volume of all stable coins is $72.33 billion now, accounting for 79.50% of the total 24-hour volume of the crypto market.
Let's take a quick look at the latest cryptocurrency market news and the technical outlook for the leading crypto coins Bitcoin (BTC) and Ether (ETH).
Crypto Market Overview
Bitcoin's dominance is now sitting at 42.12%, as the largest cryptocurrency in the market rockets to $46,964.94. During the past 24h, Bitcoin has gained 5.20%, and the cryptocurrency market cap spiked to $892 billion. While Ether, the second-largest cryptocurrency by market cap, has increased by 15.70% in the past seven days. On Monday, ETH/USDT was trading at $3,323, up about 5.48% in 24h.
Dogecoin (DOGE), the popular meme-coin with Tesla CEO Elon Musk as one of its core supporters, was subjected to a brutal correction between May 2021 and February 2022, with the currency's value falling by approximately 85 percent during that time period. However, that trend appears to have come to an end, with DOGE's value increasing by 23.80% in the last 7 days.
Cryptocurrency Heat Map | Source: Coin360
The trading sentiment in the crypto market is positive, and cryptocurrency prices are on the rise. We appear to have a good chance to take our positions.
Top Altcoin Gainers and Losers
Altcoins such as Zilliqa (ZIL), Holo (HOT), Convex Finance (CVX ), and VeChain (VET) remained the top performers from the previous week. ZIL increased by more than 146% to trade at $0.10, while HOT surged by 57% in the last seven days to $0.0069.
Top Altcoin Gainers:
➢ Zilliqa (ZIL)➠ 146%
➢ Holo (HOT) ➠ 57.10%
➢ VeChain (VET) ➠ 55.82%
Top Altcoin Losers:
➢ UNUS SED LEO (LEO) ➠ 1.09%
➢ Huobi Token (HT) ➠ 0.57%
➢ Waves (WAVES) ➠ 0.52%
Crypto Fundamentals & News Highlights This Week
Here are some of the events that made the previous week's crypto news section stand out:
Crypto Market Sentiment - Fear and Greed Index
Crypto fear and greed index analyze emotions and sentiments from various sources and condense them into a single number. The Fear & Greed Index for Bitcoin and other major cryptocurrencies is calculated every day. The crypto market sentiment is showing a score of 60, indicating a bullish sentiment across the investors.
Fear & Greed Index | Source: Alternative
Global Crypto Economy Holds Above the $200 Billion TVL
Since the previous week, the crypto economy has managed to stay above the $2 trillion mark. The global cryptocurrency market capitalization has increased by 2.7 percent in the last 24 hours, and it now stands at $2.2 trillion.

Total Value Locked | Source: Defillama
Furthermore, the price of Bitcoin surpassed the $46K mark on Sunday, resulting in a market capitalization of $870 billion. As a result of the increase in total value locked, investors' confidence grows and traders begin to enter the cryptocurrency markets.
Asus, Gigabyte, and MSI Exhibit a Dip in Share Price amid Ethereum Merge
Shares of Asus, Gigabyte, and MSI have fallen amid a massive drop in graphics card pricing as Ethereum's transition to a proof-of-stake protocol approaches; ether and other cryptos have also gained.
Preliminary data shows a massive drop in graphics card pricing as Ethereum's transition to proof-of-stake approaches, with some prices dropping by more than 50%. Used GPUs are showing up by the crate load in China's electronics markets, while new ones aren't moving as quickly as they used to, resulting in more than inventory.
Proof-of-stake shifts the burden of securing the blockchain to those with a large treasury. These coins become validators for network transitions by staking them to a bond-like savings structure. On the other hand, proof-of-work is based on miners solving increasingly difficult mathematical problems to mine coins and thus secure the network.
Ether (ETH) Hits 45-day High amid Successful Kiln Testnet Merge
Ether, the world's second-largest crypto asset, has been closely tracking market movements, with the altcoin posting fortnightly gains of 30%. Not only that, but ETH now has a 12-month profit ratio of around 92 percent while trading at $3,343.
The current uptick appears to have started on March 15, the day Ethreum's highly anticipated merger on the Kiln testnet was completed successfully. To be more specific, the "merge" saw the currency successfully meet the preliminary conditions required to transition to a Proof-of-Stake (PoS) consensus mechanism. In terms of price, ETH has increased by more than 15% in the past seven days.
Ethereum Merge Set To Happen By June 2022
The merger is expected to occur in the second quarter of 2022. This upgrade marks the official transition to Proof-of-Stake consensus. This eliminates the need for energy-intensive mining and replaces it with staked ether to secure the network.
More scalability, security, and sustainability – a truly exciting step toward realizing the Ethereum vision.
Funding Rates Soars amid Optimization in Perpetual Crypto Futures
During the volatility, funding rates across derivatives platforms remained neutral or negative, indicating that the market was overly betting on new losses.
BTC Funding Rates History | Source: Coinglass
Looking at the BTC funding rate history, it is turning slightly positive, indicating investor confidence in the crypto market's uptrend.
That concludes the crypto news and fundamental outlook; let us now turn our attention to the market's technical side.
Crypto Technical Analysis
That concludes the crypto news and fundamental outlook; let us now turn our attention to the market's technical side.
Bitcoin (BTC/USDT) Analysis on KuCoin Chart
The BTC/USDT pair is trading strongly bullish after breaching the ascending triangle pattern on a daily timeframe. The triangle pattern was providing solid resistance at $45,425 and with its break, the Bitcoin price was exposed to the next major resistance level of $48,233.
Bitcoin's next resistance level remains $51,990, which is extended by the daily chart's double top pattern.
BTC/USDT Chart on the Daily Timeframe | Source: KuCoin
Typically, the previously violated resistance level is considered a support level, therefore, Bitcoin's major support prevails at $45,400.
Ether (ETH/USDT) Analysis on KuCoin Chart
On a daily timescale, the ETH/USDT pair is trading dramatically bullish after breaching the symmetrical triangle formation. The downward trendline was giving solid resistance at $2,780.
ETH/USDT Chart on the Daily Timeframe | Source: KuCoin
A break upward exposes the Ether price to the next big barrier of $3,410. It's being provided by the previously placed high level on Jan 13, 2022, which the market has yet to break over. Ethereum's immediate support stays at $3200 and 3,050 levels.
---
Sign up on KuCoin, and start trading today!
Follow us on Twitter >>> https://twitter.com/kucoincom
Join us on Telegram >>> https://t.me/Kucoin_Exchange
Download KuCoin App >>> https://www.kucoin.com/download
Also, Subscribe to our Youtube Channel >>>Listen to 60s Podcast