Understanding Crypto Users in Turkey: More Than Half of Turkish Adults Invest in Crypto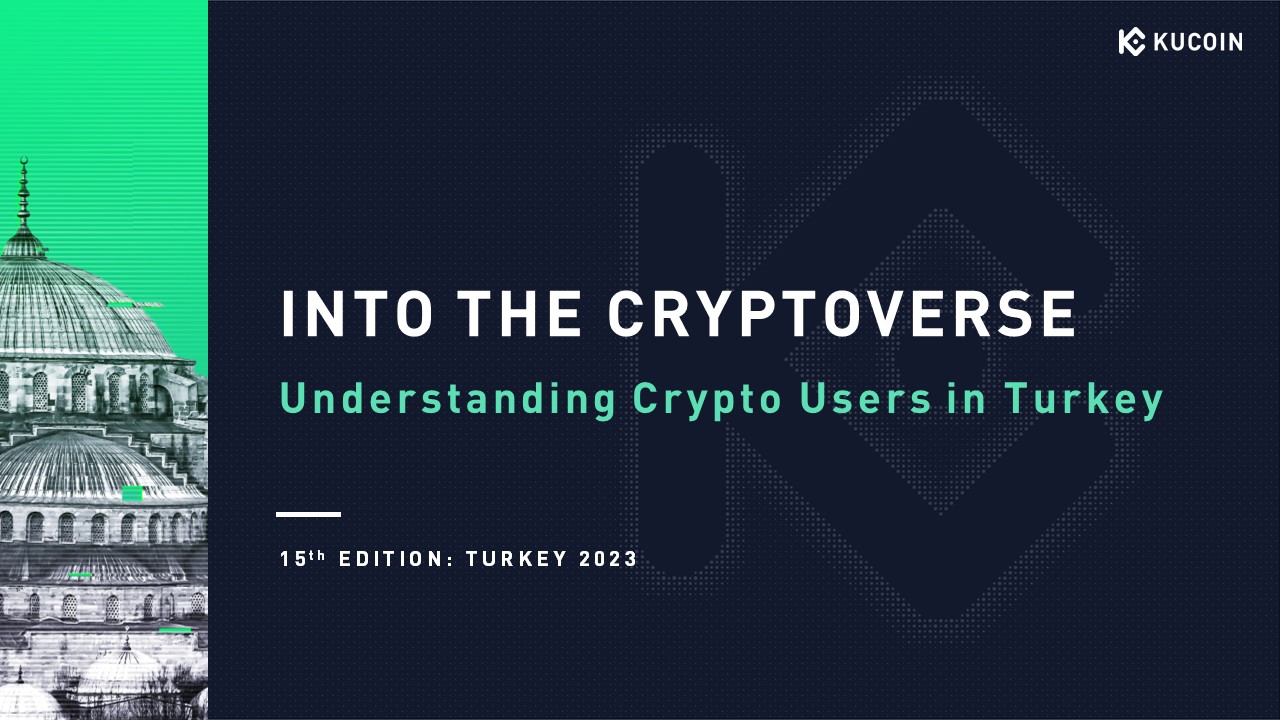 KuCoin, one of the top 5 crypto exchanges in the world according to CoinMarketCap, has released the 15th report in its "Into The Cryptoverse: Understanding Crypto Users" series of Turkey." This report sheds light on the crypto ecosystem in Turkey and provides insights into the trends, preferences, and behaviors of adult crypto investors in Turkey.
The survey reveals a significant increase in crypto investors among Turkish adults, with more than half of the population participating in crypto investments. The percentage of crypto investors among the Turkish population aged 18 to 60 has increased by 12% in the last 18 months, rising from 40% in November 2021 to 52% in May 2023, despite the market condition.
This indicates an increasing interest and acceptance of crypto as a hedge against inflation, especially with the Turkish lira losing over 50% of its value against the US dollar. Our report provides valuable insights for crypto enthusiasts, investors, and businesses considering expanding into the Turkish market.
The following are the key insights excerpted from the report:
Significant Increase in Crypto Investors Among Turkish Adults
52% are Crypto Investors, with Growing Participation from Young Women
According to the survey, crypto investors among Turkish adults has significantly increased in the last 18 months, rising from 40% to 52%. While male investors still dominate at a rate of 57%, there is a rising trend of women's participation, particularly among the younger generation.
Almost half (47%) of crypto investors aged between 18 and 30 are female. This indicates a decrease in the gender gap as crypto adoption becomes more widespread, with female crypto investors over the age of 45 accounting for only 37% of the total.
Young Generations Triggering Crypto Growth
31% of Investors Joined in the Last Quarter and 36% Investing Above 100,000 Liras
Younger generations are prominent among crypto investors, with investors between the ages of 31 and 44 making up the majority at 48%, followed by investors between the ages of 18 and 30 at 37%.
According to the survey, 31% of overall crypto investors made their first crypto investment in the last three months, with 54% of investors under the age of 30 joining the market last year, indicating the influence of young people. Additionally, 37% of investors over the age of 45 have been investing in crypto for more than two years, indicating that crypto has undergone a stable adoption process.
The results show that 33% of investors under the age of 30 have invested over 100,000 TL. The high interest among the younger generation and the participation of other age groups indicates that crypto is increasingly accepted in the country.
Crypto Investment Motivations
58% for Future Wealth, 37% for Value Storage, 25% for Portfolio Diversification, 34% for Ease of Transfers, and 17% for Quick Profit and Excitement
The survey results provide valuable insights into the motivations and preferences of adult crypto investors in Turkey. A sizable proportion of 58% indicates that the main goal of crypto investments is to create long-term wealth. This perspective is consistent across all generations, indicating that crypto is considered a valuable tool for achieving financial freedom.
There is a diversity of motivations among different age groups. Older investors focus on value preservation and portfolio diversification, while younger generations value the ease of transactions and short-term gains more.
37% of participants state that the main purpose of crypto investment is to preserve asset value, while 25% highlight the benefits of risk reduction and investment portfolio diversification. These motivating factors are particularly prevalent among investors over the age of 45.
34% of crypto holders prefer crypto for practical transfers and quick transactions, reflecting the value of efficiency and speed. 17% of investors emphasize the attraction of short-term gains and the experimental and exploratory nature of the crypto market. This trend is particularly prominent among the younger generations.
Interested Crypto Investment Targets
Bitcoin Dominates at 71%, Followed by Ethereum and Stablecoins
This survey provides insights into the cryptocurrencies and concepts that adult investors in Turkey are interested in. Bitcoin is the most popular, attracting 71% of overall crypto investors. Ethereum ranks second, with 45% of overall interest and 52% among young investors. Stablecoins reflect a demand for reliable digital assets for trading, transferring, and preserving value, attracting interest from 33% of investors.
NFTs and Metaverse concepts are also noteworthy in the survey. 21% show interest in NFTs, 19% in Metaverse, and 18% in meme tokens among emerging categories.Investors between the ages of 31 and 44 show the most interest in NFTs, Metaverse, and meme tokens. Public chains and DeFi tokens each have a 12% interest share.
Crypto Trading Dominates in Turkey
70% of Turks Use Crypto for Trading and 22% for Buying NFTs
According to survey results, 70% of participants trade with crypto, indicating significant interest in using crypto as an investment tool. Additionally, 22% have purchased NFTs, and 19% have engaged in HODLing and staking, indicating increased interest in digital collectibles and passive income. As age increases, the percentage of individuals participating in HODLing, profit-making, and staking increases. This is consistent with the observations on investment motivations that older participants are more inclined to longer-term investment strategies.
The results also indicate that crypto is used not just for personal purposes but also as a means of value transfer. 14% of participants use crypto for gifting, while 13% use it for peer-to-peer money transfers. Additionally, 9% use crypto to receive or pay salaries, and 8% donate crypto to non-profit organizations, demonstrating the potential of crypto adoption in employment-related transactions and charitable uses. Overall, the survey emphasizes that crypto has various uses across different age groups and enjoys relatively wide acceptance.
The Power of Personal Connections
Friends and Communities Support Crypto Adoption
Personal connections often play a significant role in attracting new investors to the world of cryptocurrencies. According to a survey, 57% of participants became familiar with crypto through their family or friends, highlighting the importance of such relationships.
Communities also play a role in directing crypto initiatives, with 35% of participants indicating their involvement in this regard. Online platforms and local events provide a supportive framework that reflects individuals' understanding of crypto concepts and the collaborative nature of the crypto community in Turkey.
Additionally, 27% of participants attribute their entry into the crypto world to social media influencers. The younger generation, in particular, views platforms such as YouTube (41%), Twitter/ X (34%), Telegram (29%), and Instagram (19%) as reliable sources of news.
Johnny Lyu, the CEO of KuCoin, commented on the report, stating, "We are excited to present this comprehensive report that sheds light on the dynamic crypto community in Turkey. Through 'Into the Cryptoverse: Understanding Crypto Users in Turkey,' we aim to contribute to a more informed crypto landscape and encourage the responsible adoption and use of cryptocurrencies. We hope this report triggers meaningful discussions and contributes to the collective knowledge of the global crypto community."
The full report on "Into The Cryptoverse: Understanding Crypto Users in Turkey" can be downloaded here. The survey participants were individuals who completed an online survey between May 5 - May 12, 2023. The data presented in this report is based on surveys conducted by KuCoin using the SurveyMonkey Audience tool.
About KuCoin
Launched in September 2017, KuCoin is a global cryptocurrency exchange with its operational headquarters in Seychelles. As a user-oriented platform with a focus on inclusiveness and community action reach, it offers over 700 digital assets and currently provides spot trading, margin trading, P2P fiat trading, futures trading, staking, and lending to its 29 million users in more than 200 countries and regions. KuCoin is currently one of the top 5 crypto exchanges according to CoinMarketCap. In 2023, KuCoin was named one of the Best Crypto Exchanges by Forbes and recognized as a highly commended global exchange in Finder's 2023 Global Cryptocurrency Trading Platform Awards.