Rising ETH Prices and Volatility Strain Blue-chip NFTs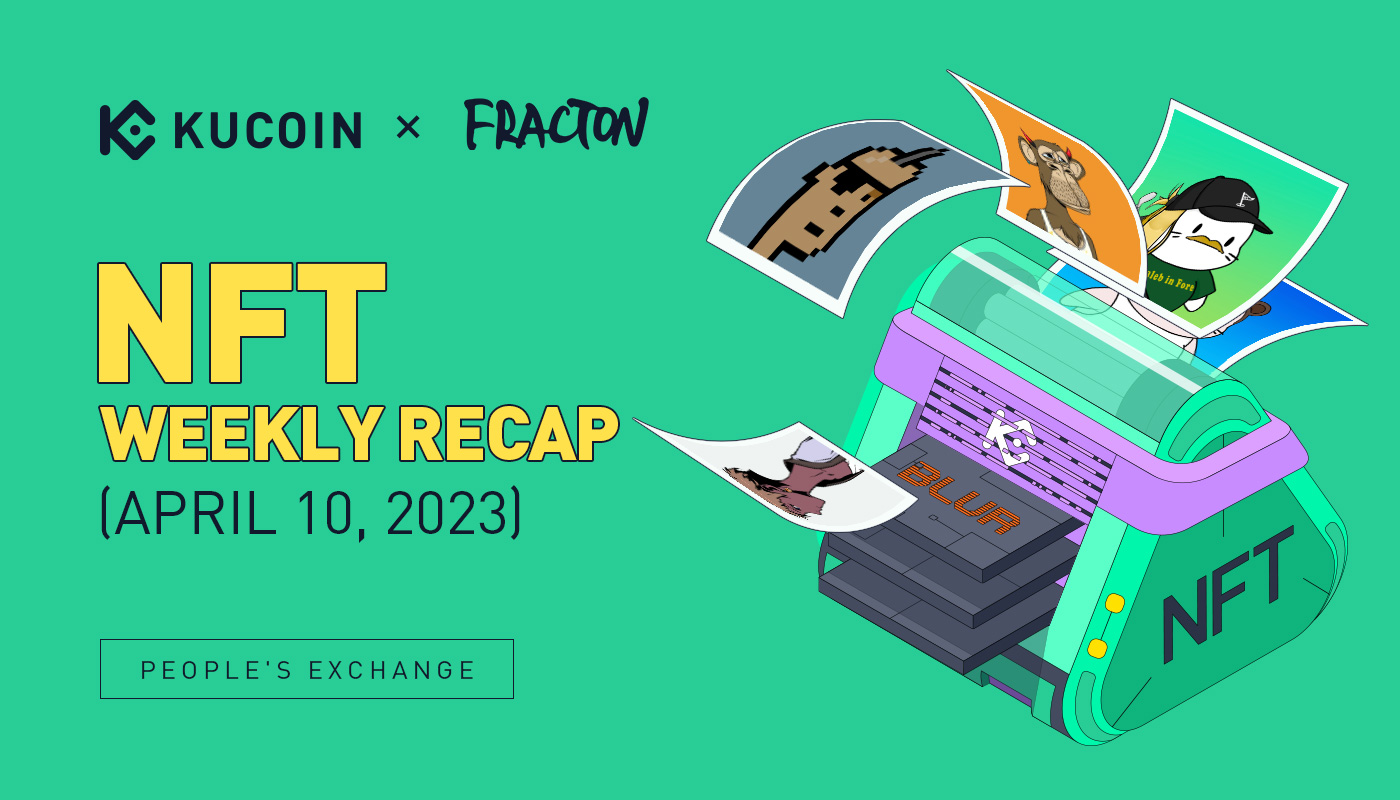 Date: April 1st - April 7th
In this NFT recap, we'll delve into all the essential developments in the NFT space over the past week, ensuring you stay informed and up-to-date on the latest happenings. NFT is all about attention, and attention shifts quickly! There are tons of updates and excitement to share with you all on this week's NFT Market Recap. We hope you enjoy :)
The NFT market has experienced another dip after rebounding last week, and the art sector continues to disappoint.

The impact of ETH volatility on NFTs is increasingly evident, as

ETH prices

continue to rise and blue-chip NFTs such as

CryptoPunks

experience significant sell-offs.

Interestingly, ENS3 (999 club) has shown a strong divergence in floor prices compared to ENS4(10k club), driven mostly by the lack of listing and strong holding power on ENS3, while ENS4 is more frequently traded.

Two

Fidenzas

sold for 58 ETH and 51 ETH, well below recent floors in the 70-80 ETH range.
Nike Shares Details on .SWOOSH, Our Force 1 Collection

Doodles

Seeks to Revolutionize the Doodlebank

Unique Attendees at Decentraland Fashion Week Falls Sharply Year-Over-Year

Hypercar brand Bugatti and Asprey Launch Luxury NFTs on Bitcoin

Yuga Launches Another 100,000 NFTs -

Otherside Vessels

Gem V2 Rebrands to OpenSea Pro, Gave Previous Users Airdrops

Elon Musk Tweets Meme Card, the floor price went up 16x.

Papa Johns is partnering with OneRare to launch pizza-themed NFTs in the foodie metaverse

Argentinian Airline Issues E-tickets as NFTs
💡Thoughts for Alpha: A Comprehensive Guide for Moonbirds
What Is Moonbirds?
Moonbirds is an exceptional collection of 10,000 one-of-a-kind, generative avatar NFTs, which was unveiled on April 16, 2022. Spearheaded by entrepreneur Kevin Rose and forming part of the PROOF Collective, the eye-catching pixel art style was crafted by Justin Mezzell, the co-founder and CPO of the Proof platform.
Despite an initial mint price of 2.5 ETH (with ETH valued at over $3,000 at the time), Moonbirds quickly gained traction, with the project's floor soaring to highs of 38.5 ETH within weeks of its launch. The 1,000 holders of the PROOF Collective pass were granted two guaranteed mints, while the remaining supply was distributed through a whitelist raffle.
Why Moonbirds?
Moonbirds, often considered the "utility" NFTs, have experienced a significant drop in floor prices, but they have provided numerous utility-driven benefits for their holders.
Nesting Rewards: From the beginning, PROOF team introduced a soft-staking feature, allowing users to 'nest' their

NFTs

for future rewards. Nesting streaks unlock various upgrades and increase rewards based on achieved milestones.

Avatar Customization: Moonbirds holders can personalize their avatars, showcasing unique accomplishments within the PROOF ecosystem. Customized backgrounds by Justin Mezzell and collaborations with artists like XCOPY and Des Lucréce have been offered.

Exclusive Community Access: Moonbirds holders gain access to an exclusive community on Discord, Twitter, and the PROOF art platform, connecting with fellow enthusiasts.

Digital & In-person Events: Holders can participate in events such as live meetups and online gatherings. Notable past events include a magic-themed NFT NYC party featuring David Blaine.

Lunar Society Membership: Moonbirds and Mythics holders can join the Lunar Society, actively contributing to the growth of the community and enhancing their experience.

Airdrops: Moonbirds holders have been eligible for various airdrops, including PROOF sub-collections and collaborations with high-profile artists.
Rewards in the Moonbirds ecosystem are often distributed based on specific traits within the collection. In July 2022, each Moonbird received an airdrop of Oddities, featuring a future burn mechanic related to the upcoming Moonbirds Mythics collection.
Founder Background
Meet the founders of Moonbirds: Kevin Rose and Justin Mezzell. Kevin Rose, a distinguished entrepreneur and investor, co-founded Digg, an innovative social media platform that emerged in 2004. A passionate advocate for NFTs, he was an early adopter with an extensive collection under his belt. Rose frequently explored Web3 topics on his well-respected PROOF and Modern Finance podcasts.
Justin Mezzell, the creative genius behind Moonbirds' captivating artwork, has an impressive background as a designer for Modern Finance. Joining forces with Rose, Mezzell played a key role in launching the PROOF Collective, highlighting their combined expertise and vision in the ever-expanding NFT landscape.
Timeline & History
In August 2022, Kevin Rose announced that Moonbirds and Oddities would transition to a CC0 public license, allowing anyone to use the work without legal restrictions. This decision polarized the community, mainly due to the lack of holder involvement in determining whether they wanted their assets to become CC0.
Later that month, during the Future PROOF community live stream, it was revealed that PROOF had raised $50 million in a Series A funding round led by a16z. This significant investment demonstrated confidence in the project's future and its potential to continue growing in the NFT space.
In November, Moonbirds took the significant step of moving the project art 'in-chain' onto the Ethereum network, ensuring the long-term preservation and accessibility of the collection.
In January, Kevin Rose revealed that PROOF had partnered with United Talent Agency (UTA), aiming to transform Moonbirds into a global brand. UTA is well-versed in the NFT realm, having previously inked deals with prominent projects like DeadFellaz and Larva Labs. This collaboration highlights the potential for Moonbirds to further expand its reach and influence in the world of NFTs and beyond.
In March, following a market downturn and broader negative sentiment within the project, the PROOF team provided a comprehensive ecosystem update in March — with a renewed focus on art as the north star of the project. As the newly-branded 'Art Collector's PFP', the Moonbirds' mission was also transparently laid out to focus on:
Art: curations, drops, collections, etc

Information: sharing the story of the art, artists, and collectors

Community: connecting collectors and artists via live and virtual events
Moonbirds Mythics: A Glimpse into the Expansion 🌟
Mythics is a collection of 20,000 PFPs, marking the first official expansion of the Moonbirds ecosystem. Mythics introduces a unique distribution mechanism, where nested birds are randomly selected each day to receive a Mythic egg. Only 25 of these eggs will hatch daily, and there is no limit to how many Mythics each bird can hatch.
As mentioned earlier, Oddities play a role in the Mythics as well. Users can burn an Oddity to hatch a Mythic egg, which will reveal a Mythic 24 hours after the burn. Similar to the bird mechanics, only 25 Oddities can be sacrificed to the Odd God each day.
Additionally, the eggs come with a re-roll component. Depending on the type of egg a holder receives, they may be able to respawn their Mythic to explore different possibilities within the collection.
---
Join the KuCoin Global Communities>>>