KuCoin AMA With OpenOcean — Find the Best Prices With Low Slippage for Traders and DeFi Users
Dear KuCoin Users,
Time: July 9, 2021, 11:00-11:59 (UTC)
With its upcoming world premiere listing on KuCoin, KuCoin hosted an AMA (Ask-Me-Anything) session with the Community Tech Lead of OpenOcean, Mathias, in the KuCoin Exchange Group.
OpenOcean is the world's first DeFi and CeFi full aggregator. OpenOcean's intelligent routing algorithm finds the best price and lowest slippage for traders across centralized and decentralized exchanges with no additional fees. OpenOcean provides an API and arbitrage tools to enable users to take advantage of arbitrage opportunities automatically. OpenOcean plans to expand to aggregation of derivative, lending, yield, and insurance products as well as launch its own combined margin products and intelligent wealth management services.
Official Website: https://openocean.finance
Follow OpenOcean on Twitter and Telegram.
Guest:
Mathias — Community Tech Lead of OpenOcean
Mathias has more than 4 years of professional experience with top-tier public blockchain projects taking on technical and commercial responsibilities. He has an educational background in mechanical engineering and finance. Mathias has been a crypto investor since 2014.
Mathias: Hi, I'm Mathias - Community Tech Lead for OpenOcean. It's a pleasure to be here! The KuCoin community is awesome.
Q: Please give us a brief introduction about yourself and your crypto journey.
Mathias: I first came across blockchain/crypto in 2014 and haven't been doing anything else since - I love it!
At first, I was very interested in applying blockchain to various use cases across industries such as shipping and pharmaceuticals. Later on, public chains, tokenomics, and DeFi fascinated me, which I'm also currently working with! Previously, I've been working with top-tier public blockchain projects taking on technical and commercial responsibilities.
Q: We would love to learn about OpenOcean. What is it? What are the advantages?
Mathias: OpenOcean is the world's first DeFi and CeFi full aggregator that finds the best prices with low slippage for traders on aggregated top-tier public chains and their exchanges by applying a deeply optimized intelligent routing algorithm.
We aggregate both centralized and decentralized exchanges! The platform has recently expanded to support cross-chain swaps via bridges and cross-chain protocols, so traders now easily can swap and transfer assets across public chains such as Ethereum and Polygon via Matic Bridge V2.
OpenOcean is free to use. The users only have to pay the normal blockchain gas fees and exchange fees for trades, which are charged by the exchanges and not OpenOcean.
We have two interfaces, Classic and Pro: Classic is good for beginners and executing simple swaps with more token pairs, while the Pro version is for more sophisticated traders and all future products beyond swaps. We will also launch liquidity mining on July 12 at launch. We have some cool guides and tutorials in this article: https://blog.openocean.finance/ooe-token-set-to-sail-aboard-the-openocean-b5face3f6f8b
Besides the aggregation of swaps, OpenOcean will continue to aggregate derivative, yield, lending, insurance products and launch its own combined margin products and intelligent wealth management service. The platform provides API and automated arbitrage tools to run its own trading strategies.
The vision is to build a full aggregator for crypto trading that serves as a bridge connecting the isolated islands in the current fragmented DeFi and CeFi markets. Regardless of being a small individual investor or large institution, everyone should have the opportunity to trade at the best prices and apply their own investment strategies on various crypto asset classes.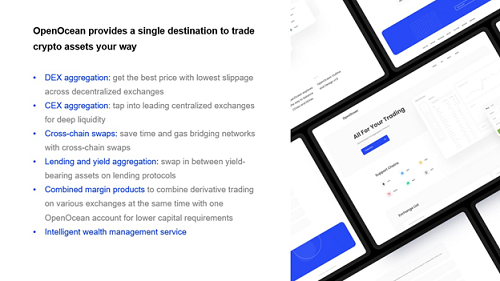 Q: What is the main problem you solve?
Mathias: Today's crypto markets are fragmented, have asymmetric information and make trading inefficient when trading across various exchanges and public chains. The many automated market-making exchanges are siloed from each other and have little interoperability. This forces traders to search for deep liquidity and deploy funds across different protocols and blockchains or carry the consequence of slippage and partial fills.
By witnessing the rapid rise of decentralized trading and aggregation platforms such as Uniswap, YFI, 1inch, and the exploding liquidity of DeFi, we see how aggregators can bring great value to the crypto community.
The OpenOcean team developed the protocol of OpenOcean.Finance to provide symmetric information and best price to users in the fragmented market and offer one-stop entrance for users to increase efficiency in trading.
Q: What gives OpenOcean an edge over other aggregator projects?
Mathias: OpenOcean is the world's first and leading CeFi and DeFi full aggregator for crypto trading. This means that we aggregate both decentralized and centralized exchanges, which none of the other ones do. Besides that, we will work on the aggregation of derivatives, yield-generation, lending, insurance products as well on both DeFi and CeFi, and to launch our own combined margin products and intelligent wealth management products.
We also gain an edge with our proprietary algorithms that find the best prices and split the routes to provide traders the best prices, low slippage, low gas fees, no additional fees, and fast settlements.
Together with leading machine learning experts, we are working on an upgrade that will complement our current system to provide better trading prices on Ethereum. We will launch cross-chain swaps to better facilitate a one-stop trading experience.
Below are some of OpenOcean's competitive advantages:
1. More public chains integrated: OpenOcean aggregates DEX ecosystems on all mainstream public chains such as ETH, ETH Layer2, BSC, TRON, ONT, SOL, Polygon, and more. OpenOcean will also support cross-chain transactions with the best price.
2. Lower transaction cost for users: OpenOcean offers free service to users and will further subsidize users' slippage loss and gas fees with OOE tokens in campaigns.
3. More products available: Besides Swap trading, OpenOcean will aggregate derivative, yield products, lending, and insurance products on DeFi.
Q: You are launching the token very soon. Would you please tell us about OOE?
Mathias: The OOE token name originates from the OpenOcean Ecosystem.
It is the governance token and utility token of OpenOcean.Finance that enables the community to make use of the token within the OpenOcean platform for trading functions and services, supply liquidity, and participate in voting.
The OOE token's utility is reflected in the incentives that holders benefit from when spending and deploying in the OpenOcean trading aggregation platform.
OOE is a multichain token that is minted on Ethereum as an ERC-20 with a fixed supply of 1,000,000,000 (one billion) tokens.
Besides the 2% of the total OOE supply for our lovely early users including the wallet campaign winners, 33% of OOE is allocated to liquidity mining, 29% for OpenOcean Lab to support further protocol development and ecosystem building, 16% for the team and advisors, 7% for ecosystem foundation and the rest 13% is for our investors.
We will release the full OOE token documentation on July 12, launch day, where we will take a deep dive into utility, governance, and distribution. I hope you will take a look over it.
Q: What are the next exciting things we can expect to see from OpenOcean?
Mathias: We have tons of exciting things coming up. Let me talk about a few of them.
On July 12, launch day, we will:
1. Make OOE airdrops claimable: Round 1 and 2 of airdrops will need to be claimed first and will be distributed to all eligible addresses that qualify.
2. Deploy liquidity mining on BSC: Liquidity mining programs will go live on the Binance Smart Chain network accessible at OpenOcean.Finance. Users will be able to receive OOE by providing liquidity to eligible pairs. Initial token pairs include OOE/BUSD and OOE/BNB. The first reward program distributed to both pools will be a total of 2,000,000 OOE (1,000,000 OOE to each pool) running for 14 days. To participate, get LP tokens by providing liquidity to the pools on OpenOcean (OOE/BUSD or OOE/BNB) and then stake the LP tokens in farms to receive governance rewards.
3. Launch OOE swap on OpenOcean BSC one hour after token distribution or earlier.
Going ahead, we will launch cross-chain swap, SaaS tools for automated arbitrage strategies, and much more!
Free-Ask from KuCoin Community
Q: Talking about OpenOcean, as we all know that the DEX problem is high slippage, what is the solution for you and your team about this problem? How does OpenOcean offer some of the best possible prices in the market?
Mathias: Thanks for the question. This is really interesting and related to our core value proposition.
We have built an algorithm that searches price and liquidity on different DEXs and their pools on a given public chain. Then the algorithm will optimize the trade by splitting the order into routes that often go to different liquidity pools with fractions of the total trade in order to avoid slippage.
Q: Has your smart contract been audited by the blockchain system? Why should we feel safe with a liquidation provider for OpenOcean Yield Farming? Is there a prize from OpenOcean for an amount of $OOE liquidity token added for farming or staking?
Mathias: We take a security-first approach and do internal auditing + third-party security auditing with CertiK and SlowMist - on all of our public contracts! 33% of the total OOE supply is liquidity mining, so we make sure the governance token will be distributed fairly. You can both supply liquidity and stake on the OpenOcean platform. Different liquidity pools will have different rewards.
Q: What is your strongest advantage that you think will make your team leading the market? In contrast, what is your weakness? How do you plan to overcome it?
Mathias: Our strongest advantage is our community. They've been tremendous in supporting and giving feedback to build the protocol and platform. Besides that, we have a stellar team of FinTech and blockchain protocol engineers who previously developed top-tier systems for traditional finance and crypto finance. Lastly, we have great investors who are supporting us, e.g., Binance and Huobi.
Our greatest weakness is that we haven't got you and ALL the great KuCoin people into our community. I know a good bunch of you already joined; thanks for that!
Q: How can users stay updated with your token project? Are there channels, including local communities, where users can get the latest updates?
Mathias: Yes, absolutely.
Social Medium:
Twitter: https://twitter.com/OpenOceanGlobal
Medium: https://openoceanglobal.medium.com
Telegram: https://t.me/OOFinance
Discord: https://discord.gg/cxK6CCYcGp
Reddit: https://www.reddit.com/user/OpenOcean_Finance
Q: Many projects already offer similar solutions like you. What's your recipe for success and plan to outplay possible competitors and remain relevant in the foreseeable future?
Mathias: I think the fact that we also aggregate CeFi is something quite unique to us. E.g., we aggregate Binance. The fact that we both aggregate DeFi and CeFi makes us separate from the other aggregators. They are aggregators, and we are a full aggregator. So when we aggregate both, we can also launch more cool products such as automated SaaS tools for arbitrage strategies between DEX and CEX.
Q: Can you explain what OpenOcean hopes to bring to the crypto sphere in terms of value in this current moment and the years ahead?
Mathias: Sure, good question. Today's crypto market is fragmented and complex. We aim to increase efficiency in trading and simply make the life of a trader more simple. I think our one-stop trading entrance provides great value for this - and all without charging extra fees for DeFi users.
Q: Listing in an exchange like KuCoin is a great deal to any project. What impact does the partnership with KuCoin have on OOE?
Mathias: KuCoin has been amazing to work with. We will certainly benefit from connecting with the KuCoin community, and we are super happy for this opportunity to present ourselves. Besides that, we have top-tier investors supporting us, but listing at KuCoin brings the last edge of legitimacy we need before launch.
🎁 AMA recap quiz: 800 USDT (80 winners of 10 USDT each)
✅ Quiz form link: https://forms.gle/L8TVMsCcYMid3coS8
⏰ Time: 8:00 on July 10, 2021- 8:00 on July 13, 2021 (UTC)
KuCoin and OpenOcean have prepared a total of 2,000 USDT to give away to AMA participants.
1. Twitter activity: 500 USDT (10 winners of 50 USDT each)
2. Red envelope giveaways: 600 USDT
3. Free-ask section: 100 USDT (5 winners of 20 USDT each)
4. AMA recap quiz: 800 USDT (80 winners of 10 USDT each)
- The form will only remain open for approximately 72 hours (3 days) from the time of publishing of the AMA recap.
- 80 randomly selected participants who submit the form within the allotted time with ALL correct answers will receive 10 USDT each.
All reward distributions will be completed within 15 business days after the end of the AMA.
. . .
If you haven't got a KuCoin account yet, you can sign up here!
Follow us on Twitter, Telegram, Facebook, Instagram and Reddit.