KuCoin AMA With NewsCrypto (NWC) — The Best Place for Money-Making Decisions in the Crypto World!
Dear KuCoin Users,
Time: December 22, 2021, 11:00-11:56 (UTC)
KuCoin hosted an AMA (Ask-Me-Anything) session with the NewsCrypto team in the KuCoin Exchange Group.
NewsCrypto is an all-in-one crypto ecosystem that is primarily focused on education and trading, giving both beginners and expert traders alike everything they need to step into the world of crypto and take their skills to the next level. Recently, the project has expanded to copy trading, providing novel solutions for DeFi in partnership with different protocols and development-focused projects, as well as the NewsCryptoVerse, an immersive digital space for crypto traders and educators, which is NewsCrypto's most ambitious development yet. Throughout these different avenues of development, NewsCrypto's mission is to provide the perfect starting point for beginner traders as well as a comprehensive ecosystem for crypto experts, offering everything that any crypto user needs in one place.
Official Website: https://newscrypto.io
White Paper: https://newscrypto.io/whitepaper.pdf
Follow NewsCrypto on Twitter and Telegram.
Guests:
Luka — Head of Business Development at NewsCrypto
Aljaž — Head of Public Relations at NewsCrypto
Luka and Aljaž are core team members of NewsCrypto and experts in crypto trading as well as blockchain development.
Q: What is NewsCryptoVerse and the main idea behind the concept? Please tell us more about the partnership with Enjin.
Luka: NewsCryptoVerse will be a new form of virtual reality that will provide traders with informational, educational resources.
We decided to develop our own metaverse (NewsCryptoVerse) in order to enable our users to explore the advantages of this technology and bring our ecosystem to an immersive VR setting.
NewsCryptoVerse will be developed together with Enjin on Efinity.
The main (currently announced) products will include:
VIRTUAL OFFICE
A personalized working space where users can build their own custom virtual office, determine the items they want to use and the tools they need to trade crypto successfully, and interact with other users within NewsCryptoVerse.
DIGITAL CLASSROOMS
A virtual space where users can enroll in the NewsCrypto Academy, attend courses, webinars, workshops, and organize or attend 1-on-1 live sessions.
TRADING SIMULATOR
A customizable and completely immersive trading environment that gives users the opportunity to test and optimize trading strategies as well as to discuss them with other traders.
and lastly
NFT MARKETPLACE AND BATTLEFIELD
A place where individuals can create, sell and exchange their digital assets such as collectible NFTs or visual assets, like trading strategies, blueprints, or images and participate in Play-to-Earn games.
Users will be able to design their own virtual office with access to everything crypto, meet, socialize and work with new virtual friends, access knowledge and information in an interactive way, and more.
You can read all about NewsCryptoVerse on Cointelegraph as well:
https://cointelegraph.com/news/all-in-one-crypto-ecosystem-delivers-new-experience-as-an-immersive-metaverse
Q: Why did you decide to develop a copy trading product and how will users take advantage of it?
Aljaž: It was actually one of the recommendations from the community.
We are extremely excited for the Mercury platform, an all-in-one copy trading solution that will allow users to automatically copy trades from successful traders.
Simple to use, 100% hands-off approach to trading.
Users will have to create an account, choose which traders they want to copy and connect an API from their preferred exchange, that's it!
The best part about Mercury is that both the follower and the trader can make a profit.
Traders will just keep doing what they normally do, and if the trade makes their followers a profit, they will get a small fee from it.
Curious about which traders you will be able to copy the trades from?
Follow Mercury platform on Twitter and be the first to hear the news: https://twitter.com/PlatformMercury
Q: NWC is available on multiple chains. What are the future plans for the token?
Luka: True. NWC is currently available on Stellar, Ethereum, BSC and Polygon. NWC is originally based on Stellar, later we made it a cross-chain token to enable implementations in different protocols.
We aim to introduce new utility cases with new products, especially DeFi and metaverse, and this will bring more chains, starting of course with Efinity, which will be Enjin's Polkadot parachain, but we're open to more opportunities going forward.
Q: What is the advantage of the professional tier on the NewsCrypto platform?
Aljaž: Professional tier is an upgrade of the basic tier, some of the tools are available in both sections, however only in a limited version in the basic tier.
Pro tier enables access to the AI Sentiment tool, backtesting bot, on-chain analysis, MoonLines Pro, Arbitrage and complete FA and TA reports.
Here are some examples: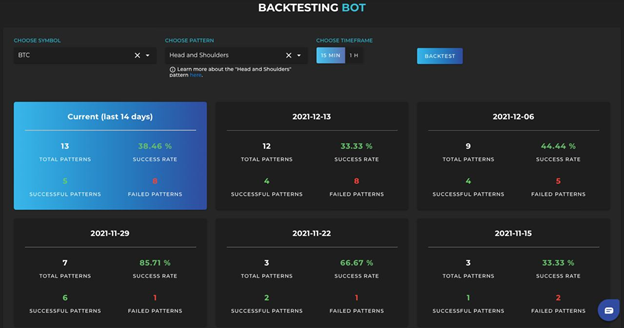 Feel free to explore the subscription options here: https://app.newscrypto.io/pricing
All platform tools: https://newscrypto.io/platform-tools
NewsCrypto web platform: https://app.newscrypto.io
Q: NewsCrypto Stellar-Polygon bridge in partnership with Polygon and Chainlink integration was released last month. What is it all about?
Luka: Indeed, the bridge was developed in order to provide Polygon users the opportunity to have exposure to XLM without having to go to a different blockchain, as well as to give XLM holders a way to enter the world of Polygon-based DeFi.
When a user swaps their XLM tokens to Polygon, they receive wrapped XLM (wXLM) tokens, which can always be redeemed for the native version on Stellar via the bridge. Given that both chains have very low gas fees, the swap fee is only 1 XLM regardless of the wrapped amount.
The swap fee covers the transaction costs for the smart contract and the Chainlink Proof of Reserve data feed, which means that an independent Chainlink node monitors the balances on the swap wallets, enabling the best multi-faceted security solution possible.
All this, however, is only the first step of NewsCrypto's development on Polygon and the associated Chainlink integrations. The team is already hard at work on an innovative DeFi protocol of our own, so be sure to stay up to date on their social media pages!
Now for a better understanding of how the bridge works, we also prepared a video which you can see below:
Q: Please briefly explain what are the goals for the future?
Aljaž: 2021 is slowly coming to an end and we are super satisfied with the progress and development at NewsCrypto.
It was an eventful year, here are some of the major activities: NewsCrypto Stellar-Polygon bridge, App 2.0 update, Web platform 3.0 update, NWC cross-chain (XLM, BSC, ERC), burning program, partnerships with top crypto projects, etc.
We have a ton of ongoing development activities, here is a list of upcoming products: Mercury platform (Copy trade), DeFi platform, NFT game, NewsCryptoVerse, and a brand new mobile app update!
We are inviting you to join our official channels to keep track of the progress.
Chatroom: https://t.me/NWC_PublicChat
Channel: https://t.me/NWC_Public
Twitter: https://twitter.com/NwcPublic
Free-Ask from KuCoin Community
Q: Can you share with us about your partnerships and what can we expect on your roadmap in Q1 of 2022?
Luka: The most recently formed partner is Enjin with whom we will build our Metaverse as it was mentioned in the first part of the AMA. However, we have also partnered with some of the biggest players in the industry, including Polygon, Chainlink, Elrond and more.
In Q1 2022, you can expect us to launch the newest copy trading platform Mercury, which will bring many new exchange partnerships, including the big ones.
Q: Can you give an overview of your tokenomics and the utility of token?
Aljaž: The NewsCrypto token (NWC) is the native token of the NewsCrypto ecosystem, which offers a comprehensive set of indicators, educational resources and entertainment for everyone from novice traders to experts in crypto.
The main utility of NWC token resides in unlocking information and educational resources on the NWC platform.
Tokenomics can be found here: https://newscrypto.io/Get-NWC
Q: What is the minimum stake?
Aljaž: Current minimal staking amount is set at 4,000 NWC tokens.
You can choose between different staking packages.
APR: 4-25%
Lockup period: 3 or 12 months
We add a free membership for users that stake more than 8,000 NWC tokens.
All info about staking can be found here: https://newscrypto.io/staking-program/
Q: Is your project only for elite investors? What about others with small funds? Is it open to everyone?
Luka: Our project is meant for EVERYONE. Whether you are a beginner, trader or veteran, we will always have something to offer you. 90% of our educational content is free, all you need to do is register and can use our info to become a better trader and get ahead of the others.
Q: Are you planning to promote your project in countries/regions where English is not good? Do you have a local community for them to better understand your project?
Aljaž: Of course, we are constantly opening new communities around the world.
The biggest communities are currently: Global, Turkish, African, Russian, Chinese, Korean.
Feel free to reach out to us in order to become an ambassador of your region!
Q: Do you have any plan for burning tokens in the future to reduce the supply of the token and increase its investment attractiveness?
Aljaž: Yes, there are 2 different versions of burns at NWC.
1. 20% of each membership transaction from the platform is permanently burned.
2. NewsCrypto burns tokens at significant development activities and releases.
Q: Can you list 1-3 killer features of your project that make it ahead of its competitors? What is the competitive advantage your platform has that you feel most confident about?
Luka: Sure, the first killer feature I would mention is our AI price prediction bot. As you can see in the first part of the AMA, the bot reads tweets and news and predicts price movements for over 7 different assets.
The second feature I would highlight is Moonlines. We have an AI system that draws historical resistance and support lines and helps you spot key levels.
The third feature I would highlight is the "Unchained Education," which is basically a page where top analysts share their knowledge for free.
Q: How does the "Unchained Education" system presented on the NewsCrypto website work?
Aljaž: Unchained Education is a place where educators and crypto traders meet in order to exchange knowledge.
It is available completely for free for everyone. You can choose between text or video content.
Feel free to visit the section and start learning!
https://app.newscrypto.io/unchained-education
Q: Why should people invest in NewsCrypto coin for the long term?
Luka: There will always be a need for education. In order to achieve mass adoption, we need to educate the masses. There are thousands of users that enter the crypto world every day, and they all seek knowledge and tools that will help them on their way. The knowledge and tools that we provide.
Imagine where the crypto industry will be in 5 years. Sooner or later, everyone will own crypto, and everyone will need to educate themselves about it. Here is where the NEED for NewsCrypto comes in.
Q: Where can I get the latest updates or more information about the project?
Aljaž: Latest updates can only be found on the official NewsCrypto media channels.
Here is the link to all channels: https://linktr.ee/nwc_newscrypto
Luka: I think it's best if you follow our official Twitter profile: https://twitter.com/NwcPublic
And you can join our official chat https://t.me/NWC_PublicChat if you have any questions about the latest developments.
Q: Do the token holders have the right to participate in the governance of the project? What kind of decisions can they vote on about the project?
Luka: Yes, that's correct. If you have NWC tokens deposited on the platform, you can vote for the changes and the future development of NewsCrypto.
Below you can see an example of the previous vote.
Q: I am an experienced developer and ethical hacker. Do you have plans for a hackathon so as to check the security of your ecosystem periodically and also invite developers to build?
Aljaž: There is no short-term plan for a hackathon at the moment. You can send me or any other team member a DM and explore the cooperation, we always love onboarding new developers!
Q: Do you have a whitepaper? If yes, please share it with us. Secondly, do you have plans for the pre-sale? Now, where can we join it?
Aljaž: Here is the link that will lead you to NewsCrypto whitepaper: https://newscrypto.io/whitepaper.pdf
Q: Is there anything else you would like to share or you want us to know, Luka and Aljaž?
Aljaž: We always have an amazing time in this chatroom and hope to see you soon!
Thank you everyone for joining, you can always reach out to us in our official Telegram chatroom!
Luka: Thank you for having us. Always glad to come here and talk to you guys.
And everyone reading this AMA, remember, NewsCrypto is here to stay, we will always keep providing the latest information and equip you with state-of-the-art tools and indicators!
KuCoin and NewsCrypto have prepared a total of 4,600 NWC to give away to AMA participants.
1. Free-ask section: 175 NWC
2. AMA activity: 4,425 NWC
Activity 1 — Quiz: 3,375 NWC
Activity 2 — Price Guess: 750 NWC
Participation Rewards: 300 NWC
. . .
If you haven't got a KuCoin account yet, you can sign up here!
Follow us on Twitter, Telegram, Facebook, Instagram and Reddit.