Weekly Crypto Analysis: Early Signs of Bull Run Showing Up, BTC, ETH, and USDC in the Spotlight
On March 17, following a brief 1-day recovery on March 16, the U.S. equities markets have once again fallen due to fears of a contagion effect in the U.S. and European banks. For crypto traders, however, Bitcoin (BTC) has remained detached from the equities markets and has climbed to its highest level since Jan. 12.
Bitcoin vs. S&P 500 correlation | Source: 21Shares
Additionally, some experts have shown that $300 billion was added to the Fed's balance sheet, which is just a little short of the $500 billion that was injected during Covid. The last time this happened, the price of Bitcoin soared15x.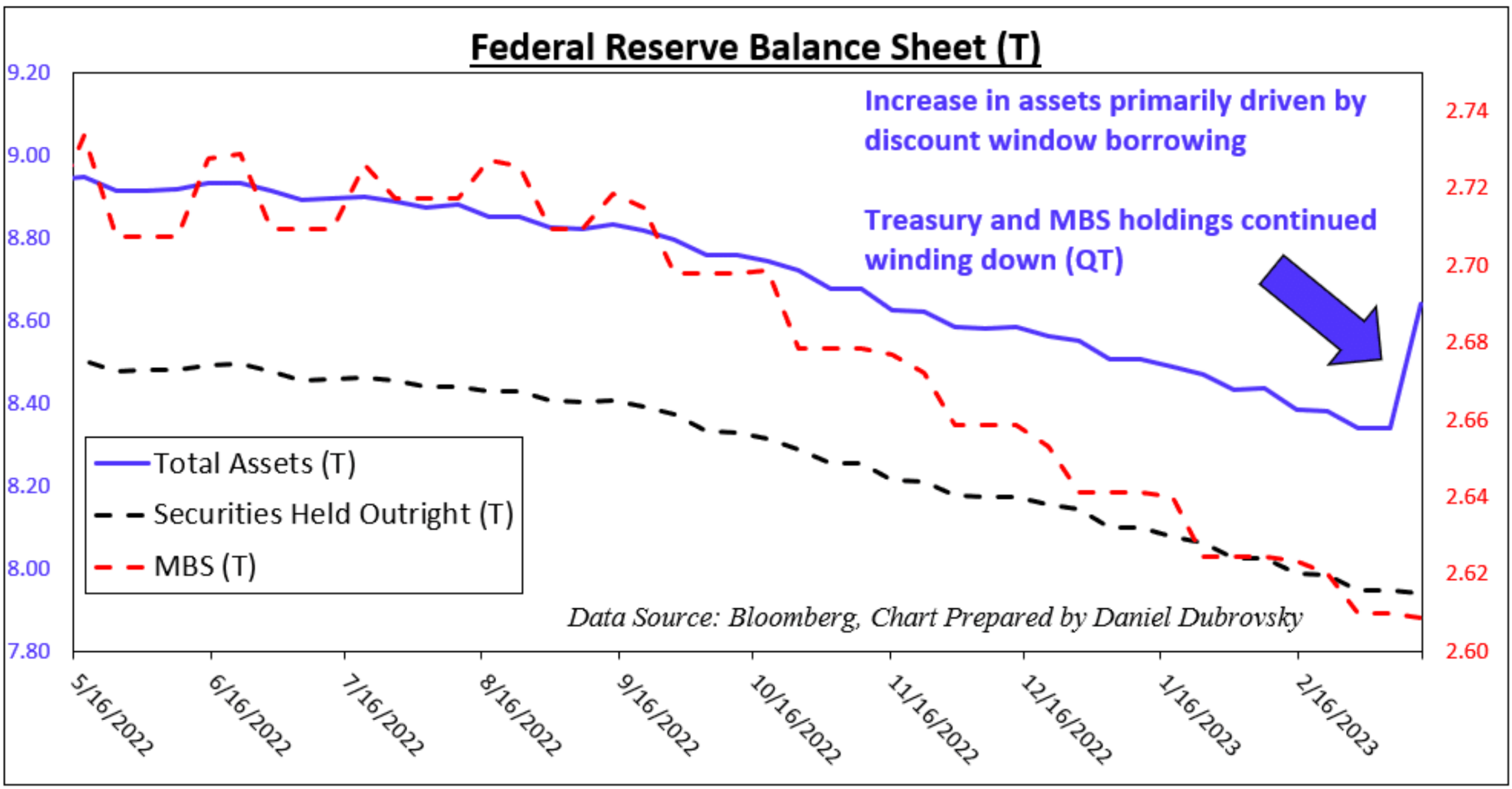 Federal Reserve Balance Sheet | Source: Bloomberg
Artificial intelligence-associated tokens have performed strongly over the past week, with the Graph's GRT experiencing a 30% surge and SingularityNET's AGIX rising by 45%. This upswing in AI tokens can be attributed to the launch of the latest version of ChatGPT, a well-known chatbot tool.
The upcoming Shanghai upgrade for Ethereum, which will enable the withdrawal of staked ether, has raised concerns among traders about a potential oversupply in the market. As a result, market sentiment for ether is expected to remain low leading up to the upgrade.
ETH Supply Not Available For Selling | Source: Dune Analytics
Top Altcoin Gainers and Losers
Top Altcoin Gainers
Conflux (CFX) ➠ +185.2%
Mask Network (MASK) ➠ +110.79%
Stacks (STX) ➠ -13%
Top Altcoin Losers
Binance USD ➠ -0.57%
Pax USD (USDP) ➠ -0.39%
Pax Gold ➠ -0.55%
Fear and Greed Index at 63, Bitcoin leads Market Into Greed Zone
The crypto market is in greed territory after Bitcoin hit $28,000. This is miles away from last week's range of 33.
Crypto Fear and Greed Index | Source: Alternative
This Week's Crypto News Highlights
DeFi Sees Its Biggest Hack in 2023 as Euler Loses $197m
On March 13th, Euler Finance, a noncustodial lending protocol based on Ethereum, was targeted by a flash loan attack. The attacker was able to steal millions of dollars worth of DAI, USDC, staked Ether (StETH), and Wrapped Bitcoin (WBTC).
As per on-chain data, the hacker carried out multiple transactions and managed to take almost $196 million, making it the largest hack of 2023 so far. The attack seems to be related to a deflation attack that occurred a month ago and was carried out using a multichain bridge to transfer the stolen funds from Binance Smart Chain to Ethereum. Euler Finance has acknowledged the breach and is collaborating with security experts and law enforcement to address the issue.
One transfer of 100 Ether was reportedly sent to an address linked to North Korea, as per blockchain investigator Chainalysis. And the hacker also transferred 3,000 ETH to Euler's deployer account. Still, their intentions remain unclear as no further transfers have been made as of the time of writing.
Congress Announces March 29 Hearing into Failures of SVB and Signature Bank
The United States House Financial Services Commission has scheduled a hearing to investigate the collapse of two major banks, Silicon Valley Bank and Signature Bank. The hearing, announced on March 17, will feature testimony from Federal Deposit Insurance Corporation and Federal Reserve representatives, including FDIC Chair Martin Gruenberg and Fed Vice Chair for Supervision Michael Barr.The hearing is set to take place on March 29 and comes in response to the failures of the two banks.
Alongside the committee's efforts, the Department of Justice and Securities and Exchange Commission have also reportedly launched their own investigations into the sale of stock by some of the banks' executives in the weeks leading up to the closure. The committee is determined to uncover the reasons for the banks' collapse and hopes the hearing will shed light on the matter.
Binance Replaces BUSD in SAFU Fund With TUSD and USDT
On March 17th, Binance, a cryptocurrency exchange, declared that it had replaced Binance USD (BUSD) with TrueUSD (TUSD) and Tether (USDT) in its Secure Asset Fund for Users (SAFU). This change was in response to Paxos' decision to cease minting new BUSD, which caused a decline in the asset's market capitalization.
SAFU was created by Binance in July 2018 as an emergency insurance fund to safeguard users' funds in the event of security breaches or other unforeseeable circumstances. Binance pledged a percentage of trading fees to develop the fund, which was worth $1 billion as of January 29, 2022. Initially, SAFU's wallets held BNB and Binance USD, but these have now been replaced by TUSD and USDT.
Binance reassured users that the modification would not affect them, and their funds would remain in publicly verifiable addresses, with BUSD continuing to be supported. Additionally, the exchange stated that it would keep a close eye on the fund's capitalization and periodically replenish it with its own funds as needed.
Bitcoin (BTC/USDT) Technical Analysis
Bitcoin soared to tap the $28,000 mark this week as bullish sentiment came in after the consumer price index (CPI) announcement, among many other factors. However, numerous technical analysts have spotten a rising wedge pattern formation that often implies a downturn before the trend continues. The RSI also pushed to the overbought section as it hit the 80 mark before retreating.
BTC/USDT Chart on the Hourly Timeframe | Source: KuCoin
The VRVP shows Bitcoin has left the visible area, indicating it might be overbought. The chart is over the 200MA, which still indicates we are in a bull market. Another case supporting the bulls is that there is no major resistance between the current level and $32,000; hence it is possible for the bulls to cover this distance in a short time.
BTC/USDT Chart on the Hourly Timeframe | Source: KuCoin
Did you know that KuCoin offers premium TradingView charts to all its clients? You can step up your Bitcoin technical analysis and easily identify various crypto chart patterns.
---
Find The Next Crypto Gem On KuCoin!
Join the KuCoin Global Communities>>>