LUNA-MIR-Staking Campaign: Enjoy Multiple Rewards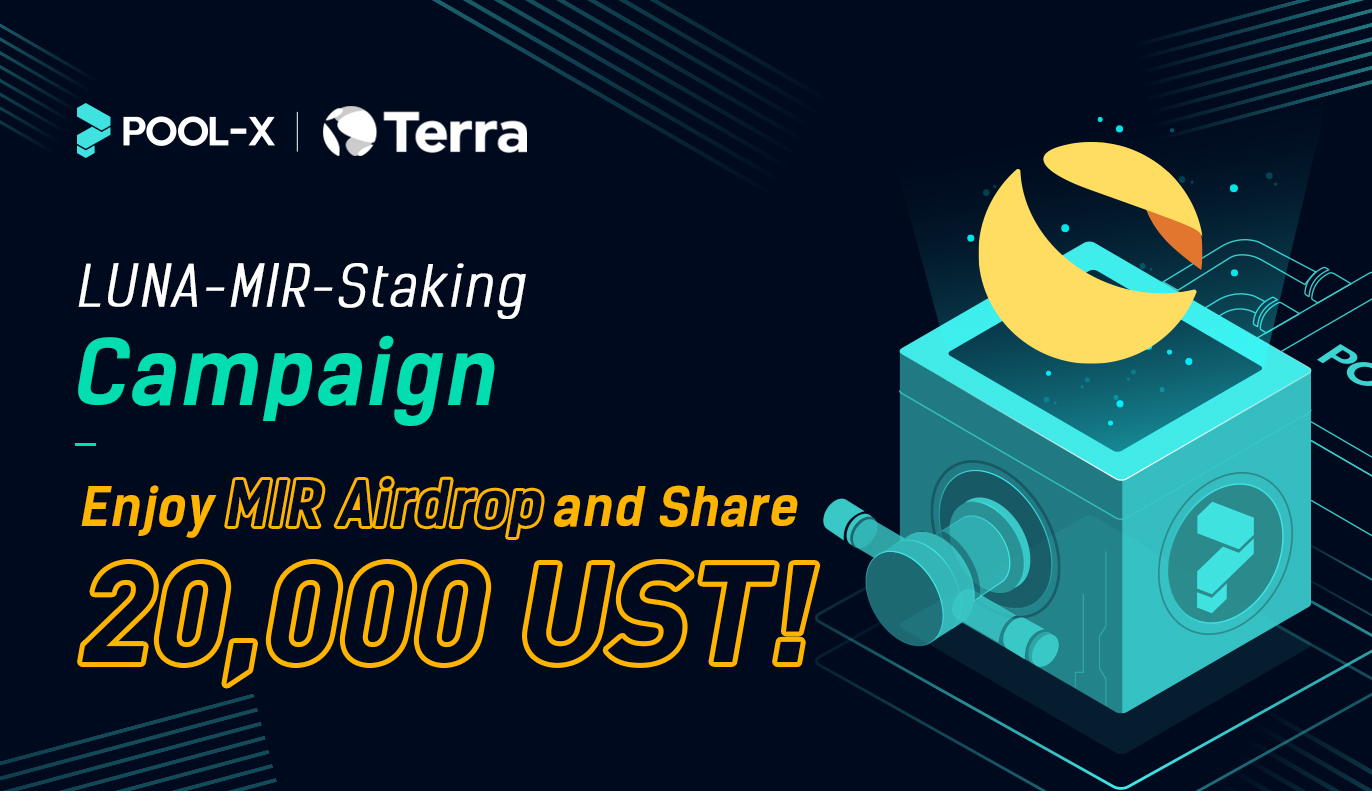 Dear Pool-X Users,
We are honored to announce that 'LUNA-MIR-Staking' will be available at 10:00:00 on January 11, 2021 (UTC). Besides LUNA staking rewards and POL mining rewards, all users participating in "LUNA-MIR-Staking" on Pool-X will also get MIR airdrop rewards!
In addition, users who participate in the LUNA-MIR-Staking campaign between 10:00:00 on January 11, 2021 and 10:00:00 on March 11, 2021 (UTC) will receive a share of the 20,000 UST additional prize pool!
*Please note that the 'LUNA-Staking' product currently available on Pool-X will end at 10:00:00 on January 13, 2021 (UTC), and the staked LUNA tokens will be returned to the user's Pool-X account.
The details can be found in this table:
Product

Activity Start Time




(UTC) 

Expected APR of LUNA

Minimum Staking Amount of LUNA

Redemption Period (Number of Days)

LUNA-MIR-Staking

2021/01/11 10:00:00

5%

10

21
The rewards details are as follows:
Reward List

Reward Details 

Reward Distribution Rules

LUNA 

APR: 5% (Pool-X will adjust the APR according to the actual on-chain staking rewards)

Daily distribution (beginning on T+1 day)

POL

Daily mining rewards from Pool-X

Daily distribution (beginning on T+1 day)

MIR

Distributed based on the on-chain staking airdrop rewards

Weekly distribution

UST

Prize Pool: 20,000 UST




Rewards will be calculated according to the proportion of staked LUNA by users to the total staked LUNA in 'LUNA-MIR-Staking' campaign.

Weekly distribution
Mirror Token (MIR):https://docs.mirror.finance/protocol/mirror-token-mir
The Mirror Token (MIR) is Mirror Protocol's governance token. Currently, it must be staked to vote on active polls and is required as a deposit for making new governance polls. In future iterations of Mirror, it will serve further purposes for the protocol that increase its utility and value.
Notes:
1. Users need to be registered on KuCoin or Pool-X to join this staking activity.
2. The user hereby confirms that participating in the staking activity is voluntary, and the KuCoin Group has not forced, interfered with, or influenced the user's decision in any way.
Risk Warning: Staking is a risk investment channel. Investors should be sensible in their participation and be aware of investment risks. The KuCoin Group is not liable for users' investment gains or losses. The information we provide is for users to conduct their own research. It is not investment advice. The KuCoin Group reserves the right of final interpretation of the activity.
Thank you for your support!
The Pool-X Team