Atlas Navi (NAVI) Gets Listed on KuCoin! World Premiere!
2022/11/28 10:00:05
Penyenaraian token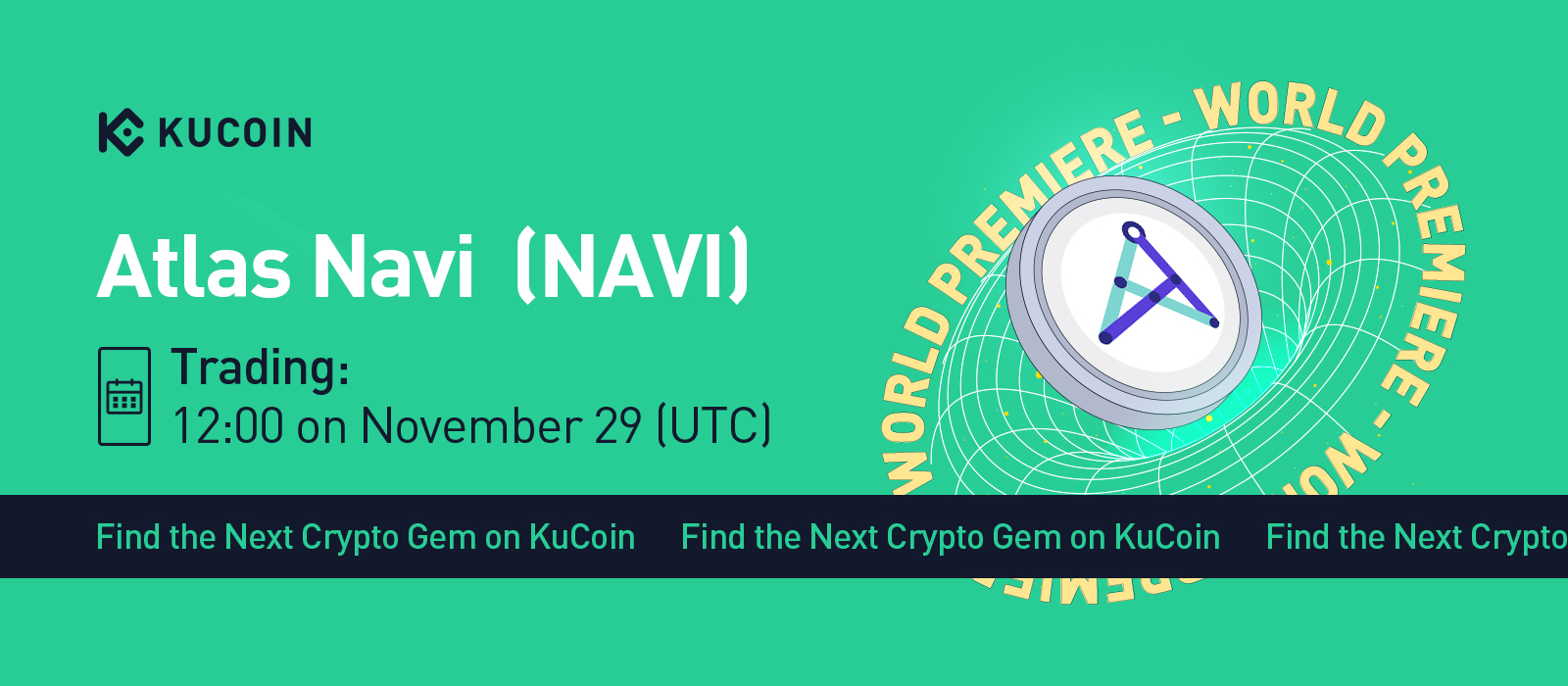 KuCoin is extremely proud to announce yet another great project coming to our trading platform. Atlas Navi (NAVI) will be available on KuCoin. The supported trading pair is NAVI/USDT.
Please take note of the following schedule:
Deposits

Effective Immediately (Supported Network: ERC20)

Trading: 12:00 on November 29, 2022 (UTC)
Withdrawal: 10:00 on December 2, 2022 (UTC)
Tags: Drive to Earn, NFT, Navigation, Automotive
Project Summary
Total Supply
Market Cap
Issue Date

Issue Price

300,000,000

NAVI

$599,973

2022-11-29

$

0.0825

Circulating Supply
24hr CEX Volume
24hr DEX Volume
Cryptographic Algorithm

7,272,400 NAVI

-

-

ERC-20
*key metric numbers are calculated as of November 25, 2022.
Atlas Navi is the first Drive to Earn navigation app using AI and the smartphone camera to avoid traffic by detecting road conditions automatically: road work, potholes, accidents, traffic, parking, police and rerouting drivers. Atlas Navi is licensed by multiple Automotive Brands to sell 3D NFT cars with real utility inside the app. App is available for download now. Drivers earn rewards for each mile driven. The more you drive, the more you earn. With a sustainable business model and multiple revenue streams from real services (vehicle maintenance, insurance, refueling and others), Atlas Navi is set to become the dominant navigation app and the leading NFT platform for Automotive Brands to sell vehicle NFTs.
Website: https://www.atlasnavi.com/
Risk Warning: Investing in cryptocurrency is akin to being a venture capital investor. The cryptocurrency market is available worldwide 24 x 7 for trading with no market close or open times. Please do your own risk assessment when deciding how to invest in cryptocurrency and blockchain technology. KuCoin attempts to screen all tokens before they come to market, however, even with the best due diligence, there are still risks when investing. KuCoin is not liable for investment gains or losses.
Regards,
The KuCoin Team
---
Find The Next Crypto Gem On KuCoin!