Terra (LUNA) Gets Listed on KuCoin! World Premiere!
2022/05/28 08:24:08
Listing des tokens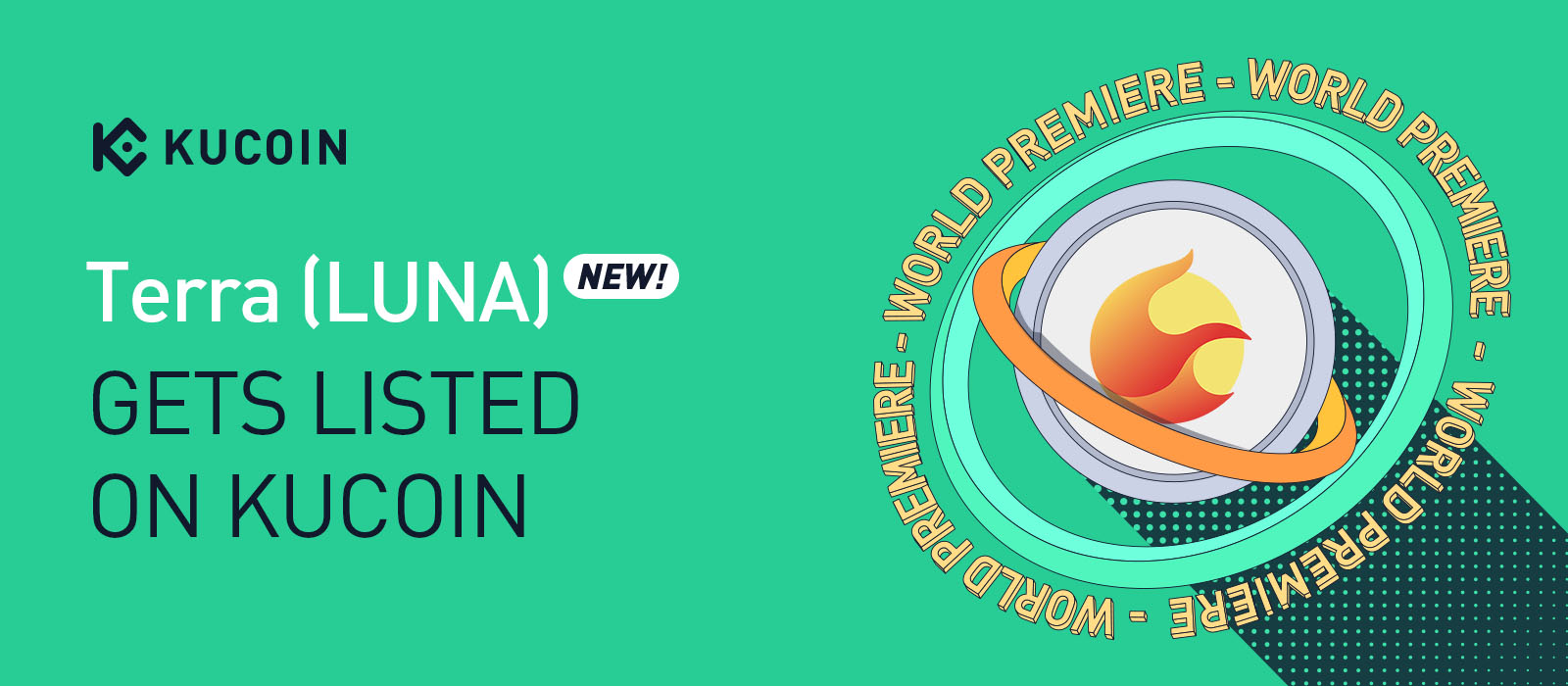 Dear KuCoin Users,

KuCoin is extremely proud to announce yet another great project coming to our trading platform. Terra(LUNA) is now available on KuCoin. Supported trading pairs are LUNA/USDT and LUNA/USDC.
Please take note of the following schedule:
Deposits Effective Immediately (Supported Network: Terra2.0)
Trading: The trading will start once the total deposits on the platform meet the minimum liquidity requirement.

Tags: DeFi, Cosmos Ecosystem

What is Terra?
Terra is a decentralized, open-source blockchain protocol that hosts a vibrant community of decentralized applications (dApps). Using proof-of-stake consensus and ground-breaking technologies like Mantlemint and Terra Station, the Terra blockchain is one of the fastest chains in existence, giving users an unparalleled defi experience.
What is Luna?
Luna is the Terra protocol's native staking token. Luna is used for governance and in mining. Users stake Luna to validators who record and verify transactions on the blockchain in exchange for rewards from transaction fees.
A new Terra
On May 25th, 2022, Terra Classic users passed governance proposal 1623, which outlined the genesis of a new Terra chain. This proposal also described a genesis distribution of Luna which would be airdropped to users of the Terra Classic chain based on pre-depeg and post-depeg snapshots. Users can find their airdropped Luna by viewing the same wallet address that was present during either snapshot and switching their Terra Station network to the phoenix-1 mainnet.

Official website: https://www.terra.money/
Facebook: https://www.facebook.com/LUNAoinofficial/

Twitter: https://twitter.com/LUNAoinofficial

For further information about the our plan of Terra2.0 Migration and Airdrop, please refer to: Annoucement for the First Airdrop of New Terra (LUNA) Tokens

Risk Warning: Investing in cryptocurrency is akin to being a venture capital investor. The cryptocurrency market is available worldwide 24 x 7 for trading with no market close or open times. Please do your own risk assessment when deciding how to invest in cryptocurrency and blockchain technology. KuCoin attempts to screen all tokens before they come to market, however, even with the best due diligence, there are still risks when investing. KuCoin is not liable for investment gains or losses.

Regards,

The KuCoin Team
---
Find the Next Crypto Gem On KuCoin!