Introducing the 6th KuCoin Fractional NFT - Fractionalized ODBS: Limited Sale of 30,835,000 hiODBS
2022/09/09 10:00:10
Aktionen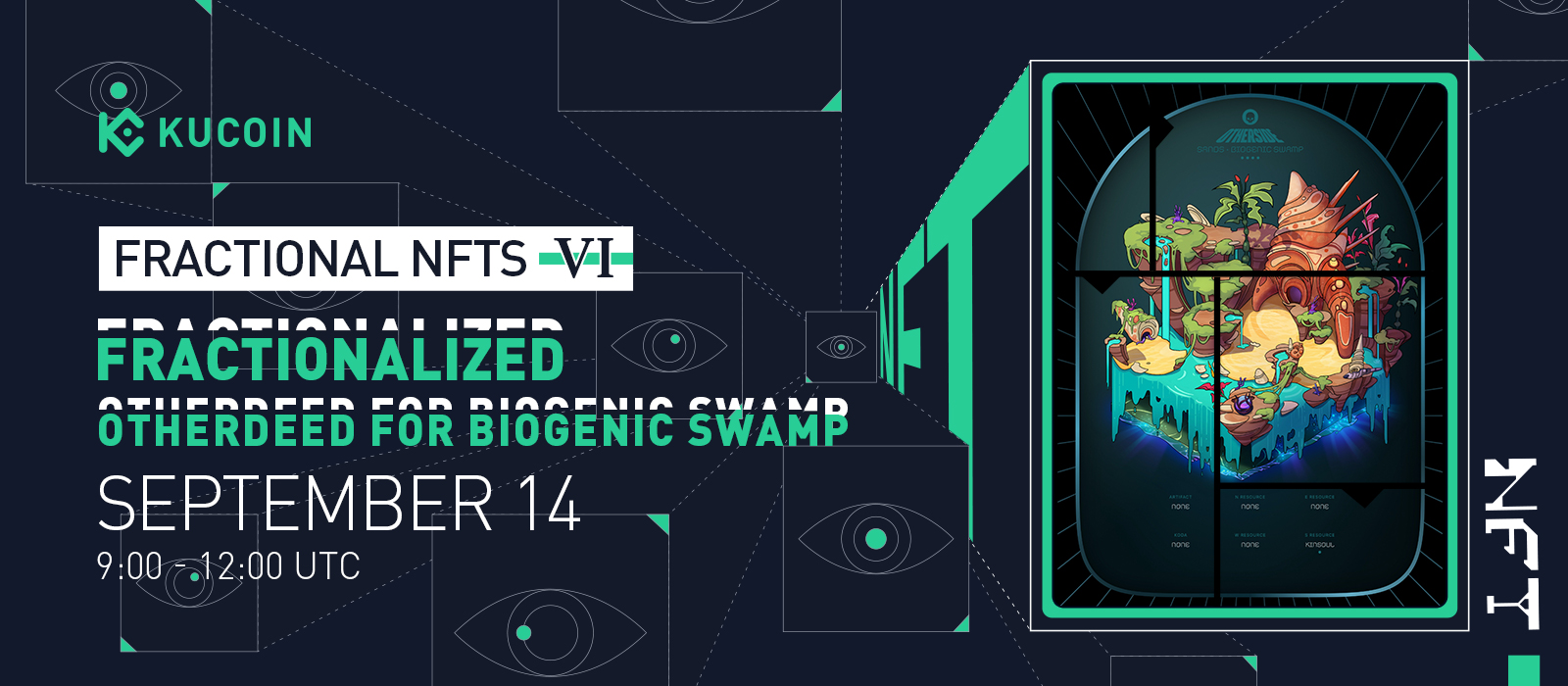 We are honored to introduce our 6th project on KuCoin Fractional NFTs - hiODBS. The subscription to this exclusive NFT event will start at 09:00:00 on September 14, 2022 (UTC). The hiODBS token sale will operate using a new rule, with a total of 3 rounds of subscriptions!
The 6th project of the Fractional NFTs Platform will be featured in the ODBS (Otherdeed for Biogenic Swamp) collectibles. hiODBS is an ERC-20 token representing 1/1,000,000 ownership of an ODBS in the Meta-Swap pool of Fracton Protocol.
Subscription Period: 09:00:00 on September 14, 2022 - 12:00:00 on September 14, 2022 (UTC)
Fractionalized Fungible Token Sale Details:
1 ODBS (Otherdeed for Biogenic Swamp) = 1,000,000 hiODBS

Initial Total Supply: 32,000,000 hiODBS (1,165,000 hiODBS will be allocated as free rewards)

Total Subscription Amount: 30,835,000 hiODBS

Token Sale Price: 1 hiODBS = 0.0085 USDT

Token Type: ERC-20

Token Sale Format: Whitelisting

Trading Pair: HIODBS/USDT
Token Sale Timeline:
Users who meet the whitelisting requirement will be able to purchase hiODBS by issue price on KuCoin with just one click. To ensure a fair allocation for all participants, there will be a set hard cap for the token subscription per user.
Please note that only the third round requires participants to submit the KuCoin UID.
First Round: 09:00 - 09:15 on September 14, 2022 (UTC)

Second Round: 10:00 - 10:15 on September 14, 2022 (UTC)

Third Round: 11:00 - 12:00 on September 14, 2022 (UTC)


Requirement for whitelisting
Available
Individual Hard Cap

First Round

(Sold out)

have an average FT holding amount of ≥ 1,000

23,500,000

120,000 (~1,020 USD)

Second Round

(Sold out)

have an average FT holding amount of ≥ 100

3,667,500

11,000

Third Round

(Sold out)
complete all the gleam tasks

3,667,500

2,400
FT Holdings Calculation Rules:
From 12:00:00 on September 9, 2022 to 00:00:00 on September 13, 2022 (UTC), KuCoin will randomly take 3 snapshots of each user's FT holdings. (FT average holding amount = Total holding amount of 3 snapshots / 3)
*During the period, KuCoin will undergo rigorous inspection during the activity, the platform reserves the right to cancel the qualification of the participants.
---
Why Choose Fractionalized Fungible Token?
- Low Investment Barrier: The super rare blue-chip NFTs will become very easy to obtain after it is split, allowing everyone to participate in this one of the most popular investments at the moment.
- Centralized Experience: Without a complicated on-chain process, users can directly purchase these Fractional NFTs using the balance in their trading account.
- Trading on KuCoin Marketplace: Fractionalized fungible token. The ODBS (Otherdeed for Biogenic Swamp) issued on KuCoin will be tradable on spot trading after the token sale and have world-class liquidity in multiple trading pairs.
---
About Fracton Protocol
Fracton Protocol is an NFT liquidity infrastructure with a two-step fractionalization (ERC721-ERC1155-ERC20), and it provides permissionless liquidity and oracle for all kinds of NFTs. Based on a deeply reformed ERC1155 middle layer standard, Fracton is building a non-status smart contract system to increase the protocol's efficiency, lower gas fees, and maximize asset security. To know more about Fracton Protocol, click here.
Website: https://www.fracton.cool/
Twitter: https://twitter.com/FractonProtocol
Telegram: http://t.me/fractonprotocol
Discord: https://discord.com/invite/GzV8cx8QyZ
Medium: https://medium.com/@FractonProtocol
Notes:
The deposits and withdrawals will be supported for all fractionalized fungible tokens (FFT).

The remaining subscription amount on Round 1 will be added to Round 2; The remaining subscription amount on Round 2 will be added to Round 3.

Users who successfully participated (purchased) in the Round 1of the token sale can't participate in the Round 2.

The total sale will be conducted in the flash sale format, and the total initial supply is limited; please ensure a sufficient balance in your Trading account.

The FFTs which have been purchased are not non-refundable. Users will be able to trade their FFTs in the Spot market.

The user hereby confirms that participation in the activity is voluntary, and KuCoin Group has not forced, interfered with, or influenced the user's decision in any form.
Risk Warning: Investing in cryptocurrency and NFT assets is akin to being a venture capital investor. The cryptocurrency market is available worldwide 24 x 7 for trading with no market closing or open times. Please do your own risk assessment when deciding how to invest in cryptocurrency and blockchain technology. KuCoin attempts to screen all tokens — The ODBS (Otherdeed for Biogenic Swamp) before they come to market; however, even with the best due diligence, there are still risks when investing. KuCoin is not liable for investment gains or losses.
Regards,
The KuCoin Team
---
Find the Next Crypto Gem On KuCoin!