Bitcoin Pizza Day, May 22: The Magical Day That Changed the World
In January 2009, the genesis block with a 50 BTC reward was mined by Satoshi Nakamoto, and thus Bitcoin was created. A year later, on May 22, 2010, Floridian programmer Laszlo Hanyecz spent 10,000 bitcoins to purchase two Papa John's pizzas. From then on, people have been marking their calendar and eating pizza every May 22 in commemoration of "Bitcoin Pizza Day."
At a time when cryptocurrency adoption was so low we could almost term it as non-existent, Henyecz's transaction made the headlines. It could be considered the first ever commercial or mainstream use of the original cryptocurrency.
It is in this memory that crypto enthusiasts the world over commemorate Bitcoin Pizza Day - a day when Bitcoin was used to conduct a commercial transaction and buy something in the real world. However, for all the enthusiasm associated with this day, an interesting point to note was that the transaction was technically for secondhand pizza.
Laszlo Hanyecz was unable to find a business back in 2010 that would accept Bitcoin as a payment method. On May 22, though, he did find a 19-year old early Bitcoin adopter - Jeremy Sturdivant, who was willing to sell him the Papa John's pizzas in exchange for the 10,000 bitcoins.
How Did Laszlo Hanyecz's Move Help Increase Bitcoin's Popularity?
Notwithstanding the indirect approach towards spending Bitcoin, May 22, 2010 changed the way the world viewed cryptocurrencies and Satoshi Nakamoto's creation. The first transaction in the real world using Bitcoin to purchase a physical good - two pizzas in this case, sent waves of cheer amid the crypto community.
The first ever Bitcoin Pizza Day increased their confidence in the potential for digital currencies to transform the way the world looks at money and payments. In the history of Bitcoin, the date May 22 marks a turning point when the crypto king's actual potential was realized, even if it was only a one-off instance back then.
Bitcoin and cryptocurrencies in general have come a long way since then. The BTC price has taken off, and after the first Bitcoin halving event in 2012, the mining hashrate became even more valuable, turning Bitcoin mining into a far more lucrative and competitive market.
Innovation in blockchain technology and the crypto market have propelled several use cases for digital assets beyond buying pizza with them. However, looking at them for enabling digital payments still continues to hold on as one of the biggest use cases for Bitcoin and its peers.
Don't Let Go: What Laszlo Hanyecz Got Wrong
While Laszlo did help shine the spotlight on the crypto community and the early Bitcoin adopters, he did get one big thing wrong - letting go of so many precious bitcoins all for the sake of two pizzas! While the value of BTC at the time was around $0.0041 during Bitcoin Pizza Day, we all know just how high it has shot up since then.
Back then, of course, to Laszlo's credit, very little was known about Bitcoin's potential when he used it to buy pizza. The use cases Satoshi Nakamoto proposed in the white paper were mostly a pipe dream. No point in getting after him for not holding on and turning his 10,000 bitcoins into millions.
But, unlike Hanyecz back then, we know better today. And we know that cryptocurrencies will have more use cases as soon as the very near future, which could send BTC higher. Investors who have been around for a few years have reconciled themselves to the bear cycles that the market experiences periodically.
It's a whole other game for new investors who remain on the sidelines, wondering if they should enter or if they're already in, if they should cut their losses and get back out. If you, reader, are one such lost soul, we're talking to you when we say, "don't let go".
Bitcoin's Potential as a Store of Value Remains Strong
Despite the numerous bear cycles and periods of market correction digital assets have seen, we've always seen the Bitcoin price bounce right back and head on higher. Everyone, right from the crypto community to mainstream businesses, have acknowledged Bitcoin's solid potential as a store of value.
With such strong fundamentals, it's very likely that current bearish market conditions will reverse and money will start flowing back into the crypto market again. And when that happens, the original cryptocurrency could most likely reclaim its previous highs and make new ones.
Why is Bitcoin Crashing? Speculations and Facts
From an all-time high of almost $69,000, the Bitcoin price has been trading around the $30,000 mark since early May, falling under this key level for the first time since July 2021. This weakness in the largest cryptocurrency by market cap has had a cascading effect across the market, sending bearish pressures across most digital assets.
What is undeniable is that the crypto market is experiencing weak price action lately. So, let's take a look at what's behind this latest downtrend.
The Correlation With Equity Markets
While 2021 saw many in the crypto community cheer the rising interest in Bitcoin and other crypto assets among institutional investors, this development came at a steep cost. The increasing investment into Bitcoin by enterprises and large investors has driven the correlation between the crypto market and the global equity market higher.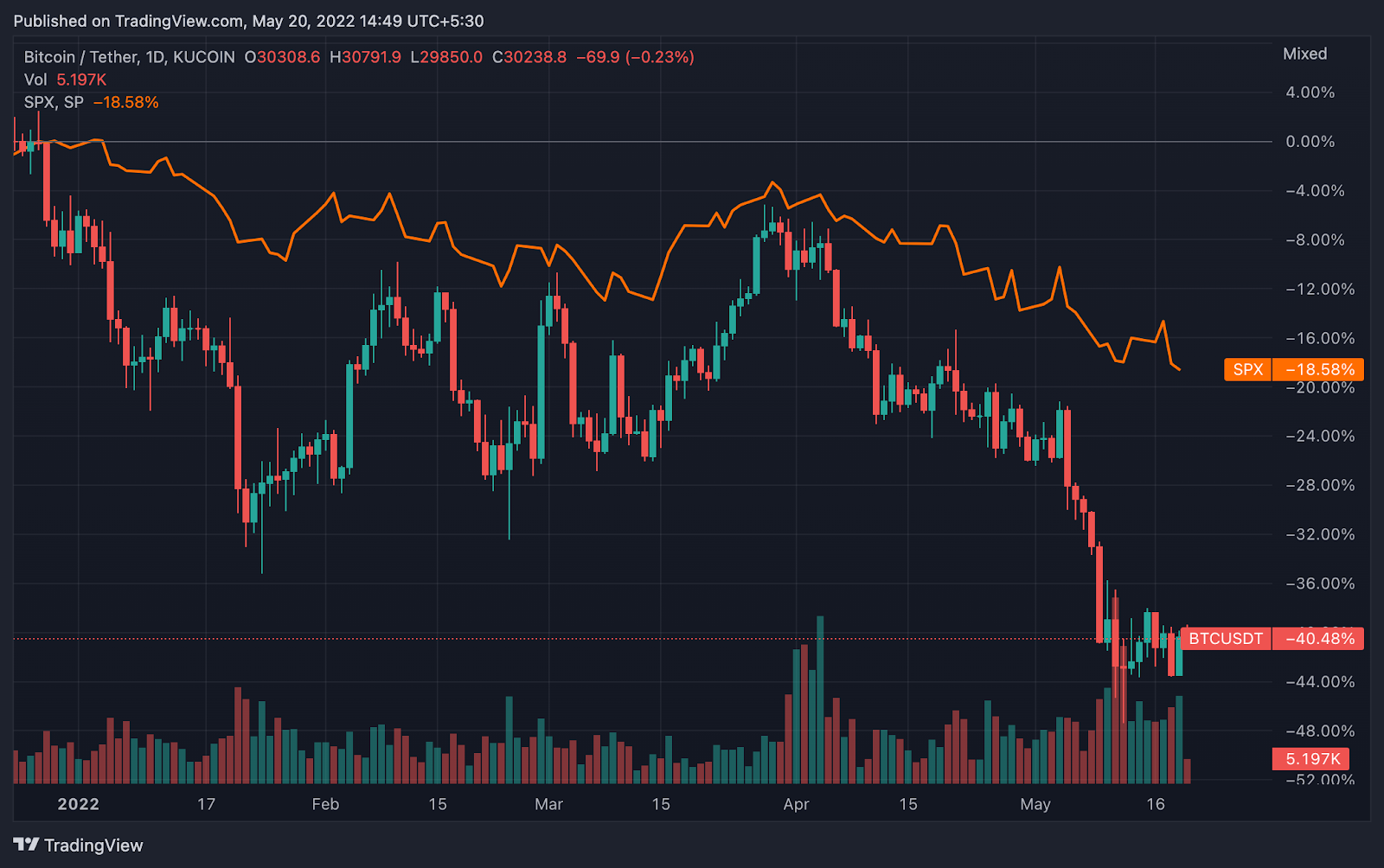 Correlation Between BTC and the S&P 500 | Source: Tradingview
As a result, the downturn in global equities due to geopolitical uncertainties, rising inflation concerns and possible tightening of monetary policies by central banks worldwide has also weighed on the crypto market, keeping BTC trading under pressure. The uncertain future has large investors afraid of buying into the highly volatile digital asset market, and they have started pulling out their funds, causing Bitcoin's price to weaken.
The Terra LUNA and UST Fiasco
Even as the Terra team does a post mortem on what exactly happened, we know that the crash of the TerraUSD stablecoin and the LUNA token sent shockwaves through the entire crypto market. As the Luna Foundation Guard attempted to exchange their BTC reserves to try and stabilize the UST peg to the US dollar, the Bitcoin price took a severe beating.
In addition, the sharp sell-offs wiped off over $200 billion worth of market cap from the wider crypto sector, causing several investors' fortunes to overturn in a matter of a few days. Investors continue to remain wary of Bitcoin and other digital assets in the wake of the Terra crash, and the decline in investor confidence has also triggered weakness in Bitcoin prices lately.
Regulatory Uncertainty
While crypto markets have always contended with regulatory uncertainties weighing on the asset class, the aftermath of the UST debacle has raised more alarms among financial regulators around the world. Concerns are rising not only among investors but also regulators on how to safeguard investors' rights in such a volatile and unpredictable market as cryptocurrencies.
The fear of increased regulations and what it means for Bitcoin's future is also keeping buyers off the market for now. This sentiment has been driving further weakness in BTC prices in recent times.
HODLing Bitcoin: How to Trade BTC During a Bear Market
Don't believe us when we make sweeping statements about the rebounding of Bitcoin and other cryptocurrencies. A recap of past trends not only in the crypto market but across other financial markets as well offers a glimmer of hope. What goes down will bounce back up, eventually.
BTC/USDT Chart on the Weekly Timeframe | Source: Tradingview
If you are among the firm believers in Bitcoin's potential, here are some tips on how to trade the crypto king BTC/USDT during this current bearish mood:
Use Dollar Cost Averaging (DCA) to Buy the Dip in Price
The DCA strategy is one of the most effective ways to safeguard against the intrinsic volatility that Bitcoin is notorious for. Use your reserve capital to buy Bitcoin whenever it trades under a key level, for instance, $30,000.
You can reap benefits when the BTC price rebounds higher, but you need to remain patient and hold your investment steady. Make small trades spread over several days to limit your losses and increase the likelihood of gains.
Perform Technical, Fundamental and Sentiment Analysis
Every expert trader will stress on the importance of sound trading strategies to back up their trade ideas. And when it comes to an asset as volatile as Bitcoin, the more analysis you can perform to back up your trade idea, the more effective your strategy will be.
Consider all potential factors that can drive price action at any given time when you wish to enter the market. Look at the technical analysis, understand the fundamental drivers and get a sense of the overall market sentiment so your trade aligns with these factors.
Never Let Emotions Dictate Your Trade Strategy
Whatever you do, don't be an emotional trader! It's easy to get swept up by all the noise on social media and follow the herd.
However, the real trick to staying strong in a bear market is to base your decision to HODL on long-term fundamentals and technicals. We recommend that you avoid falling prey to gossip and unfounded rumors when it comes to trading and holding Bitcoin, so that you can remain confident about your investment in the leading digital asset.
---
Sign up on KuCoin, and start trading today!
Follow us on Twitter >>> https://twitter.com/kucoincom
Join us on Telegram >>> https://t.me/Kucoin_Exchange
Download KuCoin App >>> https://www.kucoin.com/download
Also, Subscribe to our Youtube Channel >>>Listen to 60s Podcast